Sterling Silver Black Onyx Pendant
Antique jewelry styles have become harder to find these days. With emphasis being placed on mass production and mass selling, jewelers have lost interest in producing any jewel that requires true craftsman skills. It is true that, artistic talents have been replaced by trained machine operators. This is what has made the PG750 Kaisilver onyx silver pendant a highly sought after jewel. This custom onyx pendant has been adapted from an ancient Thai jewel. Most Asian jewels originated with some royal backdrop and it is very likely that, the onyx pendant shown here was originally made in gold with some expensive gem like, ruby, emerald, sapphire or spinel. While we could have produced the jewel with gold and expensive gems, we did not want to make jewels that were affordable only by the rich and famous. This 925 silver pendant is crafted by some of the finest craftsmen and artisans, no compromise has been made on craftsmanship or design. Kaisilver is today a global provider of highend custom jewelry, we provide the same quality for gold or silver jewelry. The fact that this antique pendant is custom made offers you a wide range of options to choose from. We discuss the pendant in detail below.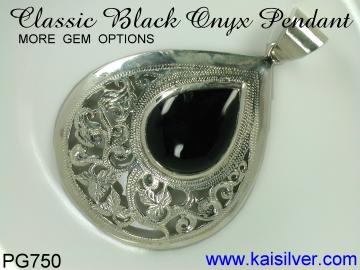 It is true that the fine detail on antique jewels like the PG750 silver pendant, cannot be handled by a mass production factory. It requires the efforts, skill and attention of highly experienced craftsmen and artisans. Each onyx pendant is customized to meet inidvidual buyer preference. We do not work with standard moulds, your requirements are therefore always reflected in the custom jewelry that we produce for you.
The antique silver pendant has dimensions of 4cm and this includes a 1cm bale (loop) for the chain. These are impressive dimensions of a pendant, around 30 grams of sterling silver have been lavished on the jewel to ensure durability. If someone tells you that they can make a similar pendant with half that weight, they really don't care about the quality of the pendant. Making low weight jewelry allows lower price points, this increases the demand for the jewel but, all this looks good only in the short term. In the long term, a light weight silver antique pendant would be flimst, it can bend or deform and even cause the gem to be loosen and drop off.
The gem stone in this 925 silver onyx pendant is a handpicked and custom cut black onyx gemstone, the size is 15x12mm. A nice large gem for a large artistic pendant. Not all gems can be cut to such large sizes, many of them would be very expensive even with a size of 8mm or more. If you wanted to retain the dimensions of this pendant at 4cm, we would suggest these gem options. White or blue topaz, agate, malachite, carnelian, citrine, smoky quartz, rutilated quartz, lemon quartz or amethyst. Green jade is also a good choice but remember that, much of the good looking green jade in large sizes is dyed to enhance color.
At Kaisilver every gem is handpicked and custom cut, we therefore do not limit your gemstone choice in any way. We can procure just about any gem on this planet for you. We work directly with mining sources and do not restrict your selection to any fixed inventory lists.
We mentioned that true customization does not put limitations on any feature of the jewel. The truth is that budget limitations and availability of gems can require you to moderate your requirements. So if you needed to use more expensive gems, in your antique silver pendant, some important changes would most likely become necessary. We will now spend some time discussing these details.
If you had to think of using a ruby, sapphire, tanzanite or emerald gem stone for this antique pendant, the dimensions of the gem would need to be substantially reduced. The pendant as mentioend earlier has a 15x12mm pear shaped gem. Such a large size would be very expensive in the gemstones mentioned above. You might infact need to search very very hard to find even a medium quality sapphire or ruby in that size. And even if you did, you can expect to pay around 15,000 U.S$ to 50,000 U.S$ just for the gem! A better idea would be to moderate the pendant and gem stone dimensions. We would recommend a 9x7mm pear shaped gem and a pendant size of around 2.5cm for the expensive range of gems. Even with these reduced dimensions, be prepared to pay around 3,000 U.S$ to 4,000 U.S$ for a gold pendant with ruby, sapphire, emerald or tanzanite.
There is one more situation in which a reduction in dimensions for your black onyx gem stone pendant would be advisable and this is when, you need a gold pendant. As discussed earlier the silver antique onyx pendant with a length of around 4cm, needs a silver weight of around 30 grams to be made strong and durable. If this same dimension was retained for an antique gold pendant, the weight required would be as high as 45 to 50 grams. This is because gold is much more dense as compared to silver, the same dimensions would need more gold. It would be a better idea to choose a pendant with dimensions of around 2.5cm, such a gold pendant would need around 20 grams of gold and this would give you a more moderated price tag.
If you have read all the above details regarding this antique onyx pendant, you might wonder why an entire page should be devoted to this jewel. The point is that at Kaisilver, we do not give much emphasis to sales, our policy is to educate buyers and explain various options to them. You can discuss your queries and doubts with our support team at sales@kaisilver.com
We would like to apologise if you have been disappointed with the lack of sales hype on this page. We prefer to do the pricing and other details on our website, you can get more information on the PG750 custom 925 silver onyx pendant at http://www.kaisilver.com/silver-onyx-pendant-ks-pg750.htm