Mens Amethyst Rings
For those of you who have not heard of amethyst gems, the thought of a man wearing a purple gemstone ring might seem unusual. This report will explain many essential features and issues related to amethyst rings for men. The idea is to educate you regarding the options you have when, choosing an amethyst ring. While you will find a few scattered images of some fine amethyst mens ring in this report, the information has more utility value than marketing hype. This is why we recommend that you read and understand all the contents published on this page. The name amethyst is rather interesting, some people who have heard the name for the first time mistake if for a cough syrup. Once you hear of how exactly, amethyst got it's name you would agree that there is indeed a lot of meaning and folklore attached to it.

The gemstone in a mens amethyst ring has a tremendous history, it has been known for many centuries. In the ancient days it was believed that, amethyst had the special power to prevent a drinker from getting intoxicated! Mugs carved from amethyst stone were used to drink wine, the idea was that the stone would negate any effects of intoxication. This probably was the time when, amethyst rings for men were not the top priority! A Greek word 'amethustos' and another word 'amethystus' from Latin, inspired the purple quartz amethyst to get it's name. The words had a similar meaning, 'not drunken' or 'without wine'. The fact that this belief related to amethyst was strong enough to give the stone it's name, could mean that jewelry applications for the gemstone came much later.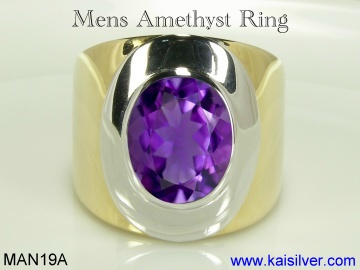 The MAN19A mens amethyst ring is custom made in gold or sterling silver. The mens gold amethyst ring shown above has a two tone gold color. Since customization for every single feature of this mens ring is possible, you could request for an entire white gold amethyst ring or, order for the same ring in just yellow gold too. If we had to describe the gemstone in this amethyst ring for men we would say that, it is a fine gem quality stone with a medium purple color.

Amethyst Color: When you decide to go for a mens amethyst gemstone ring, you should obviously be aware of the gem color options available to you. Amethyst is a purple variety of quartz, it is there clear that, the gem would always show some degree of purple. You can broadly classify the purple shades in an amethyst as, light, medium and dark. The MAN19A amethyst shade would be described as medium purple, you could say that a 15% lighter or 15% darker shade than the above gem, would cover the range of medium color amethyst stones that you will generally come across. Most amethyst gemstones used to make good quality jewelry patronize, the medium purple color gemstones. The range of purple color in light purple amethyst can begin with a stone that, is almost white - just a tiny dash of purple. It was the lighter purple amethyst gems that were popular in the Victorian era - they were fondly referred to as 'rose de france' gems. It is the darker shades of purple amethyst that need to be well understood. If you plan to get a dark gemstone for your mens amethyst ring, you should be aware that, the gem can be very dark. Dark purple amethyst stones often have a degree of color saturation that is just too dark to allow light reflections inside the stone.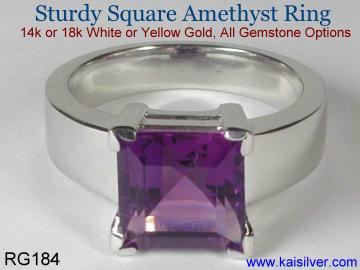 The RG184 mens gold or 925 silver amethyst ring, with a square gemstone will impress men of all ages. When you evaluate your options for an amethyst mens ring, do not get too impressed by mere external beauty.

Gem Mounting: If you can visualize the shape of a square gem, you will notice that the corners of the gem would be quite pointed and sharp. When designing a square gemstone ring, the designer needs to take some responsibility in ensuring that the durability of the ring (metal and gem) is not compromised. Simple prongs would not adequately cover and protect, the corners of the square amethyst gem. The right angled prongs that you can see in the gem mounting of this amethyst mens ring, does a dual job. The prongs hold the gem firmly in place, they also reduce or even eliminate the chances of the gem corners getting damaged by physical impact. In the above image we have placed the square amethyst ring, on a flat surface. You will notice that the edge of the gem remains slightly above the surface. This is a researched feature that has been included to enhance the toughness of the ring. It is true that mass produced jewels do not give much scope for such fine design features and craftsmanship but, you could look at a number of rings before making a purchase decision. Depending on the basic design concept for your mens amethyst ring, it would be possible to ge a bezel mounting for the gemstone too. A gem mounting where, the entire edge of the gem is bordered with metal is referred to as a bezel setting.

Birthstone: The beauty and grace of this gemstone makes it perfectly suited for all ocassions. If you plan to wear your amethyst gemstone mens ring as a birthstone ring, it would mean that you were born in the month of February. There really is an added meaning when, a mens gemstone ring has a birthstone set in the jewel.

Traditions: Here are some interesting traditions related to amethyst rings. Each Pope is given an amethyst ring to wear during his investiture, a new ring is made for each Pope. Crystal therapy credits amethyst with the ability to, bring physical and mental calm and peace of mind. Feng shui believers assign significant importance to amethyst gemstones.

Amethyst Origin: This is another important feature that we would like you to understand. Gem traders use names like Brazilian Amethyst and African Amethyst to describe some amethyst stones. Making a very broad generalization we would say that, Brazilian amethyst gems are generally found in the light to medium purple color range. On the other hand, African amethyst stones would show a more saturated (darker) purple color. As time passed by, amethyst started to be commercially mined in many locations and something interesting happened. The terms 'Brazilian' and 'African' came to imply a reference to the degree of color saturation rather than, a firm indication of where the amethyst was mined. When you order your mens amethyst ring, keep in mind that understanding the right color shade that you prefer is more important than, knowing where the stone was unearthed.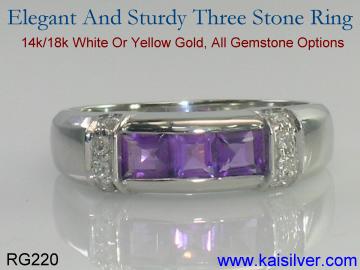 The RG220 mens ring with amethyst is an interesting jewel, the design concept of this amethyst ring is actually suitable for ladies or men. While most of the mens amethyst gemstone rings on this report, flaunt a single large amethyst gemstone, the RG220 ring, has three modestly sized square amethyst gems. This concept gets even more impressive, when you want to combine amethyst with other gems in your ring.

Gem Durability: Amethyst is a variety of quartz, one of the oldest minerals to be naturally formed deep inside our planet. The gemstone has good wearability and, you will not need to fuss too much when you wear or put it away safely. The Mohs scale gives an impressive hardness score of 7 out of 10, to amethyst. Cleaning a mens amethyst ring is quite easy, cool water at room temperature, a few drops of mild soap, a soft toothbrush and a piece of clean and soft cloth should be sufficient. Just remember that rinse the ring at the last stage, this will take off any soap or other residue that might be stuck to the amethyst or the metal mounting.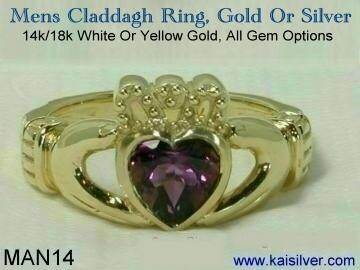 The MAN14 amethyst mens ring has a tremendous history and significance. This claddagh mens ring is one of the very few mens jewels that you will come across that has a heart shaped concept. The ring symbolizes love, friendship and loyalty and was first made more around 4 centuries ago.

Metal Options: The demand for mens 925 silver rings has been rapidly rising. You can choose a gold or 925 silver men's amethyst ring, the jewel can handle itself perfectly well in almost all metals like gold, silver, platinum and even brass. If your decision is to go for a mens gold amethyst ring, you might be interested to know that mens 14k rings are the most popular. Though many men prefer yellow gold amethyst rings, a significant demand does exist for mens amethyst gold rings in white gold too. A 925 silver mens ring with amethyst, will tarnish like all silver jewelry does. Fortunately, cleaning a tarnished silver ring is today, easy and convenient. Keep in mind that platings on silver with metals like rhodium, gold or even platinum will not last forever. When cleaning a mens amethyst ring, first wash the ring in clean and cool water, use a very little amount of mild soap if required. A soft and clean toothbrush can be used to take off any grease or soap that is stuck to the bottom of the gemstone. If you plan to clean a mens silver amethyst ring, use jewelry grade silver polish lotion or fabric, to take polish away any tarnish that you notice on the metal. Irrespective of the metal used to make your amethyst ring, it is recommended that you give the ring a final rinse in clean and cool water to end the cleaning job. This will take off any residue that might be stuck to the stone or the metal.
The above report has been compiled to educate amethyst jewelry buyers. As we had mentioned above, amethyst rings are suitable for men and ladies. Our amethyst ring collection, will give you an idea of the ring concept that would suit your personality overall dress style. No matter where you buy your mens amethyst ring from, make sure that you evaluate the essential features of the ring first. There is no reason to rush a purchase, and there is surely no reason to restrict your search to Kaisilver. Keep an open mind, and compare the features of each ring against the features that you really prefer.
Resources: Mens Amethyst Ring Collection