Garnet Pendant Custom Gold Or Silver
Garnet a natural gem known for centuries was known to humans centuries ago. The idea of wearing a garnet pendant or any other jewel with a garnet gemstone, goes beyond the beauty of the gem and the jewel. Most jewelry lovers think of red garnet when talking about a garnet pendant. This is very understandable because until very recently, the belief was that all garnets are red. Garnet pendants in gold or silver even today, are preferred with red garnet or rhodolite garnet gems. Rhodolite garnet is a variety of garnet, that has a slight pink hue to the red in the gem. For a long time rhodolite garnet gems were found with, a slight pink tint - giving the gem a raspberry red color. Jewelers and gem traders often sold the gem as red garnet. The last decade has seen the emergence of rhodolite garnets, with a much higher visibility of pink. Without getting into technicals suffice it to say that, rhodolite garnet with a higher pink content commands a higher price. Kaisilver the leading online custom jewelry provider, can provide a red garnet or rhodolite garnet for your garnet pendant - or any other jewel. Contact us at sales@kaisilver.com if you have any questions or queries, our team of experts will be glad to help.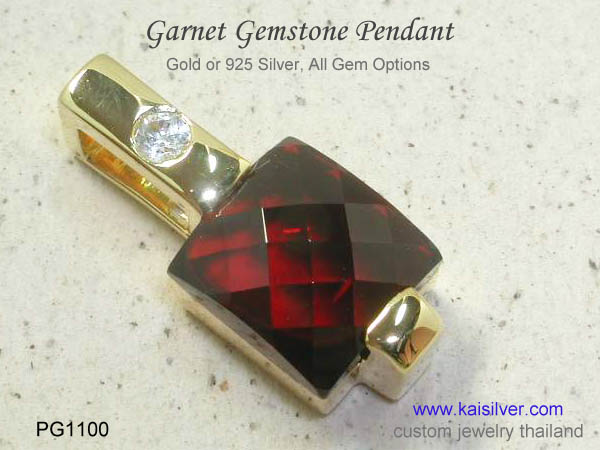 Suitable for both men and women of all ages, the PG1100 garnet pendant, presents a style concept that will never go out of trend. The center a custom cut square garnet, with a checkerboard top cut. A single diamond or other gem of your choice on top. Available in gold or silver, the garnet pendant can be ordered with any gem of your choice. For a garnet pendant, we would suggest a gem size of around 10mm to 15mm. Every feature of this custom pendant can be customized, this includes the gem size and shape etc. More details at ... more.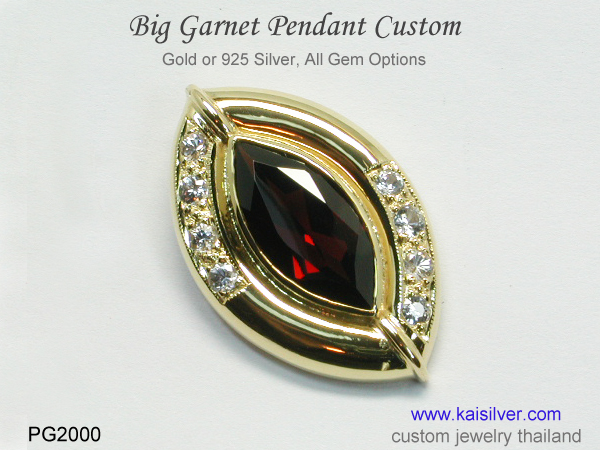 This is a big garnet pendant, the dimensions can be customized based on your budget and preferences. The center garnet is a rare piece, size around 12mm to 15mm long - the gemstone is expertly cut to a marquise shape. Options available for a gold or 925 silver garnet pendant, the diamonds can be replaced with white sapphires or other gemstones. You could pick the gemstone of your choice and still retain the design of the PG2000 made to order gemstone pendant with garnet. Check out pricing and other details for the pendant at ... more.
RED GEMSTONES
The popularity of natural red gemstones has been consistent and often on the rise. While a gold or silver pendant with red garnet is a great option - other red gems include ruby, red spinel and bixbite a red variety of beryl. In ancient times when gems were identified almost entirely by their color, mistakes did happen - there was a time when all red gems and crystals were referred to as ruby! Besides being gorgeous, garnet has much tradition and folklore linked to it. Another reason why red gemstone lovers should, include a garnet pendant in their collection is because, it happens to be modestly priced despite its beauty and historic significance. A gemstone pendant with ruby or red spinel, would be far more expensive and gem sizes would be significantly moderate - this given the high price points of both ruby and spinel.
One glance at the Kaisilver custom garnet pendants on this page and you would agree that, the gem is absolutely desirable. You could wear garnet in a ring, a bracelet, a pair of earrings, a pendant or even in a pair of cufflinks. The good thing about shopping for garnet jewelry at Kaisilver is that, you get the same premium standards for both gold and silver options. The garnet gemstone pendants shown in this report, are meant to give you an idea and inspire your imagination. All design modifications are allowed, you could pick any pendant from our gem pendant collection and request for it to be crafted with garnet, or any gem of your choice. We can even craft a unique pendant with garnet, based on your own design concept.
GARNET HISTORY
Jewelry buyers today wish to learn more about the history and features of the gems and jewelry that they wear. This is one of the main reasons for the tremendous success of the Kaisilver claddagh ring. The ring has deep meaning and significance and was first made around 4 centuries ago. We will not get into details about the historic cladagh ring here but, encourage you to read the cladagh story - if you wish to know more about the ancient ring. We will now get back to our discussion on the history and tradition of garnet.
To begin with it was only red garnet that, was known to exist for a very long time. Developments in gemology and science in general, led to the identification of natural garnets in colors other than red. The popularity of red garnet remains high, Kaisilver custom makes over a 100 finely handcrafted red garnet pendants, each year. Garnet rings, bracelets and even garnet cufflinks make up a substantial portion of our custom jewelry orders. It is no surprise that almost all the folklore and tradition related to garnets, implies red garnets. Garnet gets its name from the Latin word 'granum', that means something like 'seed'. It is quite apparent that, comparison was being made between red garnets and the seeds of the pomegranate fruit.
Long before knowledge about working with precious metals and crafting garnet pendants developed, people carried a garnet gem or wore a simple garnet amulet when embarking on a journey. The belief was that the gem would keep them safe during their travels. Interestingly this belief has a large number of followers in parts of Asia, until this day. Garnet is believed to offer protection from mishaps and accidents. Garnet pendants and other types of jewelry with garnet, offer a more convenient and stylish way to, followers of this belief.
Historically garnet was the gem that encouraged and nurtured creativity. It is not uncommon for artists, writers and public speakers, to be seen wearing a garnet ring or a pendant with garnet gemstone even today. While some gem lovers believe that garnet, drives away stage fright - others feel that the gem has the 'power' to keep fears of all types away.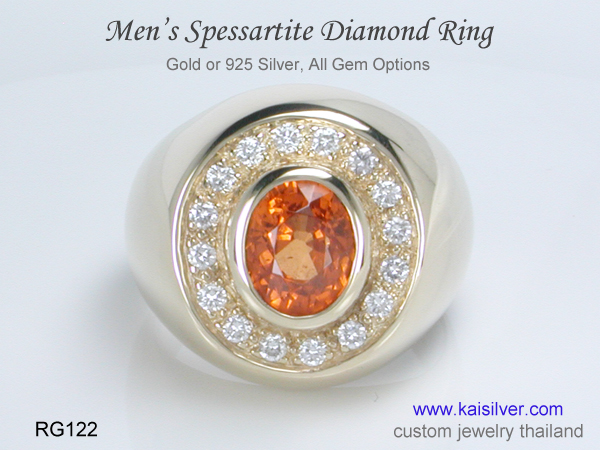 Showing this spessartite garnet ring, as an example to show the spessartite garnet gemstone looks. The color of the gem ranges from orange to a deeper 'brandy' color shade of orange. We can craft a garnet pendant for you with, a spessartite garnet gemstone. Check this report if you are interested in learning more about the, MAN122 spessartite ring ... more.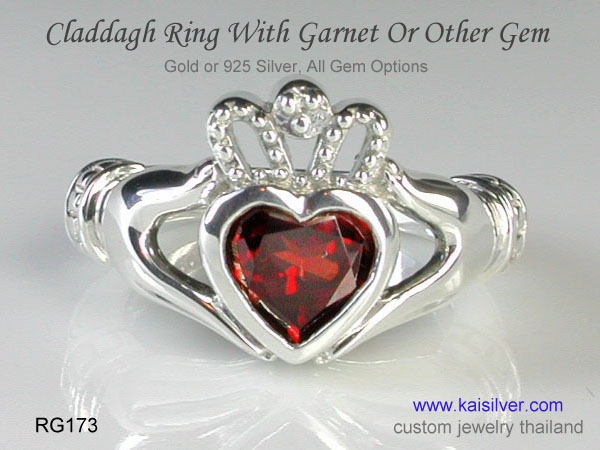 We referred to the historic claddagh ring with garnet gemstone in this report, the RG173 is an awesome rendition of the 4 century old ring. This ring is custom made in gold or silver, with your choice of gemstone. Suited for all occasions, the claddagh ring with its deep meaning and significance is perfect as a wedding or engagement ring. Check out details ... more.
GARNET JANUARY BIRTHSTONE
The belief that a special gem makes a direct connection to us since birth, has been around for a few centuries. To begin with, each zodiac sign was assigned one or more gemstone as its birthstone. We moved ahead and a more modern process to define a birthstone was adopted. Birthstone(s) one or more, are assigned to each of the 12 months of the year. The Kaisilver birthstone chart is considered to be one of the most, followed birthstone charts today - the chart is placed below this report for your reference.
Garnet is the birthstone for the month of January, this makes a garnet pendant even more special when, the person wearing it happens to be born in January. Must however mention that, you need not really be born in that month to, appreciate and enjoy the beauty of a expertly designed and crafted pendant set with garnet - silver or gold.
When we talk about garnet as a birthstone, reference is almost always, made to red garnet. The fact is that science has now verified that garnets are found in a spectrum of colors - green (green garnet and demantoid garnet), orange (spessartite), yellow and even blue. It is now fair to presume that the name garnet, should cover all these other garnet colors. We at Kaisilver provide, the entire range of garnets for your selection - whether it is a garnet pendant, ring, bracelet or any other jewel.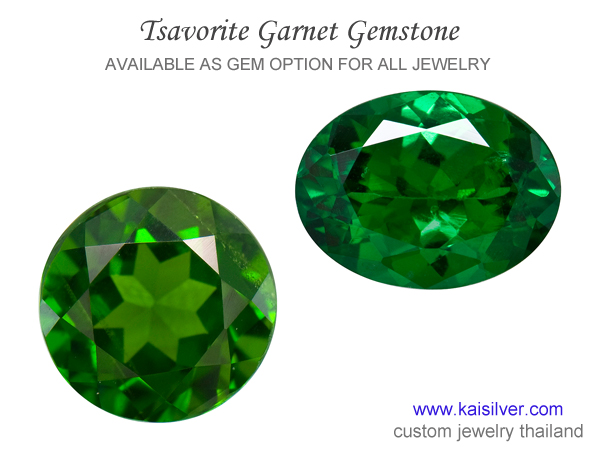 A green variety of garnet, tsavorite is rare and much more expensive as compared to red garnet. For a garnet gemstone pendant with tsavorite, we would suggest a design that requires a 2 to 3 carat gem. This because tsavorite gets significantly more expensive as the gem size increases. You can request for details and pendantdesign ideas from our experts.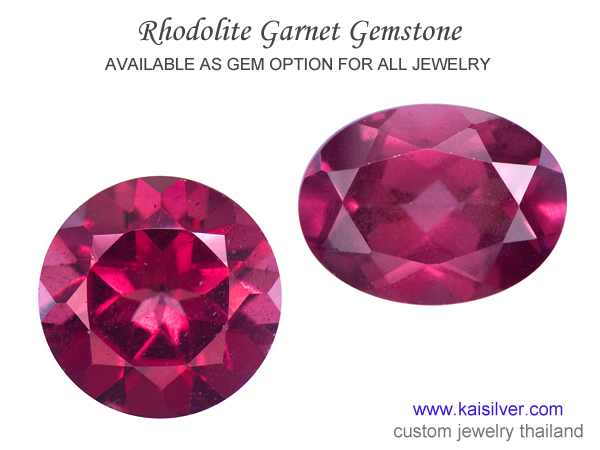 Kaisilver offers rhodolite garnet as an option for all custom made jewelry. This gem is predominantly red with a dash of pink. Rarer pieces of rhodolite gemstones with a higher degree of pink, carry premium price tags. Let us know if you are interested in ordering a custom garnet pendant with rhodolite garnet. All gems are certified for authenticity.
GOLD OR SILVER PENDANT
While most jewelers give little importance to quality, when it comes to silver pendants or other silver jewelry - Kaisilver respects your choice. We maintain the same premium standards for your gold or silver garnet gemstone pendant - or for any other jewel. If you choose to go for a gold pendant with garnet or any other gemstone, you can specify white, yellow or rose gold. We recommend 14k pendants but you can choose from, 10k 14k or 18k gold.
And if you wish to wear a garnet 925 silver pendant, we would suggest that it be left un-plated. The idea that plated silver jewelry will not tarnish, is not completely true. A plated garnet gemstone pendant in silver, might look gorgeous when it is new - but the fact is that any plating done on silver will wear off after a while. This wear off will happen in patches leaving your pendant, looking quite dull and even shabby. A better option would be to leave silver jewelry with no plating done on the surface. Clean your garnet silver pendant just as, tarnish sets in - will help keep things simple. Silver jewelry left for long after the onset of tarnish,, can develop a stubborn tarnish that, might require professional help to be cleaned.
DESIGN AND GEMSTONES
We did mention that there is absolutely no limitation on design when ordering, your garnet pendant or any other jewelry from Kaisilver. You could pick any of our custom pendants and request, for design modifications - then pick gold or silver as the metal option - and any gemstone. For a truly exclusive gemstone pendant, send us your own design ideas or concepts. We will finalize details and pricing together and craft a fine high end pendant for you.
No other jeweler can match the gemstone options that we offer, the simple explanation is that we work closely with major gem mining and cutting operations across the globe. No middlemen and no brokers, this ensures that you always get the best gem at each price point. We do not restrict your gem selection to a fixed inventory, your choice is not limited to what is shown or mentioned on our websites.
All references to gemstones in Kaisilver jewelry imply natural gems, no fakes and imitations. Your garnet pendant will come with a certificate of authenticity. Issued by an independent gem certifying office, the certificate will clearly state that the gem is natural and not manmade.
PENDANT DURABILITY
This is an important aspect of fine jewelry and sadly, most jewelers prefer to remain silent on this topic. At Kaisilver we strive to craft jewelry that, gives you many long years of wearing pleasure. A Kaisilver garnet pendant or any other jewel, would weigh around 40% to 50% more as compared to what others would provide for a similar jewel. This lays the foundation of a sturdy jewel though, it is not the only factor that determines how long lasting the jewel would be. Garnet gems are durable enough to withstand frequent wear. Also remember that pendant and earrings face a much lower degree of wear and tear as compared to, rings and bracelets. Prong settings for gemstones, tend to open up after a while, this when they snag in garments and fabric. Pointed prongs could also scratch delicate skin - especially relevant when mothers carrying children - wear pendants. Notice that the garnet pendants shown above, have the gemstone covered with metal or, with modified prongs. These gem mounts hold the gem more securely and will not hurt skin. Our experts will gladly provide advice and suggestions, on how to care for your jewelry.
HOW TO ORDER
If you see any jewel that interests you or, have unique custom piece in mind contact our experts at sales@kaisilver.com - explain your requirements in detail. Move to the purchase and payment phase, after you have all the information needed to make a decision. Keep in mind that, all our designs can be modified to suit your preference and we can also, work on an entirely new concept based on your own design. Rest assured that the same superior quality standards will be maintained, for gold and silver jewelry. The gem that you choose can be just about any gem, no limitation to what is mentioned or shown on our websites.
WHO IS KAISILVER
,Leading the high end online custom jewelry sector for over 2 decades, Kaisilver today serves over 12,000 gem and jewelry lovers across 15 nations. A team of highly skilled gem artisans, jewelry craftsmen, designers and production experts in Thailand, works on all Kaisilver jewelry orders. We place no restriction on gemstones or design and maintain, the same high quality standards for gold and silver jewelry. Remaining closely networked to gem mining and cutting operations in every region, we have preferential access to over 200 million carats of gemstones.
KAISILVER REVIEWS
The ring came today and it's absolutely gorgeous! Thank you so much, I'll keep you informed about how everything goes. I'll be proposing on the 26th of this month, you guys are great thanks again so much ... James Jarrett. ... more.