Moonstone Rings, Gold Or Silver Moonstone Rings
Moonstone rings are popular among ladies and men. An interesting thing about moonstone rings is that, the number of silver rings with moonstones far outweighs the number of gold moonstone rings. While higher gold costs surely influence this trend, the fact is that this gemstone looks awesome even in 925 sterling silver. There are a few colors in which moonstones are available but, the white moonstone is one color that captures the beauty and grace of a full moon. Blue, grey and even peach colored moonstones are the popular color shades of moonstones used in jewelry. The moonstone is one of the birthstones for the month of June it has been known to man since a very long time.
In this article we will discuss some interesting and essential features about a moonstone ring. We will also talk about why most moonstones are cut in a smooth (cabachon) cut. During our discussion, we will use an example of two stunning moonstone rings. The idea is to make you aware of the quality that you should demand when purchasing a lady's or men's 925 silver moonstone ring. We will not talk about prices and marketing hype here, we prefer to leave that pitch to our regular websites. You can contact our support team at sales@kaisilver.com if you have any queries or requirements.
We begin with a discussion on mens moonstone rings, using the impressive MAN09 mens silver moonstone ring as an example. We mentioned above that moonstone gold rings do not enjoy as much popularity as 925 silver moonstone rings. This is something that is all the more apparent when you talk about mens moonstone rings. Fortunately, moonstone looks awesome in gold or 925 sterling silver.
It is quite common for jewelers to make buyers believe that, fine craftsmanship and good gem stone quality are not possible for sterling silver jewelry. Buyers have become so accustomed to hearing this nonsense that, they are shocked to see the MAN09 as a highend jewel even when crafted in sterling silver.
You can order a custom mens ring in gold or sterling silver with the gem stone of your choice. You can notice from the image that, a white metal (gold or silver) mounting for a white moonstone looks quite handsome. This obviously means that a gold moonstone ring could be made in yellow or white gold. If you are considering a gold ring with a moonstone and confused about an 18k or 14k gold ring, we would suggest that you go for a 14k moonstone ring. This is because 18k gold is a bit softer than 14k gold, the hardness of 14k gold means that the ring is harder and stronger as compared to a similar ring in 18k.
It is sometimes believed that white gold is softer as compared to yellow gold. There is no truth in this statement as long as you are comparing yellow and white gold of the same karatage. Both yellow and white gold moonstone rings would have the same degree of hardness. Just keep in mind that the increase in gold prices would make a sturdy moonstone gold ring with good metal weight, quite expensive. This is also one of the reasons why many men go for 925 silver rings as compared to gold rings.
Talking about 925 sterling silver moonstone rings for men, some facts need to be kept in mind. The Kaisilver mens silver moonstone ring (MAN09) proves that, silver rings can have the same quality of design, craftsmanship and gemstones gold rings. Do not waste your time and money with jewelry providers peddling low quality junk silver jewelry. None of us buy jewelry every day, it is therefore advisable to look for and demand quality, when choosing a gold or 925 silver moonstone ring.
We would recommend that no rhodium, gold or even platinum plating be used for your mens 925 sterling silver moonstone ring. Such platings are hyped as 'anti-tarnish' solutions and look quite good when the ring is new. Over time, the plating on your moonstone 925 silver ring will wear off in bits and patches. This will leave your ring looking quite shabby and dull.
A better way for you would be to leave the moonstone silver ring unplated. Tarnish that might appear on the ring can be polished away with any commercially available silver polishing solution. Jewelry stores also sell specially treated fabric that can be used to polish silver rings and other silver jewelry. If you periodically wipe your silver moonstone ring with a soft moist cloth the chances of stubborn tarnish appearing on the ring are highly reduced. Once you have finished polishing your mens 925 silver moonstone ring, rinse it in cool running water for a few minutes. This will take off any chemical residue from the polishing lotion or fabric that remains stuck to the gemstone or metal.
General Information
We will now talk about two issues related to the gemstone in your moonstone ring. This is applicable to both mens and ladies moonstone rings in gold or sterling silver. Talking about the moonstone cutting style, you can see from the image that the ring has a smooth cabachon cutting style. This is how most moonstones are cut, but we can provide you with a faceted moonstone for your mens ring. The important thing to know is that, a faceted gemstone shows wear and tear signs more clearly as compared to a cabachon cut stone. The edges where the facets meet are areas where scratches and nicks can show up quite clearly.
When choosing your moonstone mens ring, you will need to give attention to the thickness or depth of the gemstone. Since moonstones are not very expensive, gem cutters like to cut them high and bulky. One of the reasons for this is that the gemstone is sold per carat (weight unit) a bulkier stone gets more money for the seller. A more important thing with thick and high profile gems is that, they protrude well above the surface of the ring. If this is the case with your mens silver or gold moonstone ring, the stone is more likely to get damaged by striking against hard surfaces or objects.
It is not uncommon for buyers to request for the gemstone in their moonstone ring to touch the finger (from inside). This requirement originates with some traditional beliefs in the special properties of gems. It is believed that the power of the gem is enhanced if it touches the finger. This is a request not only for moonstone rings but for many other gems too. Many jewelers might not be able to accomodate such specific requests, at Kaisilver we have no problems about such requirements. Since each moonstone ring in gold or 925 silver is fully custom made and every gemstone handpicked and custom cut, we can tailor make the ring to include all your preferences.
When the gemstone is required to touch the finger from inside, care should be taken to ensure that the lower side of the stone does not have any sharp or pointed edges or corners. Uneven or pointed corners can scratch and hurt the skin on the finger.
If you thought that the moonstone is suitable only for men's rings, the RG174 claddagh moonstone ring from Kaisilver has a pleasant surprise for you. The claddagh ring has a tremendous history and tradition and dates back to almost four centuries. The first claddagh ring was made by an Irish slave by the name of Robert Joyce, he dreamt of giving the ring to his beloved when he was freed from slavery. The village from which Robert came from was Claddagh - that was how the ring got it's name.
You could say that the heart shaped moonstone ring shown in RG174 is one of the most meaningful jewels in history. The fine craftsmanship and intricate design of each Kaisilver claddagh ring, makes most experts believe that it is the best rendition of the historic jewel. A claddagh ring signifies love, friendship and loyalty. The heart, hands and crown are the main features of the ring.
While most silver claddagh rings are made with substandard gems and craftsmanship, the Kaisilver moonstone claddagh ring is given the same amount of attention as the gold ring. The design of this heart moonstone ring, provides a sturdy mount for the gem by bordering the entire border with metal. You can wear your claddagh moonstone ring as a casual wear ring or get one for an engagement or wedding ring. The same team of craftsmen and gem experts work on the gold or sterling silver Kaisilver claddagh ring.
Since the moonstone is the June birthstone, a claddagh gold or sterling silver moonstone ring would make a gorgeous birthstone ring. You can ofcourse choose the metal and gemstone for your claddagh ring. The ring is custom made in all ring sizes and is available for men and ladies.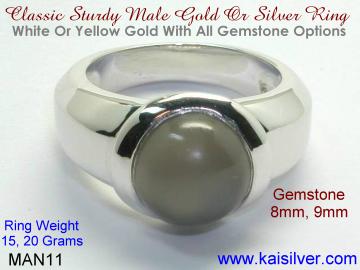 There are two shades of moonstone colors that are known by most gem and jewelry lovers. The most popular color for a moonstone is undoubtedly white - this can be seen in MAN09 and RG174 on this page. The other shade of moonstone is blue, in this you have a subtle white blue where the color seems to float in the stone. Another more saturated blue moonstone is also available but, is generally not preferred.
The MAN11 introduces you to another moonstone color, this is a grey moonstone and is not quite as common or popular as the white or blue moonstone. The color combination of a grey moonstone and white metal is awesome. If you would like to have a grey moonstone ring, we would suggest that you choose white gold or silver. A grey moonstone looks somewhat out of rhythm when set in a yellow gold mounting.
Suggestions and Tips: Here are some interesting tips and recommendations to guide you make the right selection when ordering your gold or silver moonstone ring.
- Design: The design for a moonstone ring needs to look good, it has a few other functions to perform too. Ensure that a sturdy gem mounting is provided for the ring. The gemstone should not protrude toof ar beyond the surface of the ring.
- Metal: You can forget the old lies that, a silver moonstone ring cannot be crafted as good as a similar ring in gold. Just look for the right jeweler and the metal choice can be based on your budget and preference.
- Weight: Metal weight is an essential factor that influences the longterm durability of a jewel. If a gold moonstone ring is priced too high for your budget, make a brave move and get a good silver moonstone ring. Insufficient metal weight can lead to a host of problems in the longterm and repairs can be expensive.
- Gem Cut: A custom moonstone ring should ideally give you the choice of a cabachon (smooth cut) gemstone or a faceted gem. However cabachon gems show less visible signs of wear and tear as compared to faceted gems.
- Custom Ring: A readymade moonstone ring will surely not accomodate all your preferences. A custom ring will bring better and longer satisfaction. It can also be crafted with sufficient metal weight as such rings ae not mass produed and need not please mass markets.
This report on moonstone rings attempts to give you information and tips related to such rings. The whole idea of compiling this report is to reduce the chances of a jewelry buyer making a wrong buying decision. We do not claim that Kaisilver is the only reputed jeweler. However we can proudly claim that NO OTHER JEWELER would care to educate and inform buyers as much as we do. While most jewelers would push for a sale, we encourage you to make the right evaluation when making a purchase.
We do hope that you have enjoyed reading this information on moonstone rings. Our support experts at sales@kaisilver.com will be glad to clear ay doubts or queries that you might have.