Initial Pendants, Gold Or Silver
There has always been a demand for personalized jewelry, initial pendants are a good example of such jewels. When you choose a gold or silver initial pendant, you will need to specify an alphabet as the initial. In most cases, the first alphabet of the first name is chosen as the initial. However family jewels are sometimes made with the family name as the initial. This obviously means that such family members will be worn by all family members. Initial pendants are worn by ladies and men. As expected, men's initial pendants generally have a simple design. More elaborate gem or even diamond studded initial gold pendants are worn by ladies. Kaisilver custom makes all jewelry including initial pendants in gold or silver. The design for your initial pendant can be selected from our collection or, provided by you in the form of sketches or images. Most jewelry buyers develop an intimate feeling for their initial gold pendant, they hope to wear it life long. It is therefore important that you choose the right initial pendant, a jewel that is good looking and durable. In this section we will discuss various issues related to initial pendants, you will also see some gorgeous initial pendants from our collection.
There is no ancient history or tradition related to initial pendants but, the tradition of wearing ones initial is not new. The practice of wearing an initial on a shirt, tie or even cap has existed for many decades. The initial is generally the first alphabet in the first name of an individual. The concept of the pendant remains the same even if a digit is selected in place of an alphabet.
For example, a sportsmen might wear a pendant that has the number '8', this could be the number on his T-shirt when he is on the field. In some cases, a symbol might be preferred instead of a number or alphabet. A tennis player might have a pendant that is shaped like a tennis racket. Such a jewel would have better meaning the person wearing the jewel.
The best thing about Kaisilver initial pendants is that they are fully custom made. You are therefore not bound by any fixed parameters. The designs that you see here are mere suggestions, they will give you a good idea of what to expect and look for when buying a silver or gold initial pendant.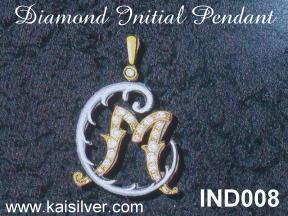 The IND008 is an awesome, diamond initial pendant. This pendant has a total length of 3.3cm or 33mm. The pendant itself is 2.5cm (25mm) and the loop for the chain (bale) is 0.8cm or 8mm. However, the dimensions for your initial pendant can be selected by you. This is because every pendant is custom made, no standard moulds or blocks are utilized. Some of the finest craftsmen will work on your diamond initial pendant, every single detail will be given full attention. The initial pendant is shown here in two tone gold but, can be ordered in single gold color too. It is obvious that not everyone will need the alphabet 'M' for their pendant, you can choose the initial the you prefer. Besides the initial itself, you also have the choice of font. If you feel that the total length of 3.3cm is too big for you, email the support team at sales@kaisilver.com and discuss your requirements. More details on the IND008 Kaisilver pendant can be accessed here.
We mentioned that both men and ladies could wear an initial pendant. The basic concept of an initial pendant would remain the same for ladies and men, but some variations are apparent. For example, more men prefer plain initial pendants as compared to ladies. Diamonds and gemstones are more common in ladies pendants as compared to men. When it comes to choosing a font, for the initial in a mens pendant, simple and bold fonts are the top choice. On the other hand, ladies prefer artistic and fancy fonts. The oveall dimensions of men's initial pendants are almost always larger than pendants worn by ladies. The metal weight is therefore higher for mens pendants, remember that durability depends on metal weight too.
Initials, symbols and digits can also be included in a pendant. Each customized pendant would have meaning and significance that specifically relates to the person buying the jewel.
The MPN10 mens initial pendant has everything that a good mens pendant is expected to have.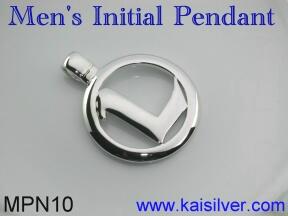 Custom made in gold or silver, this men's pendant combines smart looks with longterm durability. The impressive dimensions of this pendant are matched by a handsome metal weight of around 30 grams. Most men would look at the external appearance of an initial pendant and then turn to the price tag before making a buying decision. It is fair to expect the jeweler to take care of other essential features but, this does not happen in real life situations. Realizing the impact of low prices on jewelry buying decisions, jewelers push to design and produce flimsy jewels. We have come across jewelry buyers who were told that, similar pendants could be made with less than 15 grams of metal! What they were not informed was that, such light weight junk can bend and dent easily. If you are ever offered a men's pendant with a weight that is less than 20 to 30 grams, give it a good look before you part with your money. Complete details and useful suggestions for the MPN10 mens initial pendant can be seen here.
There is one more problem with low weight men's pendants. Turn them around and you will see an ugly hollow on the back side of the pendant. This is a result of heavy metal scooping done to lower the metal weight requirements. This scooping not only damages the appearance of the jewel, it also makes the pendant prone to denting and bending. None of us walk around showing off the back side of our jewels but, in the case of a gold or silver initial pendant it is possible that the pendant swings around when worn. Kaisilver pendants are provided with sufficient weight, this makes them sturdy and also allows a neat finishing on the back side. You can specifically request for a ladies or men's pendant with no scooping at all. Our support team will work out specific weight and cost factors for your requirement.
Customization is a big benefit for jewelry buyers. You are not bound by fixed, designs, dimensions or gemstones. For example, the diamond initial pendant IND008 could be made with no diamonds in the design. The font for the initial could be made in a different gold color as compared to the rest of the pendant. When it comes to the MPN10 mens initial pendant, you could request for a square frame rather than a round frame. The pendant is shown here without any diamonds or gems but, you could ask for a birthstone to be set in the jewel to make it a birth stone jewel. Kaisilver allows customization to the highest degree which means that, a completely new pendant could be created based on your design images or sketches.
Kaisilver custom makes all jewelry in gold or silver. The design for your jewelry can be yours or ours. Direct access to over 200 million carats of gemstones allows us to provide you with all gem options. Each gem is handpicked and custom cut, every jewel is crafted by some of the finest caftsmen and artisans. Email our support team at sales@kaisilver.co with any queries or requirements that you might have. You will not be under any obligation to make a purchase so do take advantage of our expertise.