Mens Rings, Essentials Of Rings For Men. Many people are under the impression that the essential features of ladies rings and mens rings are the same. While this conception might be okay for a casual buyer, the problem is that many jewelers are also not away of the features for mens rings where emphasis should be given. In this report, we will summarize the important features that should be present in mens gold and sterling silver rings. We will also make some suggestions for awesome mens rings that combine an impressive external appearance with longterm durability.
Tracing the track record of mens rings gives some an interesting insight into the development of designs, gems and craftsmanship used to produce gold and sterling silver mens rings. Before the advent of Kaisilver, the worlds leading online custom jewelry provider, most mens rings were crude pieces of metal, generally without gems. And when gems were used, they were low quality in terms of clarity and even cut. The low quality craftsmanship that came with such mens rings had a crazy reason and explanation. Greedy jewelers made people believe that a well crafted mens ring would not appear masculine!
When Kaisilver decide to enter the mens rings segment, a new approach was adopted. The idea was to expose men to quality rings that looked masculing, were durable and were well crafted. By conducting an indepth research into the lifestyle and habits of modern men, we were able to create rings that were suitable for the hectic lifestyle of modern men. The fact that men do not take too much care of the jewelry they wore was also confirmed by this research. The first collection of mens highend custom made rings was released in early 2002, the tremendous response ensured that we always remained the preferred source for rings for men. The idea of custom mens rings made buyers realize that all their preferences could be included in the ring. The straightforward and honest customer support provided by our team of professionals, helped educated buyers. The idea that a well informed buying decision works for both sides soon became evident.
We today produce all types and styles of mens rings. Both casual and special occassion rings for men can be ordered in gold or sterling silver. Our professional team answers all queries with suggestions and advice and can be contacted at sales@kaisilver.com You can choose from our wide design range, requesting for any modifications that you wish. We also welcome input in the form or sketches and images for your own designs. We give equal attention and importance to gold and 925 sterling silver mens rings, every ring can be made with both metals. An unmatched access to over 200 million carats of gems ensures that your gemstone choice is never restricted, each gem is handpicked and custom cut by our skilled gem cutters.
What Our Buyers Say.
It is one of the nicest rings I have ever seen, and the blue lapis goes with the yellow gold very nicely. The build quality of the ring is excellent, I can't say enough for it. It is a very solid study ring, and I like the nice thick underside of the ring; it is even thicker than that of some large school class rings I have. Please convey to the craftsmen who built the ring, and to everyone I corresponded with; Ms. Nok, Ms. Jittrah, Ms. Wan, and Ms. Tuk my sincere thanks. I enjoyed very much conveying the design to you, and I hope the craftsmen enjoyed making it as well. I will keep up with your website and ring designs, and when the mood strikes, will likely have you craft another ring for me. Sincerely, H. Albaugh
Arlington, Virginia, U.S.A.
Custom men's tanzanite and diamond ring arrived yesterday. The ring is absolutely beautiful! The detail and craftsmanship were well worth the wait. I took it to my jeweler who was very impressed with the price and especially the weight / craftsmanship. Thank you for the time and communication to make this ring perfect for him. Killam, Sherri Lyn (CIV).
Just a note to say "Thank You" to you and your company. The Emerald Claddagh Ring that I ordered for my wife's birthday arrived today, in time for her surprise birthday party this coming Saturday. The ring is beautiful, more than I expected. And you have provided excellent service. I would definitely consider using your company again if I'm in the market for jewelry, and would recommend you to others. Thanks again for your excellent service. Daniel Ray, CFP
Hello again, I received my ring today; the timing was perfect -- my girlfriend's birthday is tomorrow. I could not be happier with the ring; if anything, it is even more beautiful than I had hoped. The workmanship is exquisite, and the gems are truly amazing. I cannot wait to see the joy on my girlfriend's face when I give it to her. Including the birthday card and pouch was generous and very thoughtful. Thank you for your kindness. I am delighted, and I intend to tell everyone who will listen about Kaisilver. :) I would be honored if you use any or all of my comments on your website. Thank you so very much. Peace, Paul A Harrington Jr.
I absolutely love the ring. The opal is gorgeous. I didn't think it was going to have that much color to it. I got fast responses to all my questions and notification when my ring was going to ship. Thank you all, Danielle-Panama City, Florida
Essential Features Of Mens Rings. Most men are not aware of what to look for when buying mens rings. With this scenario, complete attention is given only to the price tag and the external apperance. While these two issues are important, you will need to understand more to get the best from your gold or silver mens ring. Below is a brief checklist that you should read and understand.
Durability: This is about how your mens ring will stand up to wear and tear and how good it will look in the years to come. To achieve durability, your metal ring will need a combination of factors. Good design, good craftsmanship, proper gem stone selection and very importantly, healthy metal weight are the major factors to consider.
Gemstone: You could choose a gem stone based on your preference for type, or color. Birthstone mens rings will have gems based on the gem stone charts. You will need to understand whether the gem stone in your mens ring is natural or manmade. Prices and value are lower for artificially made stones, no matter what fancy names they are sold under. Further, not all gems are equally hard or durable. Some gems like emeralds can chip easily, they also should not come into contact with strong detergents. A mens tanzanite ring should not be worn when doing heavy physical activity. When you choose a gemstone by color for your mens gold or 925 silver ring, consider the fact that options might exist. Some gems might be cheaper and stronger than others. For example a green tourmaline gemstone is sturdier as compared to a green emerald or green peridot. Your jeweler should be willing to help you with this, if he seems indifferent to your requirements find another jeweler.
Metal Weight: It is possible to get 2 mens rings that look very similar in style and dimensions. One of the could bend and deform within a few months, the other could retain shape for a decade. The difference in these two rings would most probably be metal weight. When you try to achieve imposing dimensions with insufficient metal weight, the gold thickness is reduced and it almost becomes a thin sheet. Such a mens ring can dent or bend easily. Given the high gold prices, jewelers work to produce light weight jewels as the attractive price tag attracts buyers. But this is a short term stunt that does not work in the longterm interest of the buyer. Kaisilver mens rings are produced with a metal weight that is around 50% to 60% more than what other jewelers provide. So doing a simple price tag comparison is misleading. Be careful when choosing mens rings with a metal weight that is less than 15 to 20 grams. If a good weight mens gold ring is out of your budget consider going for a silver mens ring.
Metal Choice: A survey of good quality mens rings reveals some important information. The number of silver mens rings sold exceeds the number of mens gold rings. While one of the reasons is price, another equally important fact is that many men feel that gold jewelry is too flashy. They prefer the cool and confident appeal of sterling silver rings. When it comes to gold mens rings, 14k rings would be a good idea. Technically 18k gold is a bit softer than 14k gold. The hardness of 14k gold will therefore add strength to the ring. Another belief is that, white gold is softer than yellow gold. There is no truth in this, when you compare the hardness of yellow and white gold mens rings in the same karatage category, the hardness will be the same. So the choice of yellow or white gold mens ring can be made according to your preference.
Design: Many jewelry buyers feel that, the design of a jewel reflects personal taste and nothing more. This is true but, the design of your mens ring can affect the durability of the jewel too. For example, prong settings for a gem need to be carefully evaluated. Prongs tend to stick in pockets and other places, this can cause them to gradually open up and loosen the gem stone. The best option for gem mounting in a mens gem stone ring is to border the entire gem with metal. The design of the ring also needs to take the ring size and overall dimensions into consideration, these should work along with the metal weight. If you have a fixed gold weight that fits your budget, spreading low weight across a large ring would reduce the strength of the jewel.
Craftsmanship: Stop believing that good craftsmanship makes a mens ring appear dainty and feminine, there is no truth in the statement. Good craftsmanship covers, casting, filing, polishing, gem setting and also gem cutting. There really is no substitute for this, mass produced jewels cannot give high quality craftsmanship. Only custom made mens rings will utilize skilled craftsmanship to the highest possible extent. A good design, good metal weight and awesome gemstone can all be ruined with bad craftsmanship.
The above are the main features that need to be considered, understood and evaluated when buying a mens gold or 925 silver ring. The temptation to choose a ring based on price is high, but the longterm problems that cheap jewels bring is known well. The most important thing would be to choose the right jeweler, do this even before considering the jewel.
Suggestions For Mens Rings From The Kaisilver Collection.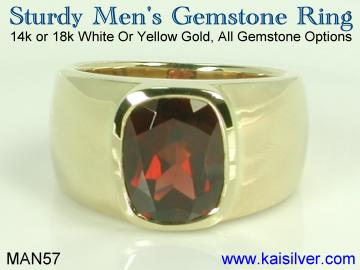 The MAN57 has been one of the hottest selling Kaisilver mens rings and is available in gold and silver with gems of your choice. ... more.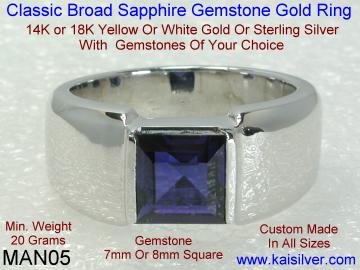 The MAN05 is an awesome mens band ring, suitable for a wedding ring or as a casual wear jewel. ... more.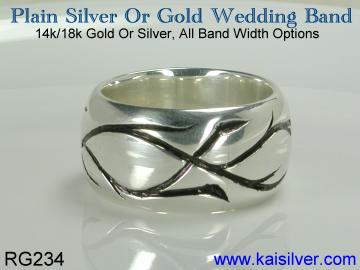 A highend custom band ring made in sterling silver or gold. Plain mens wedding band with etching of your choice. ... more.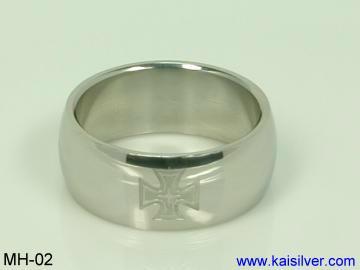 A sturdy and durable choice for a mens cross ring. This cross band ring has the cross etched into the ring and can be ordered in gold or 925 silver. ... more.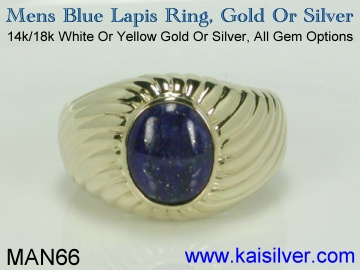 Classic lapis mens ring, order this ring in gold or silver. 14k and 18k mens gem rings available with your choice of gem stones. ... more.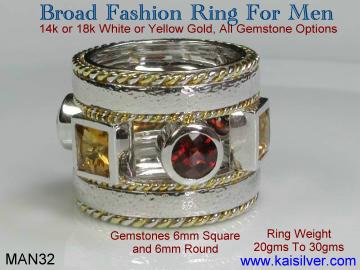 A stupendous mens fashion ring, multi gem stone ring for men in gold or silver. All gem and band width options. ... more.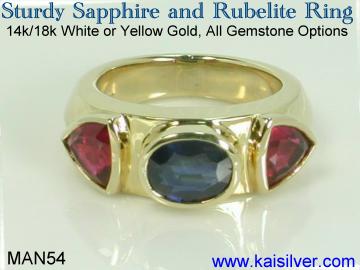 Mens sapphire gold ring, blue sapphire with trillion rubelite. Available as an 18k or 14k mens ring with gemstones of your choice. ... more.
The MAN30 is a handsome large gem stone ring. Shown here as a yellow gold men's amethyst ring, the same ring is available in silver too and you can choose the gem stone of your choice. ... more.
It is not just mens rings that we excel in. The range of Kaisilver custom jewelry covers a wide range of ladies and mens jewelry. Rings, pendants, chains, earrings, bangles, belly rings and even cufflinks are all custom made according to your specifications. Over 3,500 skilled craftsmen and artisans work on all our jewelry orders. 7 top notch designers from 5 nations inspire top quality jewelry.
Mens Onyx Rings Mens Emerald Ring