Custom Gemstone Bracelet, Express Yourself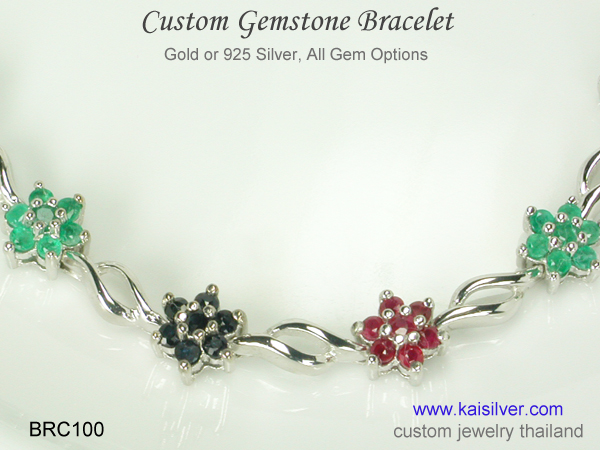 Choose a ready made gem bracelet and you can pay and pick it off the shelf. Go for the custom bracelet option and you would have to make a time allowance for the crafting process. If you make the right choice of a custom jewelry provider and include all your preferred design and gem features, a custom bracelet will give you the jewel of your dreams. A ready made jewelry seller needs to work on a substantial market reach for each piece in his or her showroom. This generally leads to a serious effort to reduce costs to flash a friendly price tag.
We will explain the customization process by referring to one of the hottest selling Kaisilver gemstone bracelets, the BRC100 with ruby, sapphire and emerald. The significance of these three gems is well known, they happen to be 3 of the best known, most sought after, most valuable, gorgeous and rare gemstones in history. This is a custom bracelet crafted in gold or 925 sterling silver, the jewel is based on the flower motif. Flowers remind us of color, beauty and nature the bracelet perfectly depicts the essence of these natural creations. Let us now discuss ways to customize this gemstone bracelet. To begin with, a custom jeweler should be able to accommodate all requests related to gems, metals and dimensions. If you feel restricted by your jeweler, sit back and work on find a new jeweler on a priority.
Customization Ideas
Gemstone Choice: There is no reason why your gemstone choice should be restricted to what you see in the image. A made to order gemstone bracelet should incorporate all your gem options, and gemstone combinations. You might for example, wish to order a family birthstone bracelet that includes the birthstones of everyone in the family. If this gemstone bracelet is being purchased to mark a wedding anniversary, the gems for the particular anniversary would be chosen. Besides the gemstone type, you might also wish to have a different gem size or shape. For example, oval gems could form the petals of the flower and a round center gemstone would complete the motif. Very few custom jewelry providers are capable of accommodating such changes. At Kaisilver, we handpick and custom cut each gemstone so this requirement is never a problem. A more colorful bracelet could be had by using a different gem color for each flower motif.
Single Gemstone: The BRC100 is shown here as a 3 gemstone bracelet, you could choose a single gemstone for the entire bracelet. With this customization you could have a gold or silver ruby bracelet or a piece with all sapphires etc. Talking about sapphires brings us to an exciting idea, we now know that all sapphires are not blue. A sapphire bracelet could have yellow, white, pink, blue, orange or blue sapphires. Consider a stunning color rendition for your custom made bracelet, a piece with all the different colors of sapphire. Once again keep in mind that, such detailed gem options are rarely available through most jewelry providers. Don't forget to read the next paragraph about a diamond bracelet, we have something interesting related to single or multiple gemstone for you.
Diamond Bracelet: Diamonds have glitter and fire, they can add a generous dose of extravagance and luxury to any jewel. If you have a budget to match, you can request a price quote on an all diamond bracelet. The design is perfect for diamonds as the closely set diamonds in each flower motif, would add up to an awesome display of brilliance and light. And if you wish to wear the colors on your hand without sacrificing the fire and expression of the diamonds, we have two pretty suggestions for you. Go for the gemstone bracelet with your choice of gems, request for a diamond to be encrusted in the center of each flower. Another awesome suggestion is to have a gem flower motif, followed by an all diamond flower and repeat that pattern for the entire bracelet.
Metal Selection: The belief that a gold jewel is better than a silver jewel arose from an interesting fact. Most jewelers provide lower importance and attention when making a silver jewel. When you refer to a custom gemstone bracelet from Kaisilver, you don't have any quality related worries to deal with. You can order your made to order bracelet in gold or 925 silver, rest assured that the quality of workmanship and gems will be the same for both metals. We have a single team of skilled artisans and gem cutters and the same quality control team, supervisors the crafting of gold and silver jewels. If you decide to go for the gold gemstone bracelet, we offer options for 14k and 18k gold. Request for a price quote if you wish to have the same bracelet in 10k gold. Another very interesting feature that can be customized in a gold bracelet is the gold color. You have three gold colors to choose from and each color, strikes a pleasing color contrast with the gems. Let us know if you prefer white, yellow or pink gold for the bracelet. You can request for rhodium, yellow gold or rose gold plating for the silver bracelet but please note that, no plating on silver lasts permanently. You should therefore consider leaving the silver gemstone bracelet unplated.
Durability: When you decide to choose a custom bracelet over a ready made piece, you MUST get a jewel that is sturdy and comfortable to wear. Considering that you bracelet will assemble all your preference, it is fair to presume that you would want to wear it for a very long time. Kaisilver jewelry is designed and crafted to give equal emphasis to beauty and durability. Most jewelers would craft a bracelet like the BRC100 ruby, emerald and sapphire, using no more than 7 to 10 grams of metal. This is because the fine segments would be hollow from the under side with metal scooped out, a lower metal weight translates into a lower price. A light weight piece would not last long and would surely not be comfortable to wear. The Kaisilver bracelet would be crafted in silver or gold with a minimum metal weight of 15 to 18 grams. This means that your bracelet will not snap or break easily, the gems and diamonds will also be very securely mounted.
How To Buy: We do not encourage impulse purchases, do not confirm your order without getting all information. Visit the BRC100 Kaisilver Bracelet Report and check out the options and pricing, remember that all design changes and modifications can be accommodated. We can even craft your jewel with a design provided by you. The support team at sales@kaisilver.com will be glad to answer your queries, you are under no obligation to make a purchase from us so do take advantage of their expertise.