Mens Rings With Onyx 925 Silver Or Gold Onyx Rings
It is very interesting to see how many men who do not care much for jewelry are actually impressed by mens onyx gem stone rings. There are some very strong reasons for this and understanding the features of a mens ring with onyx gem stone will make things clearer.
About Black Onyx Gems.
Durability: With a hardness of around 7 on the Mohs scale, onyx is suitable for all kinds of jewelry including mens rings. When you compare the durability with the price of onyx, it is always a great buy.
Pricing: The reason why mens onyx rings are affordable is basically because, the gem itself is moderately priced. This will be true even of large onyx gems in the 5 to 8 carat weight range. The affordability makes it suitable for gold and silver mens onyx gem stone rings.
Appearance: It is true that most men do not prefer to wear flashy and loud jewelry. Black onyx has a confident and quiet appearance, surely not loud. This is what makes mens gold and 925 silver onyx rings popular. Even large black onyx mens rings look sobre and smart. Black is also a color that goes well with most casual and formal wear.
Matching Colors: If you need a mens ring with multiple gems, black onyx can be one of them. The advantage of a silver or gold black onyx gents ring is that, it can be combined with almost any other gem stone color. For example, a black onyx and red garnet mens ring will look as impressive as a white topaz ring with black onyx gemstone.
Metal Options: The fact that this gem stone is not priced very high means that, it can be set in gold or sterling silver mens rings. When it comes to metal color, good news is once again round the corner. The black gem stone looks classic in both yellow and white metals. We have seen two tone mens black onyx gem stone rings and they look terrific.
Beliefs: Traditions and customs have been woven around almost every gem stone and black onyx is no exception. Many people believe that, wearing an onyx gem stone ring helps one overcome personal tragedy and grief. A significant proportion of onyx mens rings sold each year are purchased by buyers who believe this tradition.
Kaisilver onyx rings are available for men and ladies. Since each ring is fully custom made, the design, dimensions, metal and gem stone is something that you decide. Our support team can be contacted at sales@kaisilver.com and we believe in educating buyers rather than in pushing for a sale. We will have no problems if you get the benefit of our expert advice and suggestions and then place the order with another jeweler. It is fine with us as long as buyer longterm interests are taken care of.
Suggestions For Mens Onyx Rings
Below are a few suggestions for mens rings with onyx from our expert team. We do not expect you to rush and make a purchase, the whole purpose of this web site would be lost if it is used as a sales tool. Remember that all Kaisilver jewelry is fully custom made, all jewelry can inlcude all your preferences. Study these designs, access the detailed pages and understand what you should expect and demand from your onyx gemstone ring. All rings can be made in gold or silver, 14k and 18k white or yellow gold are always available. We also custom cut every gemstone used in our jewelry, you can therefore request for the onyx to be cut according to your preference.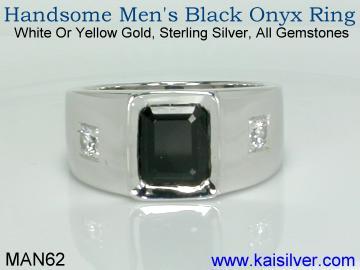 The MAN62 is a sturdy and durable mens onyx ring. On either side of the center onyx is a 2.5mm round diamond. Available in gold and sterling silver, this mens ring is also suitable for a mens wedding band ring. ... more.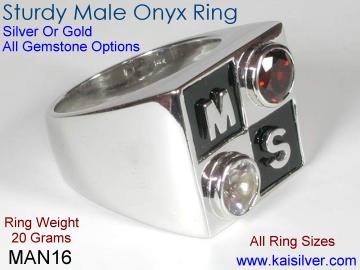 Awesome gold or 925 silver mens initial ring. Initials mounted on custom cut onyx gems, the two gems are optional and you can choose the gem stones of your choice. ... more.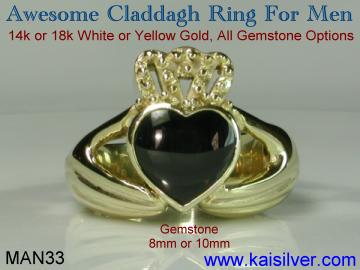 The MAN33 is a sturdy mens claddagh ring, shown here with a black onyx gem. You can order your claddagh mens ring in gold or silver with any gem stone of your choice. The claddagh ring is respected as the world's most meaningful jewels. ... more.
If you have your own ring designs, to be custom made, do email them to us at sales@kaisilver.com Our support team will work with you to finalize specifications and send you a price quote for the same. Kaisilver custom jewelry goes beyond rings, we also custom make bangles, pendants, earrings, cufflinks and belly rings. A team of 3,500 skilled craftsmen bring together a diverse and indepth talent in every type of jewel.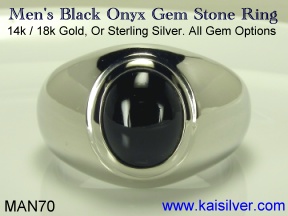 The MAN70 mens onyx ring is a jewel that has all the best features packed into it. The ring has a sleek and confident design supported by a wholesome metal weight of 20 to 25 grams. Custom made in gold or silver, this mens black onyx ring is available in all sizes ... more.
Who Is Kaisilver? What Do Our Buyers Say?
We can proudly claim that our respect and popularity has been entirely built upon customer satisfaction. We indulge in no extravagant marketing gimmicks as, these overheads finally pile on the price tag and are borne by the buyer. Below are a few comments from our buyers, read them and become aware of the quality of service and merchandise that we provide.
Received the cross I ordered for my wife today and it is everything I expected. It is beautiful and the craftsmanship is superb. Thank you so much and thank you for the extra gift of the jeweled neckless. If you ever need a recommendation please feel free to use me. Thank you again.
Mr.Jeff Price
The ring arrived and it is beautiful. Thank you for such a wonderful job. I will be looking at your website over the next couple of weeks to place an additional order. Your workmanship and pricing is excellent. Thanks again, Dr. David Williams

Hello again,I received my ring today; the timing was perfect -- my girlfriend's birthday is tomorrow. I could not be happier with the ring; if anything, it is even more beautiful than I had hoped. The workmanship is exquisite, and the gems are truly amazing. I cannot wait to see the joy on my girlfriend's face when I give it to her. Including the birthday card and pouch was generous and very thoughtful. Thank you for your kindness. I am delighted, and I intend to tell everyone who will listen about Kaisilver.:) I would be honored if you use any or all of my comments on your website. Thank you so very much. Peace, Mr.Paul Harrington Jr.
Dear Ms. Nok: Just a note to say "Thank You" to you and your company. The Emerald Claddagh Ring that I ordered for my wife's birthday arrived today, in time for her surprise birthday party this coming Saturday. The ring is beautiful, more than I expected. And you have provided excellent service. I would definitely consider using your company again if I'm in the market for jewelry, and would recommend you to others. Thanks again for your excellent service. Mr. Daniel Ray, CFP
Custom men's tanzanite and diamond ring arrived yesterday. The ring is absolutely beautiful! The detail and craftsmanship were well worth the wait. I took it to my jeweler who was very impressed with the price and especially the weight/craftsmanshipJ Thank you for the time and communication to make this ring perfect for him. Ms.Killam, Sherri Lyn (CIV)
Hello!I just received the cufflinks and they are FANTASTIC. I didn't realize that each pair would be different. Every one is awesome, really, really beautiful! I can't say enough about how happy I am with them. So, yes, I would like to go ahead and order the two sets of 4 tuxedo studs. Mr.Geoffrey Reed.

We received this ring today. It is absolutely beautiful and we are completely delighted with it. I think when we get married, we will come back to you for wedding rings. With our best regards and many thanks, Katherine Irwin and Andrew Coles