Mens Cross Wedding Band Rings
A cross wedding band is a religious jewel and enhances the meaning and significance of a wedding ring. If you try to look around for a men's cross ring you can find some very fancy jewels, most are studded with gems and diamonds. You will also find that most of the well made cross rings for men are done in gold. Technically there is no reason why a silver cross ring cannot be made with the same quality features as a gold ring but, the lower profits of silver jewels might have something to do with it. In this report on men's cross wedding band rings, we will discuss a particular type of cross ring. This ring is plain in the sense that, it does not have any gems or diamonds studded in it. If you do a broad survey on mens wedding bands you will find that, a large proportion of these rings are ordered with no stones set in them. We will use the Kaisilver MH-02 cross wedding ring as an example to explain various features and issues involved.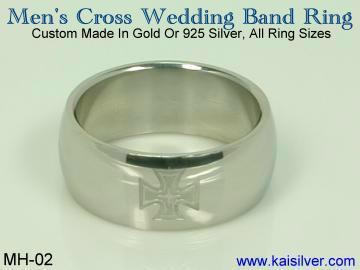 Take a close look at the MH-02 cross wedding band ring. It is the cross that gives this ring it's meaning. You can therefore choose this men's cross ring even for a casual wear jewel, it need not necessarily be a wedding band ring. We had infact received an order from a French mother who gifted a silver MH-02 custom ring to her son as a promise ring. What we are actually going to discuss about this cross ring is related to the design structure of the ring and also, the options for making the cross on the ring. Let us now discuss the features of this ring and also suggest options for various features.
Band width: Firsly you should know that this cross mens wedding band has a uniform band width all around. The normal band width is around 9mm to 10mm, which is about one centimeter. Having said that we would like to mention that, your cross ring can be ordered with the band width of your choice. If you plan to use this concept for a pair of wedding bands, we would suggest an 8mm to 10mm band width for the men's cross ring and around 5mm to 6mm for the lady's ring. These are merely suggestions and your personal preference can over ride them.
The cross: You can notice one thing about the cross on this mens wedding band, it has all four segments of equal length. While this is still a cross, some people prefer the verticle length of the cross to be larger than the horizontal length. Since each cross wedding band is fully custom made, your personal preference can always be incorporated in the jewel. Besides the dimensions of the cross on the wedding band, you will also notice that the cross has been etched into the metal. However the etching is only partial and it does not fully cut through the ring. We have had a few requests for the same ring to be made with the cross being fully cut into the metal. What this means is that when you wear your mens cross wedding ring, you could see the finger skin through the cross that is cut out. You might also want to consider raising the cross slightly above the surface of the ring.
The metal: There is one thing good about jewels with special meaning, the MH-02 has religious significance. When you buy this cross wedding ring for men, you are doing so because of the religious meaning of the jewel. What this means is that, the price paid for the jewel is not the main criteria. So you can choose a gold or silver cross wedding band, and still not see any compromise in terms of meaning or significance. The interesting thing is that most jewelers are not willing to make well designed and crafted silver jewels. However all Kaisilver custom jewelry comes with good design, metal weight and craftsmanship. You can therefore rest assured of the quality for both gold and silver cross wedding bands. The choice of 14k or 18k rings needs to be made with the knowledge that, 1k wedding bands would be stronger than similar rings made in 18k gold. This is because of the hardness of 14k gold as compared to 18k gold.
Metal weight: There is nothing like a standard weight for a mens cross wedding band. The weight needs to be kept proportional to the ring size, the band width and the overall design of the jewel. If we had to talk with reference to the Kaisilver MH-02 cross wedding band, we would say that a minimum weight of 18 to 20 grams should be the norm. We have talked about the band width of the ring, we also need to mention the thickness of the jewel.
Thickness would also influence the durability of the jewel. You could make a size 10 ring with a band width of 10mm in 10 to 12 grams of gold. If we produce such a jewel for you, the metal weight would be in the 20 to 25 grams range. The point is that, low weight would make the gold very thin much like hammering a small piece of metal to a wide sheet. When you have such rings, expect them to dent or bend easily. This would ofcourse result in repair expenses which can come frequently. The interesting thing is that, this is common knowledge and yet jewelers continue to churn out light weight jewels. They do it as light rings will be cheaper and attract wider markets!
Durability: When you talk about a good quality plain cross wedding band ring, durability should be included and not taken to be an option. Sufficient metal weight and good craftsmanship are essential features for creating a durable jewel. Another thing in favor of plain wedding bands is that, there is no need to worry about gem properties and caring. Some gems need special attention when being worn, stored or even cleaned. The Kaisilver cross wedding ring shown here does not use any gems or diamonds. This surely makes it easier to maintain and clean.
Customization: If you were buying a casual wear jewel, you are more likely to make compromises on your personal preferences. However most of us buy a wedding ring just once in a lifetime, we therefore expect it to be all that we dreamed of. Let us presume that walked into a posh jewelry showroom in New York and the MH-02 in the showcase. The ring was presented in 18k but you would rather spend on a silver ring with similar design. There is almost a zero percent chance, that the New York jewelry store would custom make the jewel fro you in sterling silver. Most of us would infact feel embarassed to talk about silver jewelry in posh jewelry stores. The truth is the metal choice for your men's cross wedding band ring is yours, it is not the business of the jeweler to comment on your choice. All you need to do is look for a reputed custom jewelry provider who is willing to produce the same quality ring in 925 silver for you.
Customization also implies things like band width, ring finishing and even the basic shape of the ring band. The MH-02 has a band that has a slight outward bulge, this is commonly known as the barrel shaped band. You can request for the same ring to be made with a flat band, with no bulge. When it comes to the finishing on the ring, a high polish finish or a dull brushed finish are the most popular choice.
In this article we have explained some important issues regarding the Kaisilver cross wedding band. The ring can be modified in all respects to suit your preference. You can contact our support experts at sales@kaisilver.com and get clarifications and suggestions on all issues related to gems and jewelry. You can even send us your images or sketches to use as designs for your ring. When you make a price comparison between two plain cross wedding rings, make sure that you evaluate the metal weight and the craftsmanship. A cheap ring will not be cheap in the longterm, frequent repairs can be expensive and they will reduce the lifespan of your jewel. More information on the MH-02 cross wedding band can be seen at http://www.kaisilver.com/mens-cross-wedding-band-ks-01.htm