Unique Bracelets From Kaisilver
Kaisilver bracelets have shown a steady increase in demand. If you find a highend plain or gemstone bracelet, that is well designed and crafted and provided with a healthy metal weight - chances are that it is a Kaisilver bracelet. The crazy rush to attract mass markets has made jewelers forget about quality and durability. Realizing that most jewelry buyers concentrate on external beauty and lower price tags, the issue of quality in jewelry has been pushed to the back seat. It is true that a quality jewel cannot be cheap but, not all jewelry buyers are willing to sacrifice quality just to get a 'friendly' price.
Having said that we do not mean that, the fact is that you can get a fine Kaisilver plain or gemstone bracelet in under 1,000 U.S$ too. A sterling silver bracelet that we custom make would have the same quality of design, craftsmanship as a gold bracelet. This itself is very unique since very few jewelers care to make single piece 925 sterling silver bracelets. The highed profits provided by 14k or 18k gold bracelets has made jewelers hunger for gold - thus giving secondary importance and attention to 925 silver bracelets. At Kaisilver we have always welcomed both gold and silver jewelry requirements. By using the same design, gemstone and production teams for gold and silver jewelry, we clearly prove our commitment to quality standards.
In this section, we talk about two unique bracelets from Kaisilver. Each of these bracelets is interesting and has some exclusive features. Just keep in mind that the high degree of customization provided for all our jewelry means that, there are no restrictions on choice of design, metal or gemstones. This means that the bracelets that you need, can be designed with your designs or ours. A gold bracelet shown on our website can also be made in 925 sterling silver.
The first bracelet that we would like to talk about is the BRC100 gem stone bracelet. The basic design concept of this bracelet is based on a flower arrangement of the gems. The gold bracelet as shown has three gems set in the flower design through the bracelet.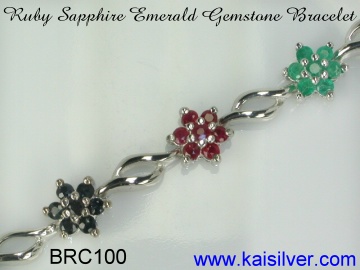 The BRC100 Kaisilver Bracelet
The gems shown in this 14k white gold bracelet happen to be the most popular precious gems. Ruby, sapphire and emerald has been known to man for many centuries. A gemologist would classify these three gems as precious gems, most other gems are grouped in the category of sem-precious gems.
It is not often that you will come across a jewel that combines all these precious gems namely rubies, sapphires and emeralds in a single jewel. This is what makes the BRC100 Kaisilver bracelet unique. Another interesting observation about this multi gem stone bracelet is that all the three gems are listed as birthstones too. If you check the birthstone charts, you will notice that ruby is the July birthstone and also represents the Cancer zodiac sign. The birth stone for the month of September is sapphire, which is the month of the zodiac sign Virgo. Emerald ofcourse is listed as the May birthstone and represents the zodiac Taurus sign.
While we are discussing about this ruby, sapphire and emerald bracelet, we would like to offer some interesting gem ideas for your bracelet. While the image shows the white gold bracelet with three gem types, you could request for a custom bracelet in silver or gold that had only 1 or 2 gem types. It is ofcourse possible to get the same bracelet with even 4 or 5 gemstone types.
You could get an all sapphire bracelet and yet have a variety of gem colors in the bracelet. This ofcourse is possible because sapphires are found in more than one color. Pink, blue, green and even white sapphire gemstones can be selected for your Kaisilver BRC100 custom made bracelet. Another gemstone that offers such an opportunity is tourmaline, a classic combination of pink and green tourmaline would get you a pretty and elegant bracelet. The combinations are really endless, so it would be better for you to discuss your ideas with our support experts at sales@kaisilver.com
Before we move on to presenting the next bracelet in our collection, it would be useful to summarize the main features that are common to all our gold or sterling silver bracelets.
Main Features:
Gold or silver options for all bracelets.
14k / 18k white or yellow gold.
All gem options, gems can also be combined.
Good metal weight of 15 to 25 grams.
Fine craftsmanship for all bracelets.
Bracelet length according to your requirements.
Firm and sturdy clasp, keeps your bracelet secure.
Bracelet design can be yours or ours.
We will now discuss the next bracelet in our discussion on unique bracelets from Kaisilver. For some of you this could be a preview to a gemstone that you have never heard of or seen. Interesting because it has been around for a long while and is gorgeous, strong and modestly priced.
BRC101 Kaisilver Iolite Bracelet
The yellow gold bracelet shown in BRC101 has oval iolite gem stones set in gold. This gem stone is not very common, though it has been known to man for many centuries. The low profile of iolite gemstones is not related to lack of beauty or durability, there is a very interesting fact behind this. Medium blue-violet color in iolite gems can make them appear quite like another gem Tanzanite. This does not mean that iolite and tanzanite are the same stone. Tanzanite is much more expensive as compared to iolite, it is also not as strong as iolite. Another very positive feature of iolite is that, it is generally not treated in any way to enhance it's beauty. On the other hand, almost all tanzanite used in jewelry is heat treated to increase it's clarity or better it's color.
So why did tanzanite become more popular and also more expensive as compared to iolite. The simple explanation is that tanzanite was launched with tremendous publicity and glamor by none other than Tiffany's. This worked to make the gem appear more exclusive and desirable. Some of this popularity resulted in the low profile assigned to iolite stones. This is why you can safely order a gold or 925 silver iolite gemstone bracelet, rest assured that the gem is not less durable or beautiful as compared to tanzanite.
Like the BRC100 three gemstone bracelet that we just discussed, the BRC101 Kaisilver bracelet can also be ordered with gems of your choice. If you prefer the gold iolite bracelet, you can request for a white or yellow gold option. It is also possible to combine more than one gem stone in your custom bracelet. Since there are basically eight gems in this bracelet, you could combine a maximum of 8 gem types in a single bracelet. This offers a great opportunity to get a family birthstone bracelet or even a mothers' bracelet that includes the birth stone of all family members.
Our discussion on gemstone bracelets has been limited to natural gems. We did not talk about artificial stones manufactured in factories. Prices of gemstones can vary widely depending on the gemstone type. We would encourage you to discuss your requirements with our support experts before making a purchase from us or from any other jewelry provider. It is unfortunate that most jewelers push buyers to buy on an impulse. This does not work to the advantage of the buyer in the longterm. We will be glad to support you with facts and suggestions without any buying obligation on your part.
If you have gone through this write up you would have noticed that, there is no sales hype included in the content. We prefer to keep the sales and order process within our main websites. If you do need any additional information on the bracelets shown here or, on any issues related to gems and jewelr, do contact our experts at sales@kaisilver.com They will be glad to guide you with complete information and suggestions. As always, the buying decision is left to you and we will have no problem if you finally order your merchandise from another jeweler. We custom make all merchandise in gold or 925 silver with gems of your choice. The designs can be yours or ours, the quantity can be just one piece or as many hundreds as you might need.