Rings And Jewelry With Square Gemstone
Let us begin by understanding a few interesting issues related to square gem stones. It might seem that square gems are just like any other gems but, the issue is not that simple. Square gems almost always have sharp pointed corners, these corners can get damaged or break by physical impact. This is more likely to happen if your custom or readymade jewel does not have a researched design. It is of course not easy to get such attention provided for wholesale mass produced jewelry but. For this reason we would strongly suggest that you consider a custom made jewel when choosing a gold or sterling silver jewel with a square shaped gemstone. The information on this page will highlight the main issues that you need to consider when buying a ring or other jewel with a square shaped stone.
The square gem rings and other jewelry shown below are merely examples, of what we can do. You could pick any of the designs shown below and request for it to be crafted in gold or silver with, the gem of your choice. We can also craft a unique square ring, pendant, bracelet, earrings or cufflinks for you with, your own design idea or concept. Contact us at sales@kaisilver.com with any queries or requirements that you might have.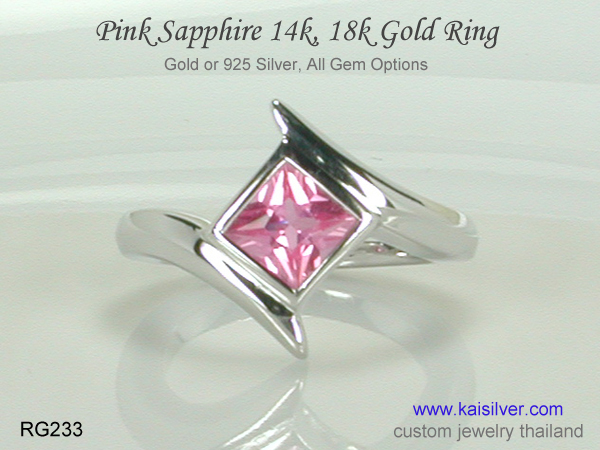 A sleek but sturdy square pink sapphire gemstone ring. This white gold square ring can be ordered in all gold colors and also as a sterling silver ring with any square gem of your choice. Comfortable to wear and secure gem mount and protection for this Kaisilver gem ring from Thailand. Custom ring in all ring sizes and all gem options ... more.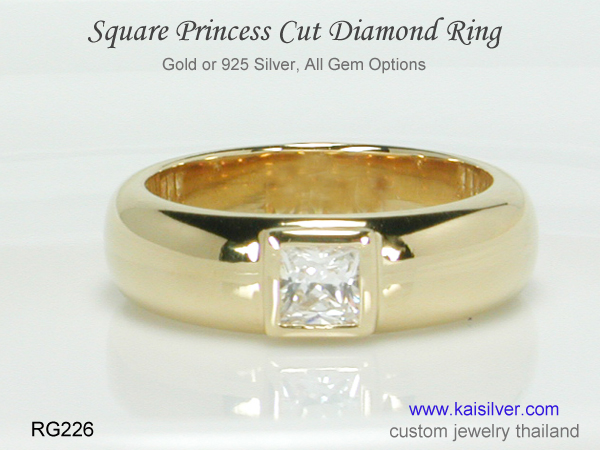 Shown as a square diamond band ring, the RG226 custom ring from Kaisilver, can be requested with any gemstone of your choice. A sturdy band ring with no metal scooping inside the band. Expertly crafted by artisans in Thailand, this square ring is available with the same premium standards in gold or sterling silver. Shipped worldwide ... more.
If you observe a faceted square gemstone a few features will immediately become apparent. The first thing that the corners of the gem would be quite pointed. It is also true that the edges of a faceted gem including the corners, are always thinner than the remaining part of the gem. This does mean that a square shaped gem is more likely to have it's corners damaged by physical impact. It is not sufficient to say that, the buyer needs to take care of the jewel, this ignores the responsibility of the jeweler. In the next few paragraphs we will try to cover issues related to square gems and jewelry that uses them.
Jewelry design: While pendants, rings, earrings and bracelets can all be custom made with square shaped gems, rings and bracelets need special attention as they experience more wear and tear when worn. The design that uses a square shaped stone should ensure that, the corners of the gem are well protected from physical impact. This is best done by using right angled 'L' prongs when mounting the gem. Ordinary prongs cannot cover the pointed corners and are therefore not suitable.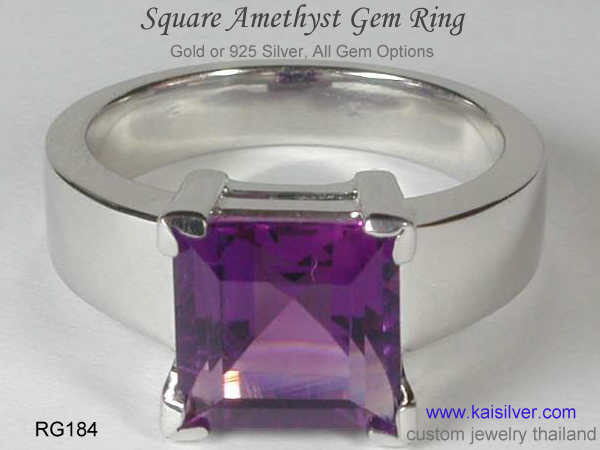 A big gemstone ring, broad and durable band crafted by highly skilled artisans in Thailand. The big square gem in the RG184 Kaisilver ring, can be replaced with the gem of your choice. Since this big square gem ring is custom made, the gem size and ring band width can be made to suit your requirements. Handcrafted in gold or silver ... more.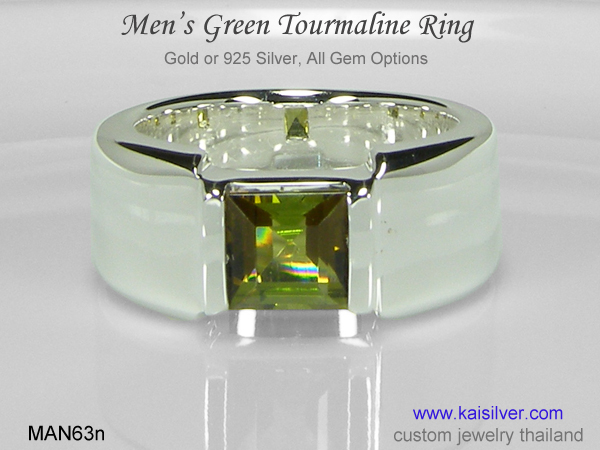 Men's band ring square gemstone of your choice. Superbly crafted as a gold or silver ring with any square gem of your choice. No metal scooping inside the band ensures that, the tourmaline ring is comfortable to wear and long lasting. Crafted by Kaisilver Thailand, the MAN63N men's gem ring, can be crafted with all gem types and sizes ... more.
Gem Cutting: This is something that will not be possible to control if you buy a mass produced jewel with a square gem stone. However a good custom jewel will use custom cut gems and the cutting can be tailored to suit the exact shape and size of the gem stone. It is a good idea to avoid cutting square stones with very thin edge areas. Many gem manufacturers cut shallow square stones to either lighten the gem color or to save on stone weight. Shallow stones have lower durability and there are no two thoughts about that.
Craftsmanship: It is often said that bad craftsmanship can ruin a wonderful design and a gorgeous gemstone, this is very true. When setting a square gem stone, it is best to use a very skilled gem setter. This will help avoid the corners from breaking or scratching when the prongs are folded over them. The gem type and gem thickness will need to considered when deciding just how much pressure can be safely applied to the stone. Insufficient pressure can mean a loose gemstone and too much pressure can damage the square stone.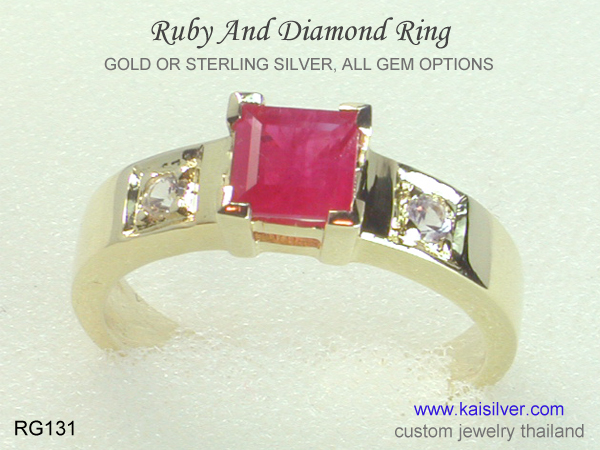 Not often that you come across a ruby or sapphire square gemstone ring. The RG131 is an affordable luxury, that should be included in every fine jewelry collection. Crafted by expert artisans in Thailand, this ruby square gemstone ring is available with all gem options. Gem mounted with 'L' shaped prongs for gemstone protection ... more.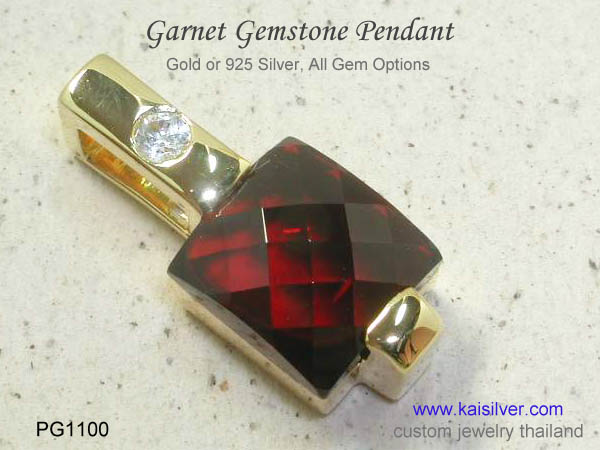 Large square garnet gem for this square shaped pendant, crafted by highly skilled artisans in Thailand, this Kaisilver pendant can be ordered with the gem of your choice. The PG1100 square gemstone pendant, has the same high standards crafted as a gold or silver pendant. Can replace the diamond with a gem of your choice ... more.
Handling and Wearing: If the above issues have been taken care of during the designing and production phase, most of the issues that you need to take care of will be reduced. Avoid keeping a square gem stone jewel with exposed corners bunched together with other jewels. This is especially true if the pointed corners are naked on the mounting. When cleaning a jewel that is set with a square gem, make sure that it does not hit against hard objects like wash basins and water taps. The degree of care and attention that you need to give your square gem jewel will depend on the amount of efforts that the jewel has put in to make the jewel more durable.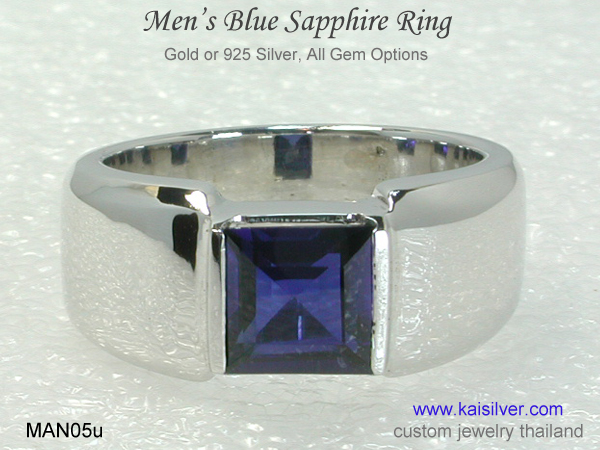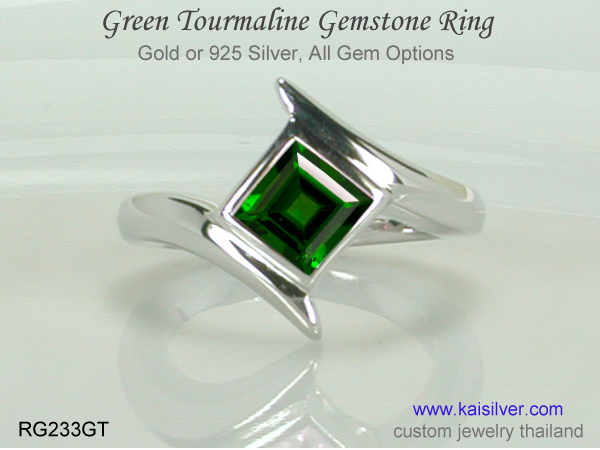 Style And Trends: A small note on the style and trends of jewelry with square gemstones. The interesting point is that, many gemstones are not easily found with a square cut. This could explain why square gem rings, pendants bracelets etc are not very common. And if you do include a silver or gold ring with a square gem in your collection, rest assured that it would never appear to be outdated and out of trend. Square gem jewelry has a stylish and sophisticated look to it, this irrespective of whether it is crafted in gold or 925 silver. With Kaisilver procuring gems from the mines and custom cutting each gem in Thailand, you can choose a square gem ring with any gem of your choice. No middlemen and no multiple profit margins added to the stone or jewel price - all from one single source.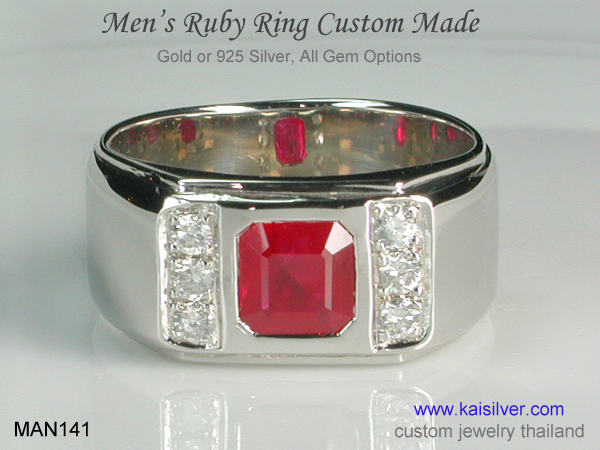 A tough and handsome men's 14k square gem ring. Shown with a square octagonal cut ruby gem in the center, the MAN141 adds more luxury to the ring by lining up diamonds on either side of the square ruby gem in the center. This sturdy ring is expertly crafted by Kaisilver Thailand, with any gem of your choice. All ring sizes available ... more.
A very interesting concept for a ring with square gems. Three gemstone ring RG220N shown as a sapphire gold ring. Can be ordered in gold or sterling silver, you choose the 3 square gemstones. All gem stone combinations possible in a single ring. The gem size and band width can be customized to suit your preference ... more.
Kaisilver is the world's largest online custom jewelry provider. With customers in over 17 nations and covering more than 9,000 fashion conscious gem and jewelry lovers, we rely fully on satisfied customers to stay in business an grow. We do not resort to flashy marketing campaigns and high pitched media gimmicks as, the cost of all this is finally to be borne by the buyer. We do not hire smart talking sales staff and all queries and requirements emailed to us at sales@kaisilver.com are answered by our team of professionals from the jewelry and gemstone field.
We custom make all types of jewelry in both gold and silver with gems of your choice. You therefore need not limit your requirements to what you see on our website. You can send us images or sketches to be custom made by us.
Each of the items shown on this page have a link to a more detailed information page. Take your time and read all details of the item that interests you. Then email us your questions and requirements, let us know your preference for the gemstone, gold or silver or white or yellow gold. We will then get back to you with suggestions and lead you to make a well informed decision.