Star Sapphire Rings, Diffused Star Sapphires Bring Affordability
You could say that star sapphire rings are jewels with interesting gemstones. It is interesting to see how star sapphires are actually formed in nature. A natural star sapphire is a gemstone with very fine needle like inclusions. We all know that inclusions are not uncommon in natural gems but, the inclusions in star sapphires have some interesting properties. To get a star effect on a sapphire gem, the inclusions need to be densely bunched together AND oriented in a specific direction. When there is a combination of inclusions, dense bunching and specific orientation - the sapphire will show a star effect when struck by light.

Having understood the very specific requirements for the sapphire inclusions to flaunt a star, you can imagine that the number of star sapphires with good and sharp stars are not many. Add to this the fact that, the demand for good quality star sapphires with clear and crisp stars, has never abated for more than a century and you will see that, not much of these gems would be left in the mines. This does not mean that star sapphires have become extinct. You can still buy a star sapphire ring with a clear and crisp stay, but the price of such rings has been steadily increasing over the years.
A few decades ago, the gemstone world revealed another great option for star sapphire gems. These were called diffused star sapphires and we will tell you what they are in this report. To start with, you would be glad to know that diffused star sapphires are actually natural sapphires to begin with. By using an intricate process, the natural sapphire is treated in a way that it shows a star on the surface. Your diffused star sapphire ring will show a clear and crisp star on the stone, something that is getting rarer to find in natural sapphires that show a natural star effect. Since a diffused star sapphire is based on a natural sapphire gem, durability and other features of the sapphire remain intact.

Present Position Of Natural Star Sapphires.

Let us talk about the supply side of natural sapphires with natural star effect as of today. There is a significant reduction in terms or quantity and quality of star sapphires mined today. The lack of quality has not prevented the price of these star sapphires from moving up. So what you will find is that the price of star sapphire rings with such sapphires, keeps increasing. In many cases, the buyer finds that a star sapphire gemstone is priced to high to budget for in silver rings.
Along with an increase in price, comes a reduction in quality. More specifically, the quality of the star has deteriorated significantly. It is not uncommon to find star sapphires with natural stars that are nothing more than a patch of light. If you plan to get gold or silver star sapphire ring, with a natural sapphire showing a natural star - expect to pay a premium price for the ring. And do not expect to get a nice pointed star on the gem too!

Diffused Star Sapphires, Meaning.
As the price of natural star sapphires with natural star effect kept increasing, it became clear that fewer budgets could cater to their price. Gemstone research, yielded some encouraging results when it became possible to treat natural sapphires to bring out a star effect on them.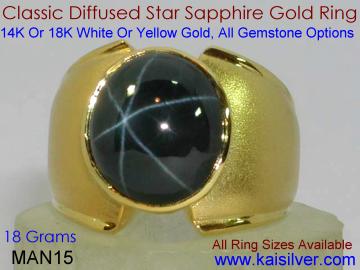 The MAN15 star sapphire ring from Kaisilver, is a good starting point to explain about star sapphire rings with diffused star sapphires. The image of this men's star sapphire ring has not been retouched or enhanced in any way. The size ray star is sharp and clear, the gemstone itself has an impressive size of 11x9mm oval to 12x10mm oval. For a moment try not to be distracted by the handsome gold ring that holds this stunning diffused star sapphire. We wish to explain a few things about the gem stone in the ring.

We mentioned that this star sapphire ring has a diffused star sapphire, an important thing is that the sapphire gemstone is natural and not manmade. An advanced diffusion process has been applied to the sapphire, this gives the awesome star that you can clearly see on the ring. And why did we not use a natural sapphire with a natural star effect, let us explain the details about that. Firstly, the chances of getting a large star sapphire like this one would not be easy, it would be rare and rare in terms of gems means a jump on the price tag. That is not all, the clear star with six rays that you see on this diffused star sapphire would be almost impossible to find on a large natural star sapphire with a natural star effect. We say almost impossible because, you could probably get one at a price of around 3,000 U.S$ JUST for the gemstone. On the other hand, a diffused star sapphire gem would cost you less than 200 U.S$.
Let us come back to the MAN57 diffused star sapphire ring. You see the gold version of this ring in the image, you could get an 18k or 14k star sapphire ring and ofcourse choose from yellow or white gold. The very appealing thing about a diffused star sapphire gem is that, it's affordability makes it suitable for a silver ring too. We say this fully realizing that the beauty and apperance of the gem ensures that it will do full justice to an expensive highend gold diffused star sapphire ring too. Like always, this Kaisilver star sapphire ring can be custom made in gold or sterling silver. It is also possible to request for design changes when order your star sapphire ring. Complete customization gives you absolute power to request for any design feature to be changed, you can infact request for a totally new design based on your sketches or images.

While most jewelers would give secondary importance and attention to a silver ring, at Kaisilver we do not indulge in such gimmicks. Rest assured that you will get the same quality of design, craftsmanship and gemstone for your gold or 925 silver diffused star sapphire ring. And we can prove our commitment to quality jewelry irrespective, of the metal that you select. Most jewelry providers maintain a separate production line for gold and silver jewelry, we do not do that. The same team of designers, gem experts, gem cutters, craftsmen and quality control experts work on both gold and sterling silver jewelry orders.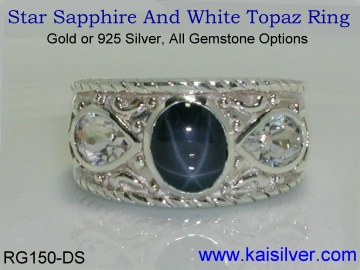 The RG150-DS sterling silver star sapphire ring is another, diffused star sapphire gemstone ring from Kaisilver. This antique style ring has attracted buyers from various countries, Australia, New Zealand, U.S and U.K are some of these. There is something about classic antique style jewels, they never seem to go out of fashion and they have always had a very select group of buyers who demand something more than flashy designs from their jewelry. Just keep in mind that you can always order this diffused star sapphire ring in white or yellow gold too.
Whe Kaisilver released the MAN15 diffused star sapphire ring, we had a number of ladies who liked the ring and wanted one for themselves. We did mention that, the imposing gem size would probably not impress some of them. As the queries for ladies star sapphire rings kept increasing, the designing team at Kai Silver researched on some options. One of these was the same MAN15 concept, with a smaller 9x7mm oval diffused star sapphire gem. You will agree that, the European markets are generally not very appreciative of plain ans simple designs. This was what prompted the release of the RG150-DS star sapphire ring.
The RG150-DS silver or gold star sapphire gem stone ring, has an 8x6mm oval diffused star sapphire gem in the center. Look on either side of the center gemstone and you will see two pear shaped gems (one on either side). These are 7x5mm pear shaped gemstones. So what you have here, is a three gem stone ring and ofcourse all the gems in the ring can be selected according to your preference. We are not going to get into sales talk here, so if you need details on the ring check out the link highlighted on the paragraph below the image. But what we will say is that, the use of a diffused star sapphire will bring a pleasant surprise when you review the price tag on the jewel.
At this point, we will try to explain some very essential features related to star sapphire gems. A natural star sapphire gem with a natural star effect (not diffused) is considered to be a fine gem if it has the following properties. The star should be clear and crisp, the star should move with the source of the light, the six rays of the star should be clear and not fuzzy. We will add that the gemstone itself, should have a nice smooth finish without pits and breaks on the surface of the stone. Now let us see whether a natural sapphire with a diffused star can match these requirements. At Kaisilver we can assure you, that the gem stone in your gold or 925 sterling silver diffused star sapphire ring, will have a sharp and clear star. The star will also move along with the source of light. It goes without saying, that the gemstone will have a smooth finish and not posess any pits or holes on the surface.
An important thing to note is that, we can provide you with a natural star sapphire gem that has a natural star effect. If you need that, email us with your requirements at sales@kaisilver.com and we will get back to you with a specific price quote and other details. You can also contact us with any doubts or queries that you might have. We will gladly help you with advice and suggestions even if, you do not intend to buy anything from us.