Rings With Sapphire For Men
Rings for men are most often ordered with blue sapphire gemstones. Kaisilver the leading online high end custom made jewelry provider from Thailand, crafts men's sapphire rings with white, pink, green, blue or yellow sapphires. An interesting fact is that, sapphire is an extremely tough gemstone. It comes second in hardness to only diamonds which, happen to be the hardest natural 'stone'. With the same high quality standard provided to both gold and silver sapphire rings, Kaisilver can craft your ring with a design from our websites or a concept provided for you. The advantage of choosing a Kaisilver men's sapphire gemstone ring is that, the jewels give equal emphasis to good looks and durability. Our experts at sales@kaisilver.com will be glad to provide any information or clarifications that you might need.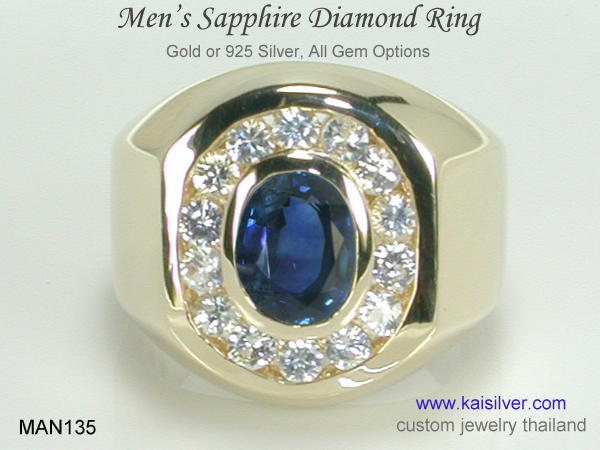 A big sapphire gemstone ring for men, the sturdy design of this men's ring is supported with a heavy metal weight. Custom made by skilled artisans in Thailand, this Kaisilver sapphire ring is crafted in gold and sterling silver. Rings are available in all sizes ... more.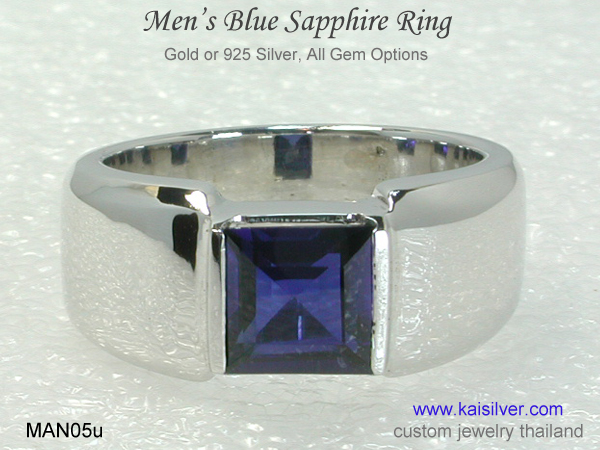 A luxury sapphire band ring for men, perfect for a pair of sapphire wedding bands. The men's sapphire gemstone ring has a band width of around 9mm to 10mm (1cm). Can be ordered in 14k 18k white, yellow or pink gold or sterling silver. All gem options available ... more.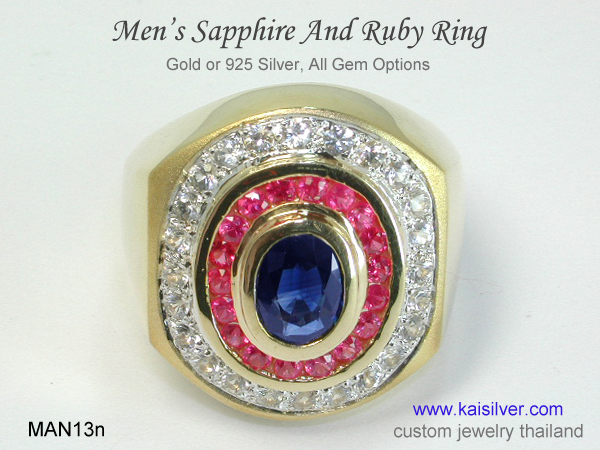 A big ring combining two all time favorites - sapphire and ruby. All Kaisilver sapphire gemstone rings for men and women, can be ordered with white, yellow, pink or blue sapphire. Suitable for all occasions, awesome for men's sapphire wedding ring - all sizes ... more.
A modest band width for this men's sapphire ring, a sleek look and sturdy construction. The ring is comfortable for prolonged wear. Kaisilver sappire gemstone rings for men are crafted with natural certified sapphire gems in gold and 925 silver ... more.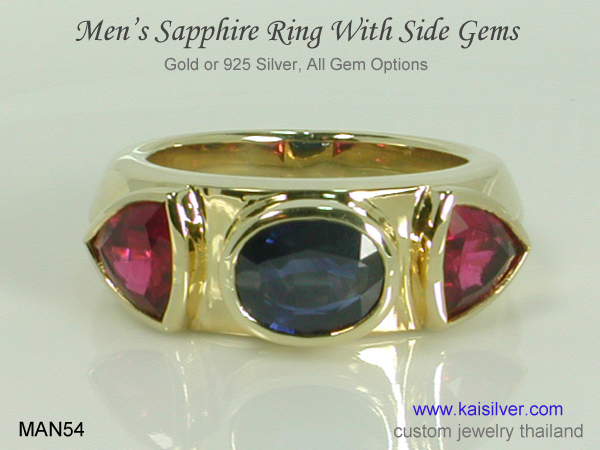 A mean's heavy ring with a sapphire gemstone in the center, side gems of your choice. Handcrafted by expert artisans in Thailand this men's ring can be ordered with all gemstone combinations. Sapphire men's rings can be made with your design or ours all sizes ... more.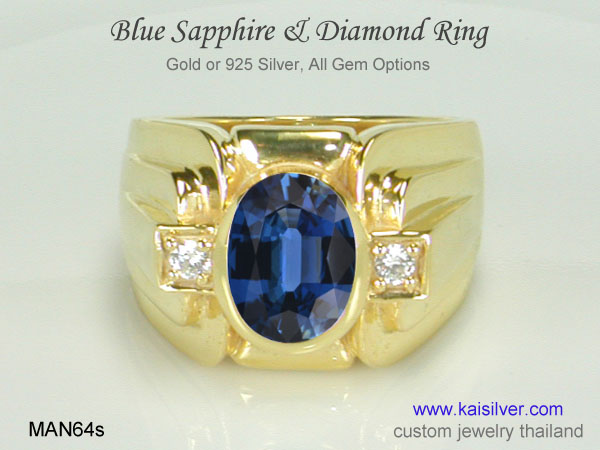 Choose a white, yellow, blue, pink, green or orange sapphire gem for your sapphire gold ring for men. Crafted to the same premium standards in gold or silver, this sapphire gemstone men's ring is custom made in Thailand - all ring sizes available ... more.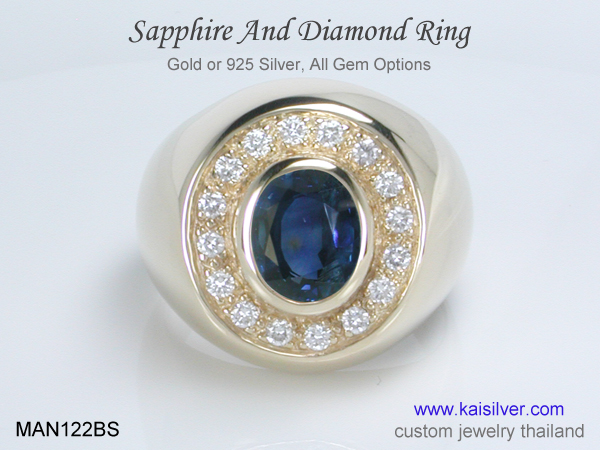 A men's sapphire ring with diamonds, an added dose of luxury with a handsome look and 30 to 40 grams of gold or silver. The ring is perfect for formal and informal wear, designed to provide a sturdy and secure oval sapphire gem. Custom made in gold or silver ... more.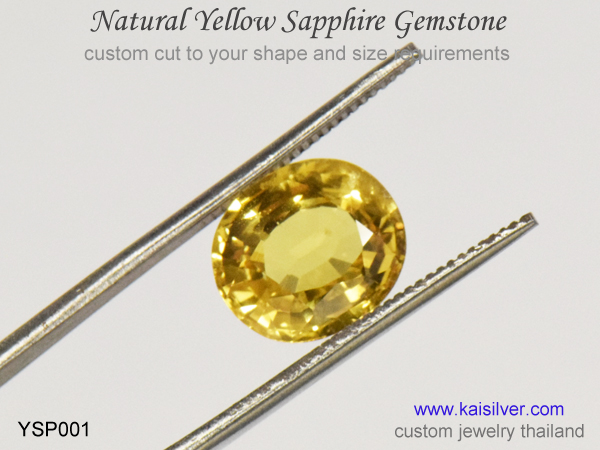 While men's sapphire gemstone rings are generally crafted with blue sapphire, the fact is that nature has bestowed us with sapphire gemstones in a range of colors. Yellow, green, pink, blue, green, white and purple are options for your men's sapphire ring.
About Sapphire Rings: There is no reason why men's sapphire rings in gold or silver, cannot have the same quality standards. And yet, Kaisilver is one of the very few custom jewelry providers to offer, high end silver and gold sapphire gemstone rings. With access to over 200 million carats of quality gems and a network that covers, most gem mining and cutting centers in 17 nations - we place no restriction on gem selection. Kaisilver provides natural certified sapphire gems for each ring, every ring is handcrafted and receives complete concentration from a highly skilled team in Thailand.
Make sure that you evaluate your sapphire ring for men on external looks and durability. Notice that most Kaisilver men's rings use the bezel mount for the main gem - in this setting the entire border of the gem is covered with metal. The metal weight for our custom jewelry is around, 40% to 50% more than what other jewelers provide. Metal weight is one of the main features that influences the durability of a jewel.
How To Order: If you wish to buy a men's sapphire ring or any other jewel from Kaisilver, send us your requirements at sales@kaisilver.com While the link provided against each item on the web page, has a link to the complete report - we can also craft your jewel based on a design concept provided by you. We can discuss your requirements on the phone if, you provide complete details in the email. Include your phone number and location and let us know, the time suitable for you to receive the call. We will assign a suitable expert for the call and align time zones when making the call - all expenses will be borne by us.
Who Is Kaisilver: The leading online custom jewelry provider from Thailand, Kaisilver is proud to have served over 12,000 style and quality conscious clients from 15 nations. We craft all types of jewelry in gold or sterling silver based on your design or ours. We place no restriction on gem selection and can work with your design or ours. Get in touch with us at sales@kaisilver.com for any information that you might need - relating to gems and jewelry. We will be glad to help even if you plan to buy nothing from us.