Gold And Sterling Silver Jadeite Jade Rings For Men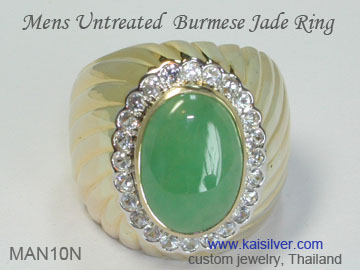 Jade has been known since ancient times, the color and durability of the gem makes it a good choice for men's gemstone rings. If you had to pin your hopes on the finest jadeite from Burma, chances are that you would be unwilling to pay the 1,500 U.S$ to 3,000 U.S$ per carat prices that Imperial Jadeite commands. Men are generally not impressed by fakes and imitations, so Kaisilver has set out on a mission that hopes to make natural Burmese jadeite men's rings affordable to a wider section of jewelry buyers. We have always custom made fine jewelry in gold and 925 sterling silver so, this remains true of our jadeite jade rings for men too. Much of the jadeite that reaches commercial markets is dyed to enhance color and perceived value. Kaisilver begins its sourcing process for affordable jadeite jade gems very near the Burmese jade mines - this is the best way to select pieces that offer good value for the price range. While knowledgeable jewelry buyers and believers in the metaphysical properties of gems prefer untreated jadeite, we do get some requests for men's rings with dyed jade too. If you are one of the lucky few who can manage a budget to pay for a fine quality jadeite men's ring, write to us with your requirements. We will leverage our sourcing expertise to procure the gem and custom make the ring for you.
Highlights Of Kaisilver Men's Jade Rings:
Our men's gold and 925 silver jadeite rings are crafted with the same quality of workmanship and gems.

Pick the design for your men's gold or silver jade ring from our website or email us your design ideas.

Natural jadeite jade gems from the Burmese mines are used for all Kaisilver men's jade rings.

Jadeite gold rings for men can be ordered in 14k or 18k gold, you can choose from all 3 gold colors.

You can request for an untreated or dyed (treated) jadeite jade gem for your jade ring.

We do provide white rhodium, yellow gold or rose gold as plating options for the silver men's ring.

Plating done on 925 silver will not last permanently, we therefore recommend leaving the ring un-plated.

Good metal weight for the silver and gold jade rings for men makes the jewels sturdy and durable.

Requests for all ring sizes can accommodated since, each men's jadeite ring is completely custom made.

Let us know if you have a requirement for high quality Burmese Imperial Jadeite for your ring.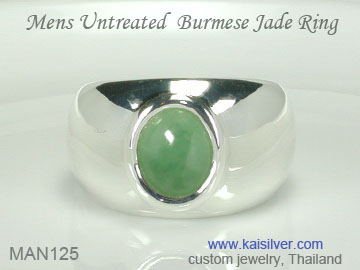 Gold Or Silver Men's Jade Rings: At Kaisilver we leave the choice of gold or sterling silver to you and assure you that, the level of workmanship and quality of gems will be the same for both metal options. Men have always been impressed by the quiet and confident look of sterling silver. In recent years quality savvy jewelry lovers have embraced fine quality sterling silver jewelry in a big way, this trend seems to be catching up and is here to stay. The entire range of green hues in which jadeite jade is found, look awesome in all metal colors. Since you can expect a men's jade ring to have fairly large dimensions resulting in a requirement for significant metal weight, a sterling silver jade ring for men helps moderate the price point. Looking at it in another way you could say that, a modest metal cost for a silver jade ring allows more budget component to be invested in the gemstone. On the issue of plating your silver men's jadeite ring, we would suggest that you leave it un-plated mainly because, any plating done on silver will wear off after some time. But if you still prefer to have your men's 925 silver jadeite jade ring plated, you can choose from white rhodium, yellow gold or pink gold. Men's 14k or 18k gold jade rings are available in all three gold colors namely, white, pink and yellow. Fine gold jewelry like that provided by Kaisilver is generally crafted in 14k or 18k gold. We can provide a specific price for 10k gold men's jade rings if, that is the gold option that you prefer.
Kaisilver: Earning the respect of some of the world's most discerning gem and jewelry enthusiasts, we are today regarded as the best online source for fine custom made jewelry. Highly skilled artisans and gemstone experts, dedicate themselves to crafting fine jewelry in gold and sterling silver with designs and gems of your choice. You could pick a design from our websites and request for it to be modified to suit your liking or even, send us your own design ideas and images. Strong connections with most gem mining locations and preferential access to more than 200 million carats of gems, ensures that we place no restrictions on your choice of gemstones. Email our support team at sales@kaisilver.com with any requirements or questions that you might have. We will get back to you as soon as possible with suggestions and advice, there will not be any pressure to make a purchase from us.
How To Buy: To begin with, your men's green jade ring is about you, your design, your choice of gold or silver, your ring size and the dimensions that you wish for. Email us images or sketches of your favorite design and we can custom make the ring for you. Reviewing the Kaisilver Men's Jade Ring Collection, will give you an idea of what you do for your own ring, all design elements in these rings can be modified to suit your preference. The report will also give detailed information regarding pricing and other options for the two men's jadeite jade rings shown on this web page. Our preferred sources of payment are Paypal and Western Union but, we prefer that first time buyers use Paypal. Production time is generally 4 to 6 weeks from the date of order confirmation and receipt of payment and merchandise ships through FEDEX with web tracking.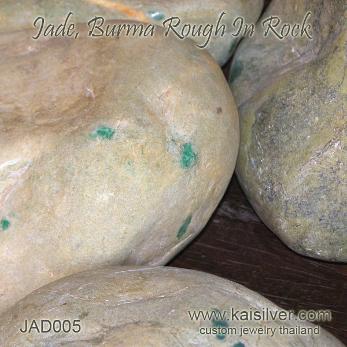 Just by way of information, this is how Burmese jadeite is bought and sold in its rough form. There is a big gamble played since, it is not easy to guess exactly how much or what quality of jadeite will be recovered from these raw rocks. Buyers are not allowed to cut and inspect the rock before purchase, by way of weight, less than 0.5% of the total rock mass will yield gem quality green jadeite jade. This explains why jadeite from Burma is rare and expensive.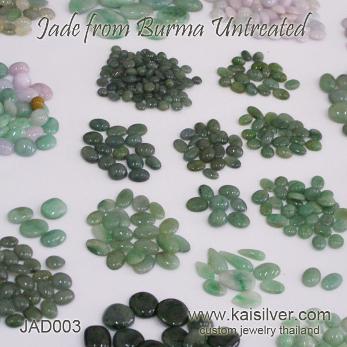 A team of 3 experienced gem selectors worked for about 2 days and carefully checked more than 6,000 pieces of untreated Burmese jadeite. The gems you see above are what we found to be usable. Our objective is to pick pieces that are moderately priced and deliver good value to our buyers. The best place to procure these modestly priced jadeite gems is to make the selection when the gems have not moved into the general markets. Most gem providers prefer to dye such green jade gems, the enhanced color makes them look more attractive. Casual gem and jewelry buyers are generally not aware of the significance of natural and untreated gemstones.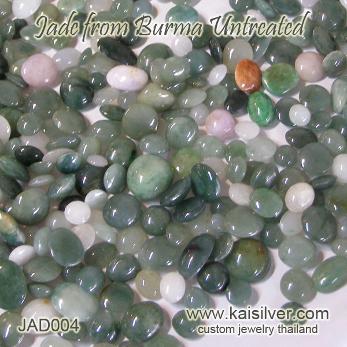 The Kaisilver team will sift through thousands of such jadeite pieces that have not been dyed (treated), a small fraction of these will fulfill our standards. While buying the entire lot would give us a very attractive price, the idea of selling pieces that do not match up to our selection criteria does not appeal to us. When ordering your men's jadeite jade ring, you can specify the color range that you require for the gem. Broadly these could be grouped as pale, light, medium and dark.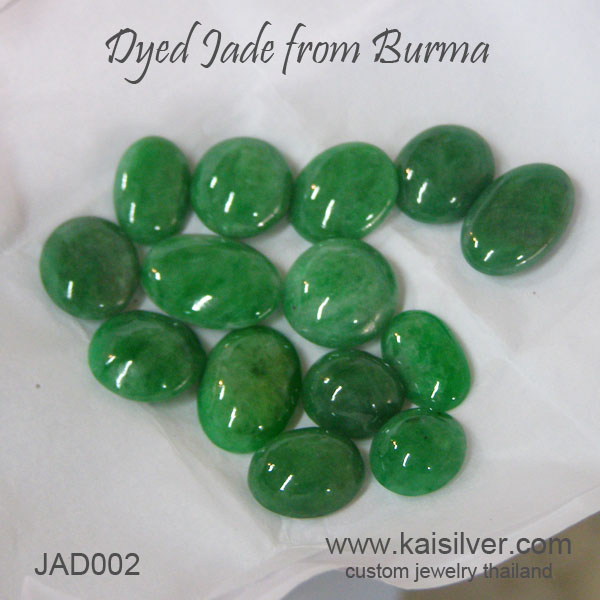 It is mainly knowledgeable jewelry buyers and those that wear gems for their metaphysical properties that, prefer natural and untreated gemstones. Though most of the Kaisilver jade rings for men are shown with untreated jadeite jade, we do get requests for men's gemstone rings with dyed jade too. The JAD002 shows a collection of handpicked dyed jadeite jade gems. Since both dyed and untreated Burmese jade that we source are moderately priced, the price for both options is almost the same. At Kai Silver we make a clear differentiation between, treated and untreated jadeite. So there is no question of overcharging or confusing sales talk.