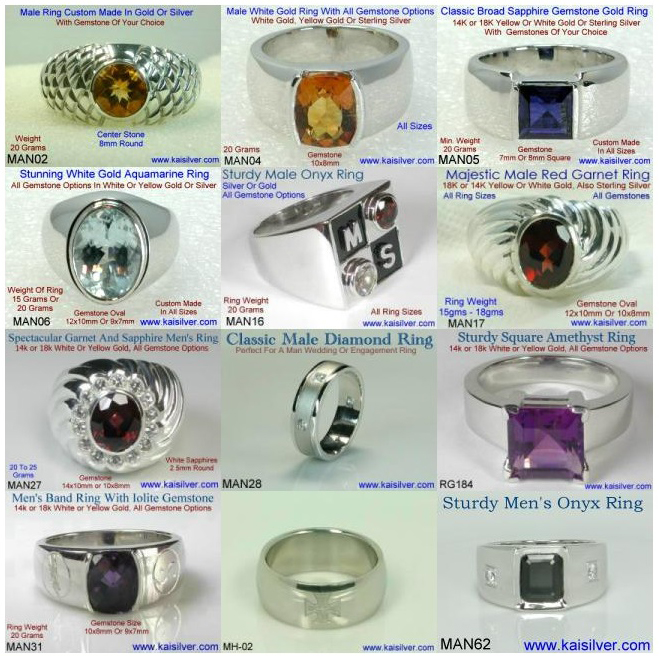 White Gold Rings For Men
The popularity of white metal jewelry has undoubtedly played a part in the increased demand for white gold rings for men but, there are other reasons too. White metals for men's jewelry today include stainless steel, sterling silver, platinum and white gold. There was a time not so long ago when, men disliked white gold - thinking that it looked dainty and delicate. The general association of white with gentleness, purity and delicateness was used to interpret the look and feel of white gold too. The notion that white gold is softer than yellow gold was shared by both ladies and men and this was triggered by a lack of understanding. It is now clear that the hardness of the gold alloy depends on it's karatage and not on the color of the metal. If you plan to get a men's white gold ring, we would suggest that you choose a 14k white gold men's ring. Technically put, 14k gold has the right combination of gold content and metal hardness. Kaisilver will gladly craft your men's gold ring in 10k, 14k or 18k and you will have the option to choose white, yellow or rose gold. White gold rings for men that have gemstones, need some understanding about the color contrast between the gem and metal colors. White against a dark object is bound to create a stark contrast, and this is what happens with dark gemstones too. So if you plan to choose a men's white gold amethyst ring, request for a medium purple amethyst gemstone. Dark amethyst gems are often described as African amethysts and these gems can appear even darker when set in white gold. We know of many men who love this stark contrast and therefore insist on very dark amethyst gems for their rings but, you need to make sure that it is what you really want. This stark color contrast could be very visible in gems like iolite, smoky quartz and even dark blue sapphires. Red garnet is an interesting gem when it comes to men's jewelry, most men prefer the gem when it has a truly dark red color and this holds true for all men's garnet rings irrespective of the metal color.
Men's white gold diamond wedding rings have remained in the limelight for quite some time and no change is expected in the near future. When you set a white diamond in a white metal, the glitter of the diamond seems to extend even beyond the stone and this, makes the diamond appear larger than it's actual size. Given the fact that diamonds are expensive and get even dearer when their size increases, the effect created by a men's white gold diamond ring is worth noticing. This would be true not only of diamonds but also for other white (colorless) gemstones. So the next time you are shopping for a diamond ring on a modest budget, take a look at some white gold diamond rings.
We were once asked whether, yellow gold scratches more easily than white gold. The buyer felt that her yellow gold rings appeared to 'age' faster. It would be nice if we could honestly say that, your men's white gold ring would offer better resistance to scratches as compared to a similar ring in yellow gold. Keep in mind that scratches depend on the hardness of the metal and gold alloys, of the same karatage have the same hardness irrespective of color. But what is true is that, the bright color of white gold, does a better job as far as light reflection is concerned - this softens the visibility of scratches on the metal. When you talk about yellow gold or even pink gold, the warmer metal colors cut out brightness to a certain degree and this, allows scratches to be more clearly visible. So if you love yellow gold just go ahead and choose that metal option, there is no need to shift to white gold expecting that it is more scratch resistant.
Have you ever noticed that, you appear much leaner when wearing a dark color printed shirt. If you really want to experience this interesting illusion - try wearing a white shirt and then a darker printed one. The white shirt seems to give you a much stouter look and this, will be visible in most light colors. Relating this effect is true of men's white gold rings too, your ring will appear much wider, larger and imposing - this will generally be welcomed by most men! A good example would be a men's white gold band ring where, a band width of 7mm - 8mm seems to be sufficient for most ring sizes. Given the hefty price of gold, you could put this size illusion to your advantage and save on gold weight.
Kaisilver Rings: While you could choose your ring from our men's white gold ring collection, you need not restrict your choice to what you see on our website. We custom make all jewelry according to your design or ours, you get to choose the dimensions and gemstone too. And if you see an item on our website that would require some modification to fulfill your requirements and we will gladly do that for you. Highly skilled craftsmen work on each jewel under the supervision of some of the highest quality standards in the industry. Our experts at sales@kaisilver.com will answer any queries or clear any doubts that you might have - and you will never be obliged to make a purchase from us.