Amethyst Rings, Amethyst Gem Stone Jewelry
Amethyst rings and other amethyst gem stone jewelry have been wore since a few centuries. A violet-purple gem stone amethyst is mined in many parts of the world. This gem is a variety of quartz and is also the birth stone for the month of, February. Your amethyst gem stone ring can be worn as a birthstone jewel but, you really need not be born in the month of February to own or wear a ring with this gem. Available in three broad purple-violet shades, it is the medium purple amethyst gem that is most often used to produce amethyst rings and other jewels. The very pale purple amethyst is not very popular with jewelry lovers today. However in the Victorian era it was this pale gem that was frequently used in jewelry, it was sometimes referred to as the 'Rose De France'.
The Greek word 'amethustos' which translates as 'not drunk' is believed to be the origin of the name amethyst. Interestingly it was believed in ancient times that, drinking from a goblet carved from amethyst ensured that the drinker never got intoxicated. Amethyst carved goblets were therefore very popular in those days. If you are choosing an amethyst ring, select the medium purple gem unless you want something very pale or over saturated. In this section we discuss various issues related to amethyst gem stone jewelry. You will also learn that, this gem is popular among ladies and men.
As a gem stone amethyst is suitable for all types of jewelry. The hardness of this stone is 7, which means that it is tough enough to handle frequent wear. Quartz is not affected by water, detergent soaps or ultrasonic cleaners. Amethyst gem stone jewelry is therefore easy to wear and easy to maintain.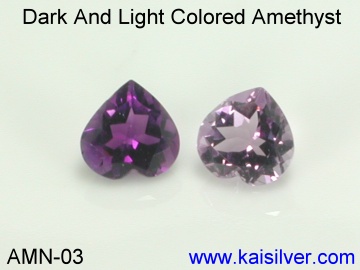 The AMN-03 amethyst gem stone image is taken from the Directstones website. It clearly shows a medium purple amethyst on the left and a rather pale purple color for the heart amethyst on the right ... more.
We just mentioned above that, this gem can be found in a very pale purple shade, a medium purple color and a very saturated dark purple color. Before you choose a very pale or very dark shade of purple for your amethyst jewel, make sure that you understand how these would appear. A very deep purple amethyst could appear almost black but, it is the choice for many men's amethyst rings. On the other hand pale purple might hardly show any color, very few men consider this shade for their rings.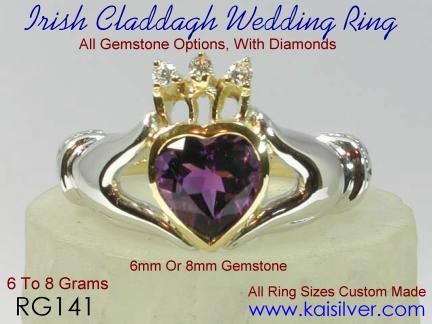 The RG141 is an awesome heart amethyst gold ring, it is also one of the most meaningful jewels in history. The claddagh ring has a history that dates back to over 375 years. An Irish slave by the name of Robert Joyce is believed to have made the first ring for his beloved ... more.
The ring is shown above in two tone gold, you can ofcourse order the same amethyst claddagh ring in single gold color too. Some of our finest craftsmen work on every claddagh ring. The amethyst gem stone for your claddagh ring is hand picked and custom cut. The crown is shown here with three diamonds. This historic jewel is suitable for all occassions and even for casual wear. The center gem stone can be chosen according to your preference. Kaisilver is today accepted as the world's best source for the claddagh ring. Our claddagh rings retain all the features of the first ring that was made more than three centuries ago.
The good thing about amethyst gems is their affordability. While these are not cheap gems, you can get a fairly large amethyst stone in the 4 to 7 carat range at a modest price. This has been one reason for the popularity of men's amethyst gem stone rings. You will find that this is one gem that is equally popular in gold and sterling silver jewelry. When you choose an amethyst gem stone jewely, do not accept a gem that has inclusions or cracks. You might have to do with such gems if you choose wholesale jewelry, such jewelry is made to please mass markets with low prices.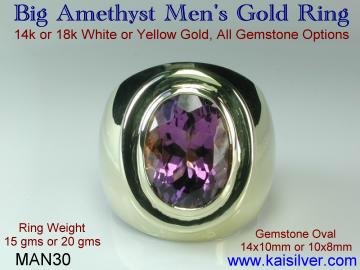 The MAN30 men's amethyst ring is custom made in gold or 925 silver. This handsome and durable men's ring from Kaisilver has a weight that is in the 15 to 20 grams range. Medium purple amethyst gems are the most popular when it comes to amethyst gem stone jewelry ... more.
If you have observed men's amethyst rings you will notice that, mens silver amethyst rings are more popular as compared to gold amethyst rings for men. There is more than one reason for this trend. Many men do not like their rings to be bright and flashy. Silver with it's sobre and yet confident appearance has always enjoyed a high level of popularity with men. Another reason for the popularity of silver mens rings is the, modest price of silver as compared to gold. Remember that men's rings are always quite large and require substantial metal weight to be durable and sturdy. When you choose a mens amethyst ring, keep in mind that a weight of 15 to 20 grams is the minimum that you should accept. The gem stone in mens rings should be firmly mounted in a way that the edges of the gem are well protected from side impact. The researched design of the MAN30 mens amethyst ring contains features that ensure good looks and durability.
It is not just amethyst gem stone rings that are popular, this gorgeous gem stone is set in amethyst pendants, amethyst bracelets and even amethyst cufflinks. Amethyst jewelry has been popular for many centuries. Though the gem stone was never very expensive, it's beauty and grace made it a favorite with the rich and the powerful. Kaisilver custom makes jewelry in gold or silver with all gem options.When you need an amethyst gold or silver ring, or any other jewel for that matter, we can custom make it for you with your designs or ours.
We often get emails from buyers asking us about the special properties of amethyst gem stones. We are aware that various medicinal and super natural powers are attributed to many gems including amethyst, but there is one thing that you should know. We do not make any claims about these powers and recommend that they do not be relied upon as a substitute to professional medical advice. Just read these details for the sake of interest and ancient traditions. Many claim that amethyst gems, combats atmospheric pollution! It is also supposed to be a gem that soothes the mind and nerves. Some practitioners of crystal theraphy might even recommend wearing an amethyst ring or pendant to cure insomnia! We have come across a Crystal Healing book where the amethyst gem is recommended to cure headaches, probably a related issue is about the gem helping to smooth the mind.
A few years ago, the demand for three gem stone rings or other jewels took an upward swing. While some of these multi gem rings included different gem types in the same ring, others retained the same gem for all three gem stones. The RG220 Kaisilver three gem ring remains one of the most popular ring with three gem stones.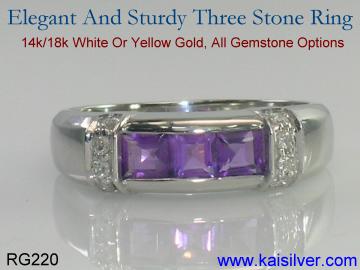 A tremendous three gem stone ring, the RG220 is also suitable for an amethyst diamond wedding band. The sleek design and good craftsmanship is supported by a healthy metal weigh. The ring is available in 14k or 18k gold, options exist for a yellow or white gold amethyst band ring ... more.
Let us fill you with a few interesting and important details about the RG220 Kaisilver square amethyst gemstone ring. When you have channel set gems that are square or rectangular in shape, the setting is much more firm and secure as compared to that for round gems. This is because the entire edge of the gem is fitted into the above and below slots. When you order your Kaisilver amethyst ring as shown in RG220, you can request for a uniform band width or select a slight taper for the band as it moves behind the finger.
We have talked about amethyst rings, and will soon show you some amethyst bracelets too but, what we are about to discuss here is something unique. Custom cuff links with genuine gems are not common, most cufflink providers today make cheap cuff links with synthetic pieces of material that resembles gems. Kaisilver custom cufflinks can be produced with our designs or yours. The important thing is that we use genuine gems and not imitation glass or resin. You can therefore consider getting a gold od 925 sterling silver cuff link pair with you favorite gemstone. This ofcourse means that, the option to order birth stone cufflinks also exists.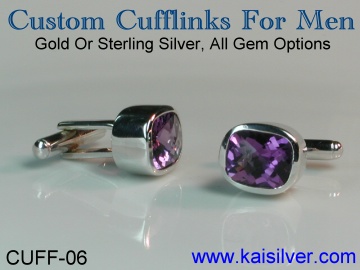 Kaisilver custom cufflinks can be ordered in gold or sterling silver. Cufflinks can be made with gemstones of your choice, you can select from our designs or provide us with your own designs to be custom made ... more.
Since each pair of amethyst cufflinks is completely made to order, you can request for all design modifications that you need. For example, the overall shape of these cuff links could be customized by choosing oval shaped amethyst gem stones. If you are looking for a birthstone jewel for a man born in the month of February, the CUFF-06 Kaisilver amethyst gem stone cufflinks are bound to impress you. The choice of gem stones gives you further options to customize your cufflinks.
With amethyst being affordable even in large sizes and good quality, it is probably the only natural purple gem that is suitable for special cuts and facets. And when it comes to such unique gem shapes and cuts, it finds admirers among ladies and men. The MAN57AM is a classic example of how an impressive men's amethyst ring can be made even more desirable by, setting a multi faceted checkerboard amethyst gem in the ring.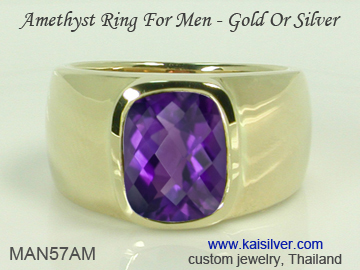 This cushion amethyst ring is crafted in gold or sterling silver, high quality craftsmanship and immaculately cut checkerboard amethyst are provided for both metal options. Since each MAN57AM Men's Amethyst Ring is set with a custom cut gemstone, you can choose a conventional faceted cushion amethyst or, a smooth cabochon cut stone too.
When you talk about amethyst bracelets, there are somethings that differentiate them from amethyst rings. A gem bracelet will generally have more than one gem stone. While all the gems in a single bracelet could be the same type, you could also mix different gems in the same bracelet. Given the modest price of amethyst gems, your choice of design will have few limitations. remember that it is not just the gem size that can add interest to a bracelet, you could even use different type of cuts for your gold or silver amethyst bracelet.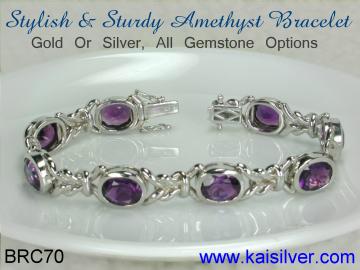 The BRC70 is an awesome amethyst bracelet from Kaisilver. With a healthy metal weight of 20 to 30 grams, this oval amethyst gem stone bracelet can be ordered in gold or 925 silver. You can choose the gem stone of your choice and also combine different gems in the same custom bracelet ... more.
We now come back to our discussion on amethyst rings. We mentioned that the design of an amethyst jewel should ensure firm mounting of the gem stone. The type of gem stone mounting should also protect the gem stone from physical impact. When you have a design that uses a gem stone with sharp pointed corners, the corners need to be protected from breaking or chipping too. Good examples of this are amethyst gold or 925 silver rings with square gems, or gems that are rectangular in shape. However there are occassions when the buyer wants an amethyst ring with a square gem but, exposed corners. While it is true that the jeweler does not have a choice in such a case, it is still the duty of the jeweler to explain durability related issues to the buyer in such a case. The point is that, the buyer needs to understand that an amethyst ring with such a design would not provide adequate protection to the corner points of the gem stones.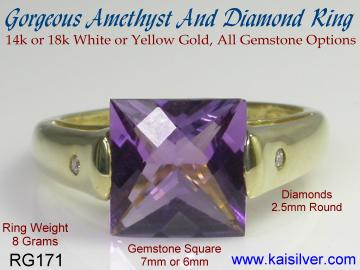 Observe how the corners of the gemstone in the RG171 amethyst yellow or white gold ring, are left exposed. It would have been better to use right angle 'L' prongs on the corners but, the buyer wanted an open look. The risks of the amethyst getting damaged on the pointed corners were explained to the buyer but, the buyer decided to go ahead with this design ... more.
After talking about the rather open gem type of mounting used for the RG171 ring, we would like to give you an example of 'L' shaped right angled prongs which is recommended for square or rectangular amethyst gems. The RG184 is a durable and sturdy square amethyst gem stone ring, you could choose the gem stone and metal of your choice like always.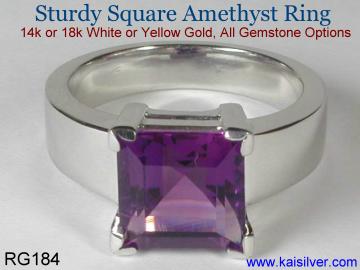 The RG184 amethyst ring is suitable for men and ladies. The square amethyst gem stone is firmly mounted with right angled prongs. Besides mounting the amethyst firmly, these prongs also protect the corners of the gemstone from chipping or breaking, additional metal weight might be recommended for large ring sizes ... more.
Rings like the RG184 gold or silver amethyst gem stone ring can be produced with differing metal weights. While the metal weight will not have much impact on the price tag of 925 silver amethyst rings, the effect can be more pronounced when it comes to gold rings. If you need a large ring size, our support team might recommend an increase in metal weight. The idea is to maintain the same level of durability across all ring sizes. Similarly if you prefer to narrow down the band width of your amethyst ring, a reduction in gem size would do the job. The need for a solid band with no metal scooped out from the inside would also suggest an increase in metal weight. Few jewelers care to get into these details but at Kaisilver we believe that, informing and educating the buyers is in the longterm interest of us and the buyer too. It is better to lose an order rather than push a buyer to make an impulse purchase.
Most fashion experts agree that amethysts look great on people of all age groups. There is much truth in this statement, one reason is probably that for a February birth stone jewel, options are limited to amethyst gemstone jewelry. If you buy an amethyst gem stone ring or other jewel for a child, sterling silver is a better choice as compared to gold. Silver jewelry is moderately priced, gold with it's high commercial value is also a target for robbers and even petty criminals.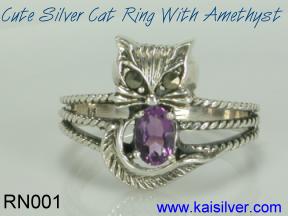 Cute cat silver ring from Kaisilver. The RN001 has been one of the hottest selling designs for silver gem stone rings. While the image shows the 925 silver cat ring with a center amethyst gem stone, you could select the gem stone of your choice. This cat ring is available in 14k or 18k gold too, the choice of a yellow or white gold cat ring is always available ... more.
The silver cat ring is shown here with a genuine, custom cut 6x4mm oval amethyst gem. You could ofcourse choose the gem stone of your choice when ordering your cat ring. The eyes of this cute amethyst silver cat ring are marcasite, the choice of white or black diamonds is also available. Such amethyst jewelry is suitable for cat lovers or animal lovers in general.
We spoke about the claddagh ring, a historic jewel that has today become popular all over the globe. When you choose Kaisilver as your source for your claddagh ring, you can select a claddagh ring for man or lady. The meaning and features of a ladies or men's claddagh ring remain the same. However the durability factor for mens claddagh rings become more important since, men do not generally take sufficient care of the jewels that they wear.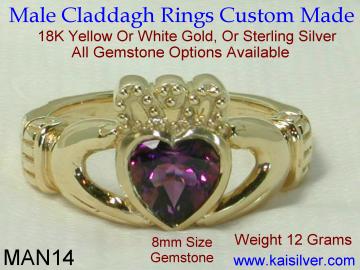 The MAN14 mens claddagh ring is available in gold or silver. The weight of this handsome claddagh ring for men has now been ugraded to 20 to 22 grams. This adds durability to the jewel and also makes it more comfortable to wear. The same choice of gem stone and quality craftsmanship is provided for the gold or 925 silver mens claddagh rings ... more.
With men becoming more conscious about the jewelry that they wear, men's rings have gone through a tremendous transition in terms of gems, design and overall quality features. Kaisilver has led this revolution in men's jewelry by releasing some of the best selling, concepts in gold and silver rings for men. The MAN19A two tone gold ring is a shining example of things to come.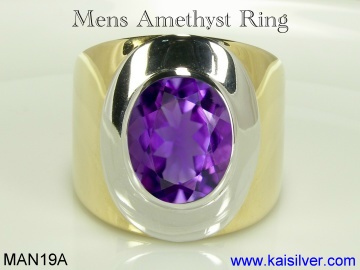 A large oval faceted amethyst gem is set in a finely crafted two tone gold ring. This ring is crafted through an intricate process where, the yellow gold and white gold portions are first made as two separate components. Advanced production techniques are then applied to seamlessly combine the two portions. The MAN19A Men's Ring is available in all ring sizes and is custom made in gold or 925 sterling silver, you can choose the gem of your choice for the gold or silver ring.
If you like your bracelets to be moderately heavy, the BRC50 yellow or white gold amethyst bracelet is a great choice. Available in 14k or 18k gold and even as a sterling silver amethyst bracelet, this custom bracelet uses gems of size 6mm to 7mm. The advantage of custom jewelry allows you to choose the gemstones of your choice for your silver or gold bracelet.When buying gem stone bracelets, ensure that the metal weight is sufficient. Getting an amethyst gem stone bracelet with low weight will lower the price tag too but, you will end up paying a lot of money on repairs and repacements. Sturdy gem mountings, strong link connections and even a steady and firm clasp all need good metal weight.
The BRC50 gold or silver amethyst bracelet has trillion shaped amethyst gem stones. The gem size is around 6mm to 7mm and the minimum metal weight of this bracelet is 15 to 20 grams. You could ofcourse always choose the gems of your choice but, the option to combine different gems in the same bracelet make this a great design ... more.
This report on amethyst jewelry is meant to educate you regarding the features of the gem stone and ideal features of good amethyst gem stone jewelry. Kaisilver is not the only source for amethyst or other gemstone jewelry, but we are surely the only jewelry and gem provider who cares to educate and inform buyers. This frank and straightforward disclosure of information troubles many jewelers but, we continue to be on the side of the buyer. Do feel free to contact our support team at sales@kaisilver.com with any queries that you might have.
We produce all jewelry in gold or silver with gems of your choice. Each gem stone is handpicked and custom cut. The design for your jewels can be yours or ours.

Related Sources: Mens Amethyst RIngs