Ruby is a rare gem and is considered to be a status symbol, it is also expensive and absolutely gorgeous. When you talk about a ruby ring for men, it is quite normal to expect a fairly large ruby gemstone in the ring. The problem with this expectation is that, rubies become even more expensive as the gem size moves up. Most rubies are heat treated, this process is accepted by gemstone expert and does not reduce the toughness or value of the gemstone. But things are not so straightforward when it comes to ruby treatments. You surely do not want a glass filled or fissure filled ruby gem in your men's ring. These gems are treated in processes that drastically reduce the durability and value of the gemstone. Kaisilver offers custom men's ruby rings in gold or 925 sterling silver. The workmanship and gemstones for both metal options are the same, we always maintain superior standards. You could even request for a custom ruby ring to be made with your design concept of sketch.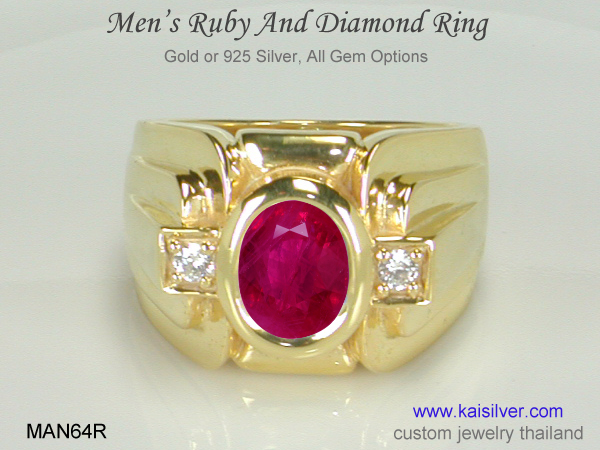 The MAN64R is a handsome ruby diamond ring for men. The center 9x7mm oval ruby gemstone is handpicked and checked by highly qualified gemstone experts. You could order a 925 silver or gold men's ruby ring in the required size. Your men's ring will have a natural certified ruby gemstone ... more.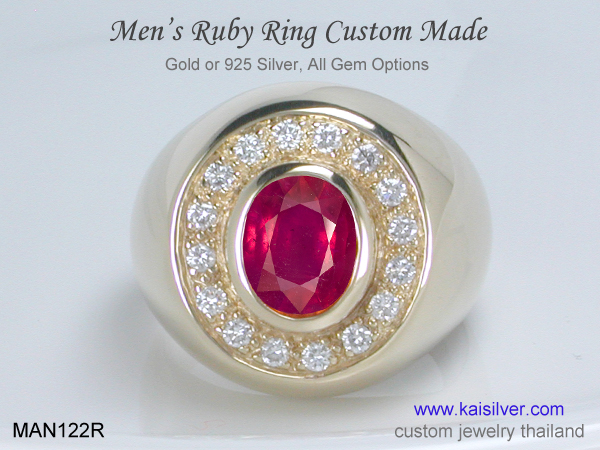 A big ring set with a natural certified ruby gemstone and a row of glittering diamonds. The idea that a men's ruby ring is a symbol of wealth, style and aristocracy is perfectly embodied in the MAN122R ruby men's ring. Custom made in 10k, 14k and 18k gold and 925 sterling silver. Available in all ring sizes ... more.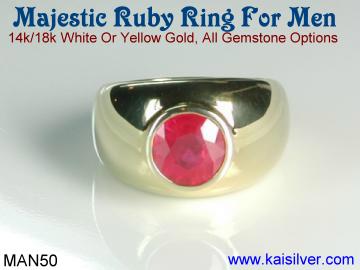 A 7mm round ruby gemstone is securely mounted in this men's ruby ring. You can order a 14k or 18k ruby men's ring, we also allow you to choose sterling silver as the metal. This ring is perfect for a wedding ring, you could also wear it to work each day. The ring has all the quality features required for a men's ring ... more.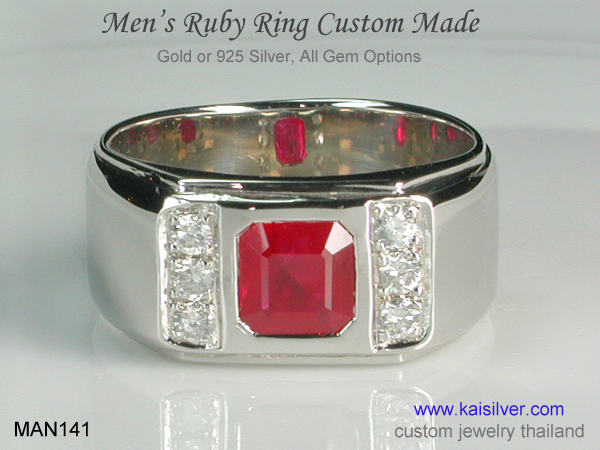 A men's ruby diamond ring, statement of luxury and style. If you wear just one jewel, let it be the MAN141 men's ruby diamond ring from Kaisilver. A quiet and yet confident look that, appears far more exotic than its price tag suggests. A custom ruby ring that can be crafted with the gemstone of your size ... more.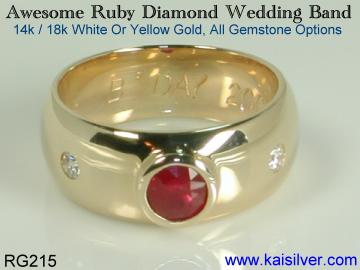 A sturdy ruby band ring with a 5mm or 7mm round ruby gemstone. A round 2.5mm diamond is set on either side of the natural and certified ruby gemstone. The bandwidth of this men's ruby gemstone ring will be 7mm or 9mm depending on the gemstone size that you pick. Get to know more about this ruby band ring ... more.