Tanzanite Wedding Rings, Add Meaning To Your Tanzanite Wedding Ring

For more than one reason, Tanzanite wedding rings have shown a sharp increase in demand. This clearly shows the increase in awareness among gem and jewelry lovers. This report discusses issues and suggested features for a tanzanite gem stone wedding ring. Kaisilver experts feel that it is important for buyers to understand gem properties and features before making any jewelry purchase. This idea gains even more importance when you talk about an important ring like a tanzanite wedding ring. You would already be aware that Tanzanite is not a cheap gem, and ofcourse the importance of a wedding ring can hardly be stressed. It is a jewel that symbolizes a solid commitment between two individuals.

While we will talk about some important characteristics about the tanzanite gem, our focus will be on ways to increase the meaning of a gold or 925 silver tanzanite wedding ring. Do not be bothered with buying or ordering the jewel at this time, you can do that at your leisure and from the jeweler that you feel comfortable with. You can always contact our support experts at sales@kaisilver.com for any more information that you need - you will never be under an obligation to purchase anything from us so do take advantage of our expertise.

When you talk about enhancing the meaning of a gem stone ring, the idea of birth stone rings springs to your mind. So is Tanzanite a birth stone - the answer is a bit of yes and a bit of no. So if you are thinking of a birth stone tanzanite wedding ring, here is an important piece of information. Tanzanite is a fairly recent introduction to the world of gems and jewelry, it is therefore not listed in the conventional birthstone charts that we are all familiar with.

Serious publicity and marketing effort increased the popularity of Tanzanite. The ICA (International Colored Gemstone Association) in 2002 designated Tanzanite as a December birthstone. So while you would be technically right in choosing a December birthstone ring with a tanzanite gem, many gem experts refrain from accepting the stone as the birth stone for December. There is ofcourse no hard and fast rule that will hamper you from wearing a tanzanite gem stone wedding ring as a December birthstone wedding ring.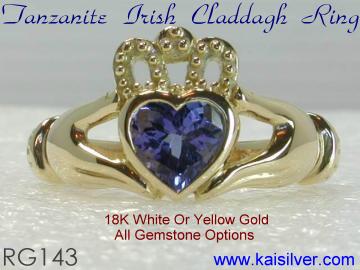 The shape of a silver or gold tanzanite wedding ring can also be used to make the ring more meaningful. Heart shaped rings denote love and compassion, something that starts a relationship between two individuals. The heart tanzanite ring that we are about to introduce here, has more than just an heart to signify meaning and significance.

The RG143 is one of the finest renditions of the ancient claddagh ring. This jewel was first made by an Irish fisherman turned slave by the name of Robert Joyce. The claddagh tanzanite ring is not the only option for a tanzanite wedding ring but, if you were looking for a wedding ring with tremendous meaning and significance, no other jewel would come near this historic jewel.

So why should the claddagh tanzanite ring be packed with such significance, you might surely find much more extravagant tanzanite gold or silver rings. To understand the true reason we will need to take an important detour - go back in time by around four centuries and learn the tradition and meaning of the claddagh ring. Once you have heard the touching story behind this gorgeous jewel, you will realize that no other tanzanite wedding ring would so clearly express the spirit and tradition of a wedding ring.

Four centuries ago, the claddagh village in Ireland was a small fishing village bestowed with fine natural beauty and charm. Most of the villagers in this beautiful village made their livelihood by fishing, Robert Joyce was one of those humble fishermen. Robert and his beloved lived a simple and happy life in the Claddagh village.

One day the fishing boat in which Robert Joyce and his fellow fishermen were sailing was attacked by pirates. After looting all their belongings, the pirates sold the captives on the boat as slaves. Robert found himself slogging for a rich goldsmith, his life was shattered his mental condition was one of remorse.
If there was anything that gave him the strength to carry on, it was the thought of being free one day and going back to his beloved in the claddagh village. During these terrible times, Robert decided to make something for his beloved. He realized that this gave him a stronger reason to carry on and made his dreams of being freed, seem more logical and possible. A few years later, he was released from slavery and as expected rushed back to his beloved. The whole village gathered to welcome him and he was overjoyed to see that his beloved was still waiting for him. He gave her the ring that he had made for her, the couple were soon married and spent the rest of their lives together. This was the first claddagh ring, obviously named after the Claddagh village.
Kaisilver experts spent months, analyzing the features of the ring and researching the history and tradition of the jewel. Interpreting the features of the claddagh ring and setting them against the mental condition of a slave, brings out a touching show of love and loyalty. The features of the ring as can seen from the RG143 Kaisilver claddagh ring image, are the hands, crown and heart. You need to relate the meaning of these features to the mind and soul of an individual enslaved to hard work and mental depression. Robert Joyce wanted the heart to depict love, the hands held out in the hope of togetherness and friendship. The crown is one of the highlights of the jewel, it symbolizes loyalty between people, in this case loyalty to his beloved. On hearing the fact that his beloved kept waiting for him, you release that all the three features love, togetherness and loyalty were mutual. This was indeed true love, not between kings and queens but between two humble villagers. This was a love so pure and strong that even, the harsh conditions of slavery could not erode.
Having read this tremendous story of love and sacrifice, you will readily agree that a claddagh tanzanite wedding ring would make a perfect wedding ring. We would like to mention here that the claddagh ring is a ring suitable for all ocassions. Love and loyalty can exist between brother and sister, between mother and daughter and even between two good friends.
You can find a more detailed report on Tanzanite wedding rings at http://www.tanzanite.kaijewels.com/tanzanite-wedding-ring-rg143-kj-2609.htm you will also be introduced to other tanzanite wedding ring concepts.