Tanzanite Ring Resource - Kaisilver
In this report we talk about a range of issues related to this amazing beauty from Africa, Tanzanite. And the story would be incomplete without making reasonable mention of tanzanite rings. It is rightly said that much of the demand for gemstone jewelry, centers around the beauty and tradition of the gems in the jewelry. This being the case, few gems hold as much interest and excitement as tanzanite so, let's begin by talking about tanzanite gems.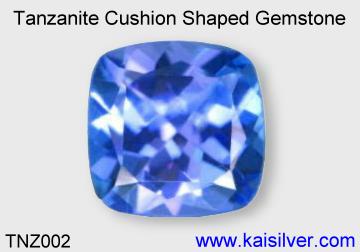 Many gems have been know to man for many centuries and others, have been highly sought after for thousands of years. An interesting thing about the gorgeous violet-blue gem tanzanite is that, it was first found only a few decades ago in 1967. The gem was first spotted in a patch of land that has until today, remained the only source for tanzanite. A strip of land located at the foothills of Mount Kilimanjaro in Tanzania, is the only place on earth where gem quality tanzanite is mined. The limited availability of tanzanite makes it rarer than diamonds, some experts agree that tanzanite is around 1,000 times rarer than diamond.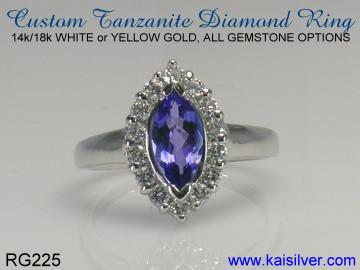 Though the violet-blue color of tanzanite is most often preferred in white gold, the gemstone can enhance the appearance of any metal color. We would therefore urge you to consider white, yellow and rose gold when choosing a tanzanite gold ring. Most style conscious jewelry lovers prefer medium color saturation for tanzanite, a very pale color shows almost no detail in the stone and a very dark tanzanite gem can appear quite flat. A medium color tanzanite gem stone shows a magical light dance on the gem. This happens when light enters through the top of stone, reflects and dances on the inner facets and then rushes out from the top. Get some design inspiration for your tanzanite ring by browsing through this enticing Tanzanite Ring Collection, all these jewels can be crafted in gold or 925 silver and with your choice of gemstones. You can even request for your tanzanite ring to be custom made, from your design image or sketch.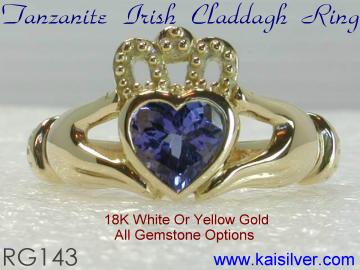 The Claddagh tanzanite ring pays tribute to the four century old legend. The first claddagh ring was crafted by an Irish slave several centuries ago. The jewel is today hailed as the most meaningful jewel in history. Kaisilver experts combined this ancient jewel, with one of the most exotic and modern gemstones of all times, the rare tanzanite. You can order a gold or 925 silver tanzanite claddagh gemstone and be proud of wearing a legend.
On the issue of just how much blue should be visible in the violet (or vice versa) when it comes to choosing tanzanite color, there is no hard and fast rule today. As knowledgeable gem and jewelry enthusiasts realize, the color tone is a personal preference and not something that can be universally decided by gem experts. The right amount of violet in tanzanite, delivers a color that can be rarely found in any other natural gem.