You wish to get a mens ring with a green gemstone, what exactly are your options. The decision making might be a bit easy if you have some specific green gemstone in mind but even then, it is a good idea to understand the general properties and characteristics of the gemstone. Many jewelry lovers have only heard of one or two green gems and they, try to make choice with this limited knowledge. In this report we are going to give you the facts - straight and honest and without any sweet sales talk. You will learn about some of the most widely known green gemstones. You will also learn a few surprising things like - high priced gems do not always reflect their value in terms of durability and toughness. We will also explain why some green gemstones are not recommended when it comes to rings in general and mens rings in particular. The report will be scattered with a few examples from the Kaisilver collection but this is more to demonstrate a point rather than, to give you the impression that we are the only provider of peridot gemstone rings. You can contact the Kaisilver expert team at sales@kaisilver.com with your queries and requirements. Our support team consists of gem and jewelry professionals, we do not indulge in sales talk to get your order.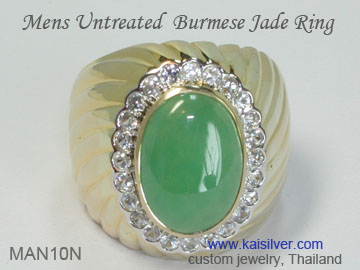 One of the best gemstones for a men's ring, green jade is tough and durable. Jadeite (jade) is the finer variety of jade but nephrite is also referred to as jade. This men's ring is crafted with a large jadeite gem from Burma (Myanmar). Custom made in gold or silver, all gem options. Get more details on this men's green gem ring ... more.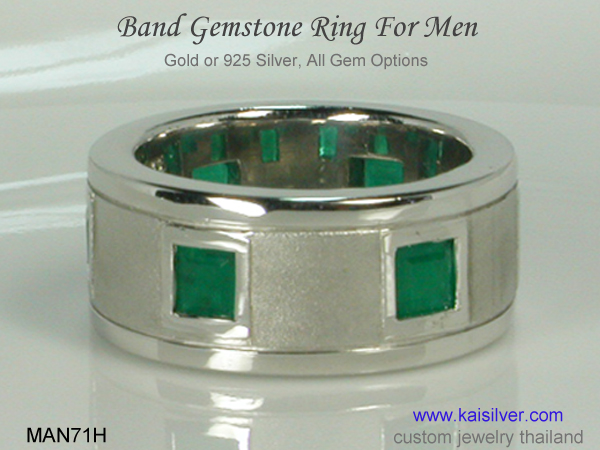 One of the most sought after green gemstone since ancient times, emerald is a precious gemstone that carries a premium price tag. Since this green gem requires a degree of care and attention, the design of the ring should take that into consideration. The MAN71 men's emerald ring, has features that help protect the gemstone ... more
Green Birthstones: One of the reasons for choosing a green gemstone for a men's ring could relate to the tradition of birthstones. There are two green gems listed on the standard birthstone charts, one of them is emerald a green variety of beryl - emerald is the birthstone for the month of May. So if you were born in the month of May and wished to have a men's birthstone ring, you would need to shop for a men's green gemstone ring with an emerald gemstone. The month of August is also represented by a green gemstone namely, peridot - a gem quality variety of the mineral olivine. When you talk about men's birthstone rings with green stones, you would need a specific green gemstone.
Dark Green: Men generally prefer rings with dark gems but, this is not always true. When it comes to blue and green gems, the close association of nature with these colors makes them suitable for men in a range of shades. Should we say that men are more 'tolerant' to blue and green gemstones because the colors are close linked to nature. If you wish to have a men's gold or 925 silver ring with a green gem that is fairly dark, we would recommend green tourmaline or the nephrite variety of jade. These two green gems boast of good toughness, and can be found in green that can range from medium dark to very dark. You could in fact get a men's green gemstone ring with a green tourmaline that is so dark that, it would appear almost black. Our suggestion would be to go for a medium dark green stone that, shows it's green color even in normal light. Jade consists of two varieties, jadeite and nephrite - both these stones are tough because of their complex internal structure. Nephrite can be found in dark green colors and can show some interesting mixed colors with patches or streaks of white and black too.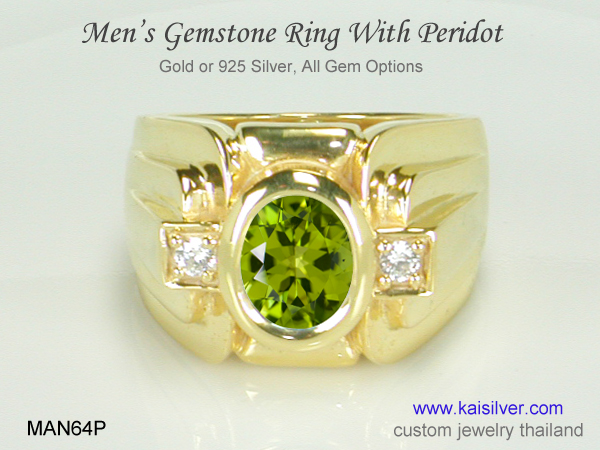 The green color of peridot is much brighter than that of green tourmaline. When choosing a gemstone for a green gem ring, consider peridot the August birthstone, as one of your good options. Peridot is available in a medium green to a deeper green color. You could pick any ring from this page or website, and order it with a peridot gem ... more.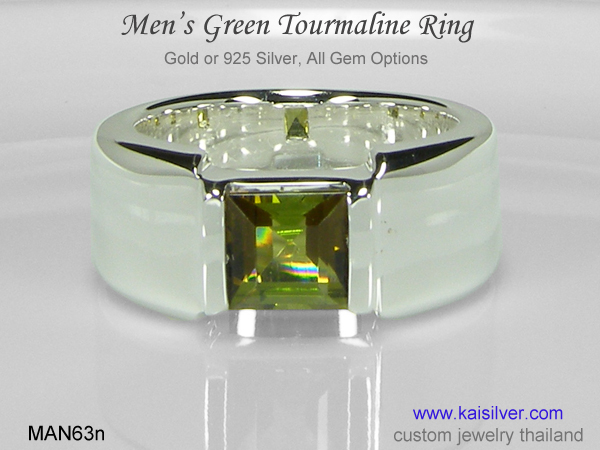 A tough green gemstone, perfect for a men's gold or silver ring. Sturdy metal weigh and broad band, the green gem in this ring is a natural certified tourmaline gem. The deeper green of tourmaline makes it suitable for all metal colors. The design for a green tourmaline gemstone ring, can be ours or provided by you. All ring sizes ... more.
Bright Green: Let us now talk about a men's ring with a green gem that shows a brighter green color. Surely not light but bright - like apple green and even lime green. Peridot is one green gemstone that comes to mind, a gem with the freshness of nature and showing a hint of yellows in the green. While this gemstone was confused with emerald in ancient times, peridot has matured into a spectacular gemstone with an impressive demand today. While the price of peridot has moved upwards in recent years, it is still modestly priced given it's beauty and grace. A men's peridot ring would be unique in the sense that, peridot is one of the few gems that is left in untreated condition.
Jadeite would be another option for a brighter shade of green but, the gemstone is rare and very expensive. Fortunately, it has today become possible to enhance the color of jadeite gems by advanced processing - the resulting color is stable and awesome. Dyed jadeite gems make up around 90% of the jade market in terms of volume - you end up getting a gorgeous looking jade gem at a moderate price. To give you an example, let us compare two 10x8mm oval pieces of jadeite, both with a fine green uniform color spread, one that has been treated to give it the color and the other that has that color naturally. The untreated piece of jadeite could be priced at around 1,500 U.S$ to 3,000 U.S$. At the same time the treated piece of jadeite that has a similar appearance, would be priced in the range of 100 U.S$ to 200 U.S$. We have a small suggestion to make here. If you are interested in a men's ring with a green jade gemstone that is natural and untreated, consider nephrite which is also jade - and remember that color zoning or mixing in the jade piece is a natural occurrence and embrace it that way.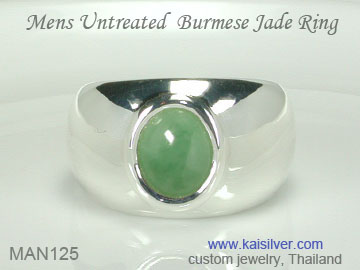 The finer variety of green jade is referred to as jadeite. The MAN125 green gemstone ring flaunts a big jadeite gem. Procured from the mines in Myanmar (Burma), each gem is certified for authenticity. Available in all ring sizes and finely handcrafted in gold and silver. We can also craft a jade men's ring for you, with your own design ... more.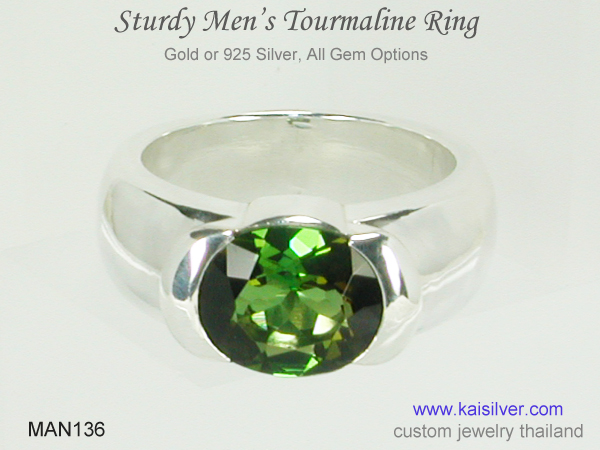 A heavy green gemstone men's ring, the MAN136 is shown with a big green tourmaline gemstone. This is a natural certified tourmaline gem. A handsome men's ring in gold or 925 silver. The design of this men's green gem ring, would be awesome for just about any type of gem. Custom made in all ring sizes, all gemstone options ... more.
Gem Price: If you are going to select a gem for a men's gold or silver green gemstone ring with price being a main criteria, here is what we would suggest. Emerald is considered to be an expensive gem and the price of this stone can be very high (per carat) as the gemstone size increases. If you must go for a men's emerald ring for some reason, choose a design that makes use of moderately sized emerald gems. Remember that your emerald men's ring could have have more than one modestly sized emerald gem. Peridot is a good option, unless you insist on going for the rarer variety of peridots coming from Burma or Afghanistan. The Arizona and Chinese mines, provide peridot gems that can be easily be in the 2 to 4 carat ring within 30 U.S$ to 50 U.S$ per carat - all these are retail prices. Peridot gems from Burma and Afghanistan can wear price tags in the 100 U.S$ to 250 U.S$ per carat range. There was a time when green tourmaline was very affordable but, times have changed. If you wish to get a men's green tourmaline gemstone ring, keep your gem size ambitions within limits - a 1.5 carat to 2.5 carat green tourmaline might still be within your budget. With both nephrite and jadeite being officially classified as jade - untreated nephrite or dyed jadeite is something that you should consider for men's green gem stone ring with a limited budget.
Metal Options: While gold has become very expensive in the last decade the good news is that, the classic confident feel and appearance of sterling silver has always impressed men. You can get a sturdy, handsome and well crafted men's green gemstone ring in gold or 925 silver. Just make sure that you take the time and effort to choose the right jeweler. We always recommend that silver jewelry be left un-plated mainly because, the plating on the metal will wear off after some wear and time. If you are worried about an un-plated men's silver ring tarnishing, you will be pleased to know that the options for convenient and easy silver polishing are many. You can in most cases, polish the silver ring and take away tarnish by yourself and in your home. When it comes to gold for a green gem stone ring, we would recommend 14k white or yellow gold - this gold karatage provides the right combination of alloy hardness and gold content. At Kaisilver we provide options for 14k and 18k white and yellow gold for all gold jewelry. We also assure the same quality of gemstones, workmanship and design for gold and 925 silver jewelry.
Gem Durability: The durability of a men's gold or silver ring with green gemstone would not depend entirely on the gemstone but, the gem is an essential element in the evaluation. To begin with, all jewelry should be kept away from physical impact and harsh solvents and chemicals. Emerald is a little more prone to getting damaged by heat, chemicals and physical impact. Peridot is not fragile but, you should try to take the ring off when doing heavy physical activity. Jade and green tourmaline are relatively tough but we still recommend that you do not band and bash them around.
Avoid: There are a few green gems that we would not recommend for men's rings mainly because of issues related to toughness and wearability. This will remain true despite the high sales pitch churned out by the big television and direct marketing players. Chrome Diopside is a gorgeous looking green gem but, lacks much in terms of hardness and durability. Ideally suited for earrings and pendants, it is advisable to keep this green gemstone out of rings. A similar logic would apply for green apatite, low hardness resulting in doubtful long term condition should be sufficient to avoid this gem for a men's green gem stone ring.
How To Order: Each of the items shown on this webpage, has a link that leads to a detailed report. That is where you will find options, pricing and other details. As the leading online custom jewelry provider, Kaisilver crafts all types of jewelry including rings, pendants, cufflinks, earrings, bracelets, bangles etc. We can work with your designs or ours, all jewelry can be ordered in gold or 925 silver, no restriction on design or gem selection. Email us at sales@kaisilver.com if you have any doubts or queries related to gems and jewelry.
Who Is Kaisilver: Based in Thailand and working with an extremely dedicated and skilled team of, jewelry designers, jewelry artisans, gem experts and production professionals - Kaisilver today serves over 12,000 clients across 15 nations. Networked to all the major gem mining and cutting operations, we have preferential access more than 200 million carats of gemstones. This allows us to ensure that, you always get the best gemstone at each price point. Please get in touch with our experts, for any information or merchandise that you might need. We will be glad to help.