Men's Rings With Garnet Gemstone
The deep red garnet is a gemstone that has impressed even the most style conscious male. Having said that, we need to talk a bit about garnets - most importantly, garnets are not always red. Nature has bestowed us with orange, green and red garnets. Orange garnet which is rightly identified as spessartite garnet, has a darkish orange wine color that is an absolutely favorite with men. Talking about men's garnet rings, most orders executed by Kaisilver still happen to have red garnets. Red garnet is the birthstone for the month of January, the gem has for centuries symbolized knowledge and wisdom. Men born in the month of January, will make a special connect to a garnet gemstone ring. You might have heard that garnet is a 'traveler's gem'. This originated from the fact that, it it has historically been worn by people when they embarked on a journey. The belief was that wearing or carrying a red garnet, kept a traveler safe.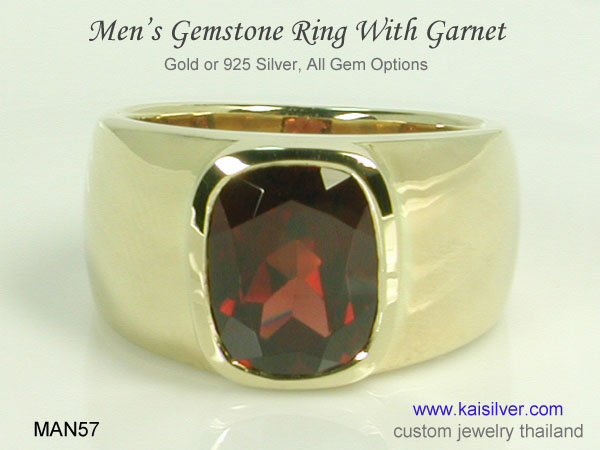 A men's garnet ring, stylish look and high durability. Comfortable to wear and easy to maintain. The MAN57 gold or 925 silver men's garnet ring has a cushion cut red garnet gemstone. Men's rings are available in all ring sizes, with your design or ours ... more.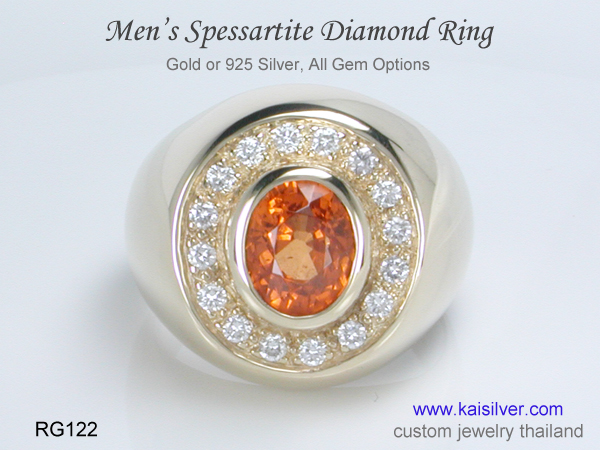 Spessartite the rare orange variety of garnet. Unknown for centuries, it was always thought that red is the only color in which garnets are found. A luxury look for the MAN122 men's ring with a scintillating custom cut spessartite garnet, all ring sizes available ... more.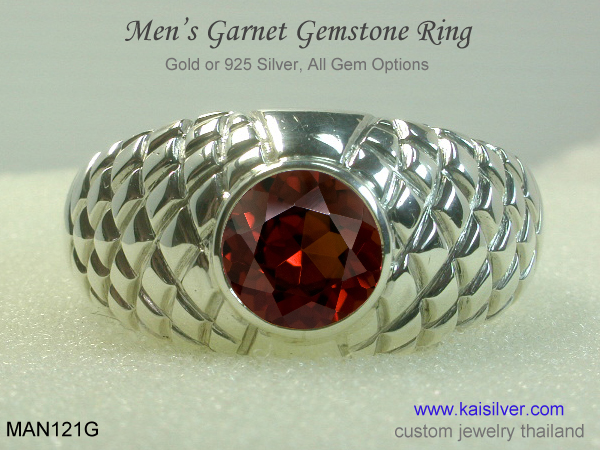 A rustic look for this men's silver garnet ring, also available in 14k or 18k gold and in all ring sizes. You can order the MAN121G garnet ring for men with a red or orange (spessartite) garnet gemstone. The texture on the gemstone ring can be customized ... more.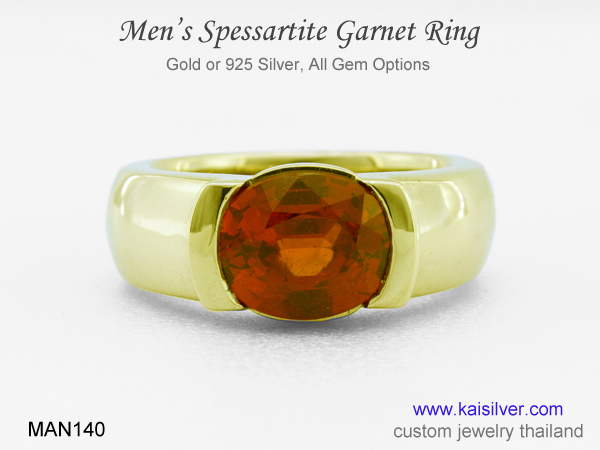 A heavy men's ring with a garnet, while you could choose a red garnet for your gold or silver ring, the MAN140 is shown with a large spessartite garnet. Crafted by highly skilled jewelry craftsmen from Thailand. No limitation on gem or design ... more.
It was believed for a very long time that, garnets were always red. Those were the days when gems were identified merely by their color. It was much later when scientific methods developed, gemstones began to be identified based on a number of features. So when you are planning to get a men's garnet gemstone today - consider red and orange garnets. Kaisilver provides the same quality standards for gold and silver men's rings, we can work with your design or ours. Expert artisans in Thailand handcraft each men's garnet ring, meticulous attention is given to every single detail. We go beyond providing garnet rings that look great, we give equal importance to wearing comfort and long term durability. Contact our experts at sales@kaisilver.com if you have any doubts or queries related to gems and jewelry. We will be glad to craft your men's gemstone ring with garnet, based on a design concept provided by you.
How To Buy: Each of the rings shown on this web page has a link, that takes you to the complete report. Pricing, options and the purchase process are all mentioned on that report. Our team at sales@kaisilver.com will be glad to help in any way that they can. You can also send us your design images or sketches to be custom made.
Who Is Kaisilver: We have been the preferred online source for high end custom made jewelry. Kaisilver crafts both gold and silver jewelry to the same quality standards. We place no limitation on gem selection and the designs can be yours or ours. Thailand's finest jewelry artisans and gem cutters, work on all Kaisilver jewelry orders. A professional team of stylists and quality control inspectors, ensure that each piece is crafted to superior standards. Experts at sales@kaisilver.com will be glad to answer any questions that you might have.