Wearing A Single Mens Wedding And Engagement Ring
Before we get into the details of our discussion, let us clarify what we mean by a single wedding and engagement ring. By this statement we refer to a growing trend where, men wear the same ring for the engagement and wedding. The reason for choosing to wearing the same ring for the two ocassions are not always driven by budget decisions. It does not take much thinking to understand that, one ring would generally cost much less as compared to two rings. When it comes to the rich and famous, being part of this trend, the reason why they do it is quite interesting. It is felt that choosing to wear one ring for wedding and engagement, signifies a more modest lifestyle. We can say that the trend is still not very common among the ladies.

Leaving the rich, powerful and famous aside, most of us would welcome a limited spending for the engagement and wedding. If you plan to get just one men's ring as the wedding and engagement ring, this report from the experts at Kaisilver is for you. It would be a good idea to review various options and make a well informed decision. While you need not shoot far beyond your budget to get this ring, do not give too much importance to 'cheap' rings too. You really do not want to get a substandard men's ring that will soon start costing you more in terms of repairs and replacements. We will tell you how to go about the process of selecting the ring, without making a sales push to buy from us. You might find some Kaisilver mens rings reviewed in this report but, that is more to educate you regarding what to look for when choosing your ring. You can always contact our support experts at sales@kaisilver.com if you have queries or requirements needing information or guidance.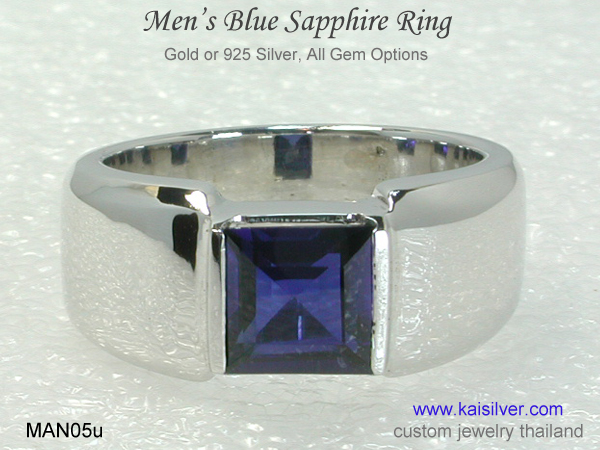 A classic wedding band, the design is suited for both formal and informal wear. Finely crafted in Thailand by Kaisilver's expert artisans - the same quality standards for gold and sterling silver. The men's sapphire ring is available in all sizes and all gem options ... more.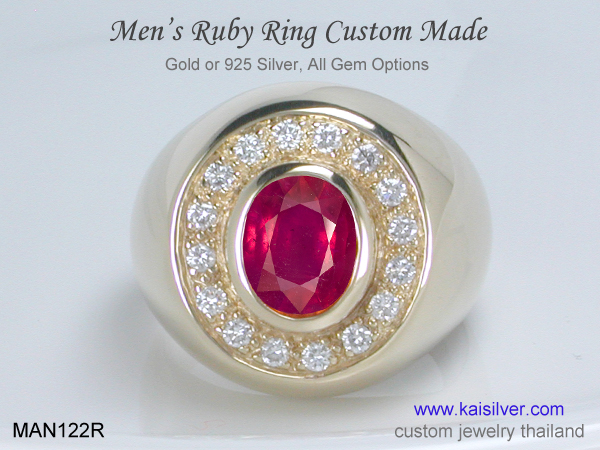 A classy ring for a men's wedding and engagement ring. This is a big men's ring with a center gem of your choice, the gem is surrounded by a row of glittering diamonds. A sturdy ring with an optimized metal weight. Available in yellow, white and pink gold and also silver ... more.
Budget: All of us want to get the best wedding and engagement ring, after all it is a very special jewel. We would suggest that you do not overspend when shopping for the ring. At the same time do not rush too google for a search on 'cheap' mens rings! In any case, it is better to have a budget estimate before you start the search for your men's wedding and engagement ring. Once you have set your budget range, work to get the best men's ring that can be had at that budget. While the price of the ring would depend on various factors like size, design, dimensions, gemstone or diamond and ofcourse the metal, here are some benchmarks that you could use.
If you plan to get a mens silver wedding or engagement ring, expect to the price to be in the range of 350 U.S$ to 600 U.S$. If you choose a silver mens ring with gems like, ruby, sapphire, emerald, tanzanite - that price could be around 50% to 100% higher. A mens plain 925 sterling silver ring will obviously be priced lower than a mens gem stone or diamond ring.
The recent rise in gold prices has, driven up the sales for men's sterling silver wedding and engagement rings but, you might still want to consider a men's gold ring for these special ocassions. While it is possible to get a 10k mens ring, we do recommend 18k or 14k gold for such men's rings. When you decide to get a mens gold ring, the price component of the metal and gemstone or diamond can be significant - keep this in mind when budgeting for the jewel. It is also necessary to stay away from light weight gold rings as, they will not be sturdy and might soon require repair and replacement. A mens 14k white or yellow gold wedding and engagement ring, could have a start price point of around 1,500 U.S$ and go as high as 7,000 U.S$ depending on the weight and gem selected. You could ofcourse see a price tag of even 20,000 U.S$ for some very extravagant mens diamond rings.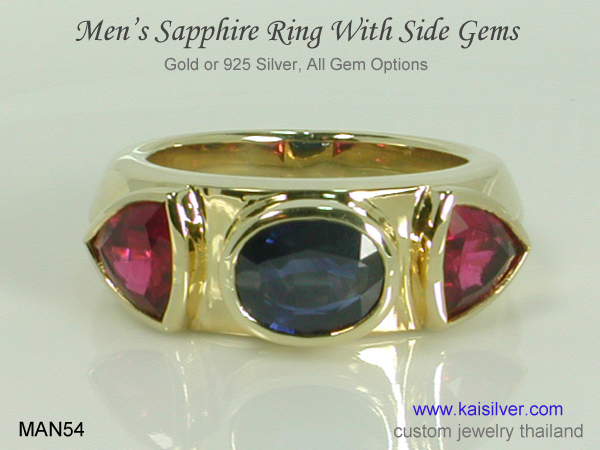 A stylish design for the 3 stone men's wedding ring. A unique design and you can pick your choice for all 3 gemstones. Heavy and sturdy like all Kaisilver men's rings, this ring can be ordered in all ring sizes. Custom made wedding ring all ring sizes available ... more.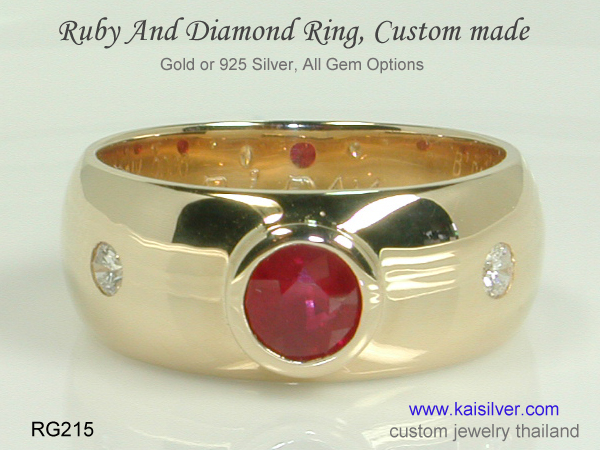 If you lead a very active lifestyle, this wedding ring is for you. Modest band width and a gemstone of your choice in the center. A diamond encrusted on either side of the gemstone. The band width can be customized as per the stone size, great for a pair of wedding rings ... more.
Gemstones: There are dozens of gems that you could choose for your mens gem stone wedding and engagement ring. This report does not aim to make you a gem stone expert but, we sure hope to provide you with valuable information to put you on the right track. While rubies and sapphires are the top favorites for mens gem stone rings, these are not the only gem options that you have. The Kaisilver men's gemstone ring collection, will give you a better idea of the range of gems that you can choose from.
The MAN54 Kaisilver mens sapphire and rubelite ring is awesome. While it might not fit all budget ranges, we will use it as an example to explain the concept of customizing the price of your mens gem stone wedding and engagement ring. This is one of the most interesting and important sections of this report so give it your attention. Non of the information is a secret to jewelers, most of them just don't care to educate buyers.
This mens gemstone ring has a 9x7mm oval blue sapphire in the center. The ring was originally designed for a French painter by Kaisilver, the gentleman was born in the month of September and the sapphire represented his birthstone. What is more interesting is the side gems in the ring, rubelites. This gem is actually a reddish form of tourmaline, sometimes coming close to the color of rubies. In an ideal situation, the French artist wanted to have a sapphire in the center flanked by rubies on the sides. The fact is that a ruby can cost as much as 10 to 15 times more than a rubelite. The gentleman had never heard of rubelite but, the Kaisilver expert team explained the gemstone and also assured him that the overall appearance of the ring would match that of a sapphire ruby ring. We therefore allocated a big chunk of the gem budget to the center blue sapphire, and used custom cut rubelite gems for the sides. This is what we mean by price customization and it is applicable for all types of jewelry, it just needs a knowledgeable and honest jeweler to execute.
Still on the issue of gemstones for your men's ring, we will say something about gem stone colors. It is true that many jewelry buyers make a gem selection based on the color of the gemstone. In these cases, the buyer might not be very particular about the specific gem as long as, it has the color of his choice. If you fall in this category of buyers, make sure that you select a reputed custom jeweler who understands your requirements. It is still common for people to believe that the only good blue gem is a blue sapphire and that, the best green gemstone is an emerald. Much like ever red gem should be a ruby!
While there is nothing wrong with a blue sapphire mens wedding and engagement ring, you might be interested to know that, other options for blue gems also exist. A good example for this is a mens london blue topaz ring, the gemstone would have an impressive deep blue color. While blue topaz and blue sapphire are not the same, a blue sapphire can be almost 100 times cheaper than a blue sapphire. So if gem type was not a contstraint, it might be a better idea to discuss about a mens blue topaz gem with your jeweler.

Another issue related to gems is gemstone pricing, not all gems are priced the same. One fact that is almost always true is that, larger gems are more expensive (per carat) as compared to smaller gems. This holds even when you compare gems of the same grade. What is more interesting is that, a high price does not always mean better durability of the gem. A great example is emerald, an expensive green gemstone that has far less durability than cheaper green gem options like green tourmaline or peridot.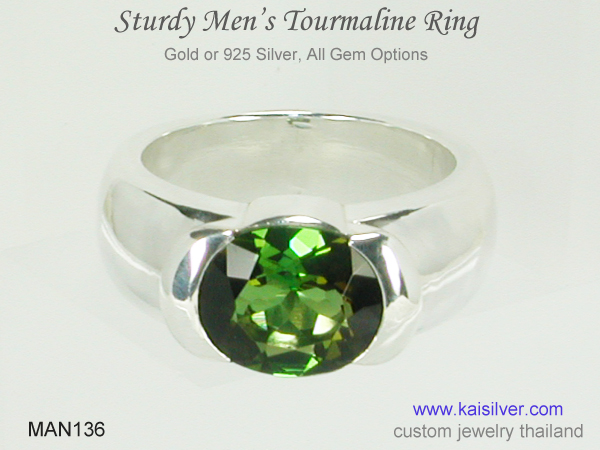 A heavy men's ring with large gemstone. You could choose a birthstone or any other gemstone for your gold or sterling silver wedding ring. The ring is crafted by Kaisilver Thailand and is sturdy enough to last for decades. A perfect men's wedding ring ... more.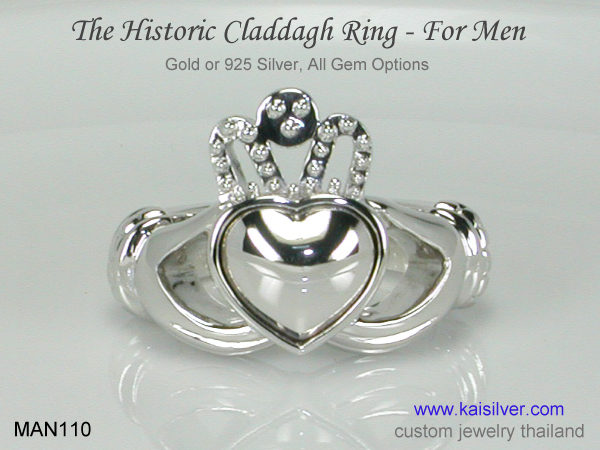 The 4 century old claddagh ring symbolizes love, loyalty and togetherness. Widely regarded as the world's most meaningful jewel, the claddagh ring is a good idea for a wedding ring. Available with or without gemstones, we have designs for men and women ... more.
Metal: The impressive demand for mens 925 silver wedding and engagement rings, has existed even before the recent rise in gold prices. If you prefer to have a mens gold ring, your choice should be for a 14k or 18k mens ring. At Kai Silver we generally recommend 14k white or yellow gold rings as, 14k is harder than 18k gold and therefore much stronger. While the choice of a gold or silver mens wedding and engagement ring is influenced by budgets, it is also true that many men prefer silver rings because of their calm and confident appearance.
The MAN09 mens sterling silver ring is a good example of how fine silver jewelry should be designed and crafted. If you choose to get a custom mens wedding or engagement ring, there would be no limitation on the design, gemstone, or dimensions for your jewel. There is one piece of advice that we always give our buyers regarding metal choice. If your budget cannot get you a sturdy gold jewel, give a serious thought about getting a sterling silver jewel instead.
When it comes to a mens silver engagement and wedding ring, the issue of plating the ring needs to be adressed. Jewelers quite common for jewelers to plate silver rings and other 925 silver jewelry with rhodium, gold, or even platinum. This is done to form a protective layer on the silver and keep away tarnish. There is no doubt that a silver plated ring will look much more lavish as compared to an unplated ring but, there is something that you should know. The plating done on a silver ring will wear off after a while, this is when the jewel might end up looking a bit dull and worn out. Since the wear off will not be uniform, you can expect to see some patches on the surface of the jewel. For this reason we would recommend that, request for your mens silver engagement or wedding ring to remain unplated. A number of silver polish lotions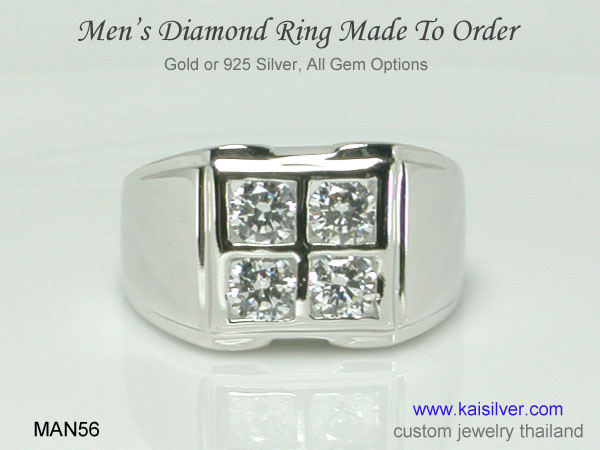 An extravagant look for this diamond wedding and engagement ring for men. The ring is custom made in all sizes, you can combine diamonds and gemstones in the same ring. Comfortable to wear and tough enough to retain shape and form for a long time ... more.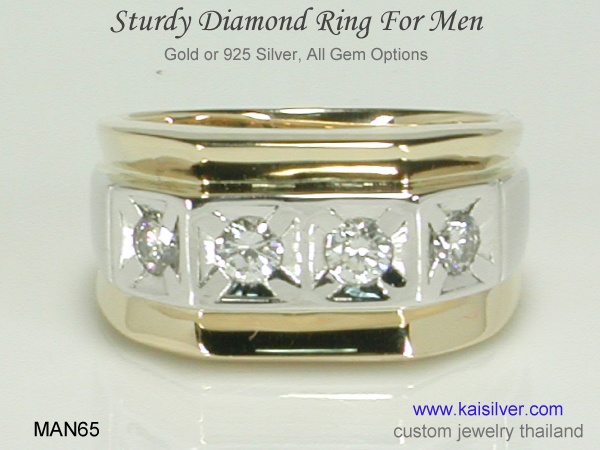 A broad diamond wedding ring for men, gold or sterling silver. You can order this men's wedding ring in single or two tone gold. It is also possible to order this men's ring with a combination of gemstones and diamond. A hefty ring that will withstand long and frequent wear ... more.
Diamonds: If you had to talk about diamond wedding and engagement rings in general, there is an interesting observation that you will encounter. Men get far less excited about diamond rings as compared to ladies. Having said that we need to mention that, the demand for mens diamond rings is fairly robust and covers a wide range of price points. Though the pricing logics for diamonds can be compared with that of rubies and sapphires, diamonds are far more expensive as compared to other gemstones. In the next few paragraphs, we will provide some useful tips related to a mens gold or 925 silver diamond ring.
Let us make a few observations related to the MAN65 Kaisilver diamond ring for men. The ring is shown as a two tone mens diamond ring, with 4 diamonds. You have an option for diamond size and can choose from 3.5mm rounds or 4mm rounds. If you had to sum the weight of the 3.5mm round diamonds in this diamond gold ring for men, you would get a combined weight of around 0.50 to 0.56 carats. The important thing to note is that, if you had tried to get a mens diamond wedding and engagement ring with a single diamond that weighs about 0.5 carats, the cost component of the diamond would go up by around 80% to 90%. This is the reason why we recommend many small diamonds as opposed to a single larger diamond. When we say many small diamonds, we mean a size of around 3mm to 3.5mm or probably 4mm. We do not encourage you to go for those 'cluster' diamond rings that include, numerous tiny diamonds in the 1mm to 1.5mm size range. Tiny diamonds have a habit of loosening from the mounting and dropping off.

We will now say a few things about colored diamonds, something that is not very common. You might have noticed that the visibility of colored diamonds and jewelry with colored diamonds has increased in recent years. The truth however is that, natural colored diamonds are becoming rarer by the day. Less then 2% of the diamonds mined each year have a color other than white. This obviously means that a mens diamond ring with a colored diamond would be very expensive, things are fortunately not so bad. With recent advances in research and technology, diamond experts have managed to change the color of white diamonds to fancy colors like green, blue, black, brown, yellow, orange and even red in some cases. These diamonds are actually natural in the sense that they are mined from the earth. However they are more correctly referred to as color treated diamonds or color enhanced diamonds.
In reality, lower grade diamonds in white or off-white color are treated to get color diamonds. You will therefore find that most treated colored diamonds have low clarity. The price is ofcourse very much lower than what you would pay for diamond that had that fancy color in it's natural form. Kaisilver can provide color enhanced diamonds in all colors, you can discuss your requirements with our support team.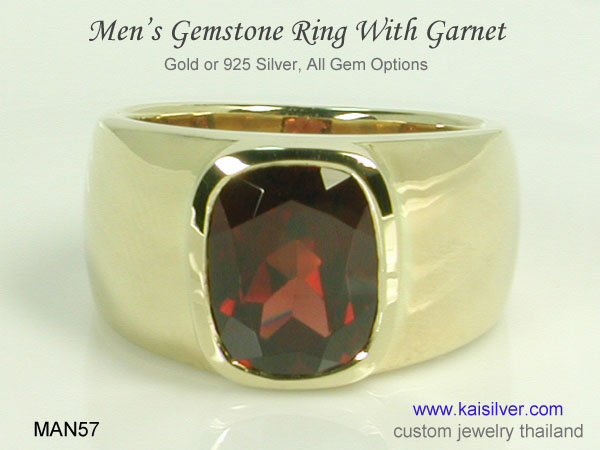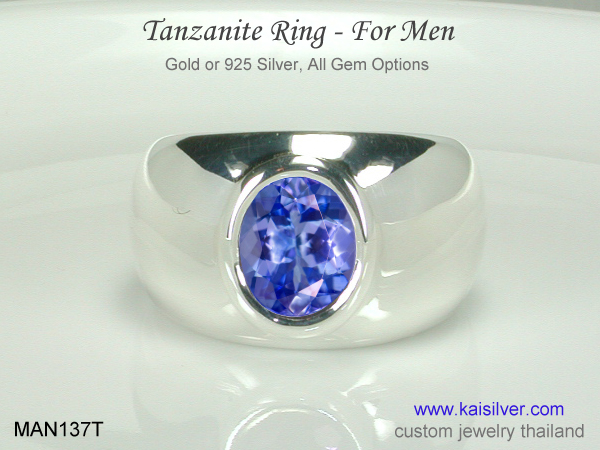 Custom Rings: A readymade mens wedding or engagement ring will not allow you to have all your preferences. On the other hand a custom mens ring would allow maximum customization, the only limitations being imposed by your budget and imagination. An interesting thing is that a custom jewel can often help in customizing the price tag too. Spend some time looking for a reputed custom jewelry provider and you will surely find one.

The above report should give you a better understanding about mens wedding and engagement ring. If you study the rings shown and described in this report, the information is applicable in general to all men's rings - you do not have to limit your jewelry search to Kaisilver. All that we want you to do is to understand the various factors and make a well informed evaluation. If you have any doubts or specific requirements, please email us at sales@kaisilver.com. We will be glad to help. You ofcourse need not buy anything form us to take advantage of our expertise. You can review a premium collection of Kaisilver mens rings at http://www.jewellery.kaijewels.com/