January Birthstone Rings For Men, Celebrating The Garnet
Men's birthstone rings would have the same significance as birthstone rings worn by ladies. Men born in the month of January are truly lucky when it comes to a gold or silver birthstone ring. Garnet the birthstone for January has a tremendous history and dates back to several thousand years. The bible made mention of the gem 'carbuncle' and this actually included both red garnet and ruby. When you talk about garnet and history, you need not keep repeating the word 'red', this is because during the early days no one really knew of a garnet gemstone that was not red. Many birthstones that are mentioned in the birthstone charts used today, originated from the breastplate of Aaron the high priest of the people of Israel. Red garnet was one of the gems in that historic breastplate. Another reason to celebrate the garnet is that, the gemstone as of today, is left in it's natural condition without being put through any gem treatment process. The fact that garnet is left untreated might not seem like an important piece of information but, any knowledgeable person will tell you that, most gems used in jewelry today are treated in some way or the other to enhance their beauty and clarity.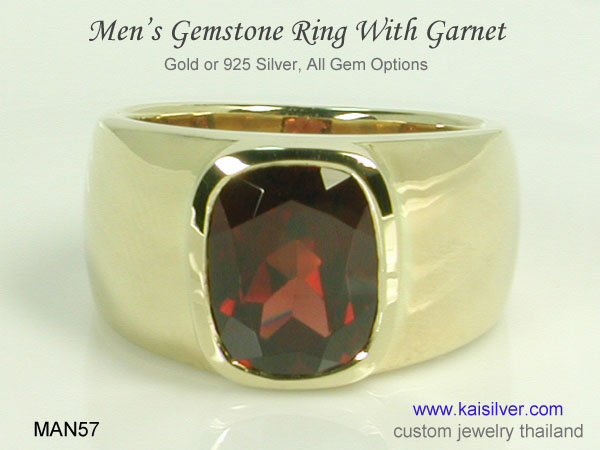 A mens birthstone garnet ring, one of our best sellers in gold and sterling silver. A large 11x9 specially cut deep red garnet, mounted in a minimum gold or silver weight of 20-25 grams. Fine craftsmanship from Thailand and a great jewel to celebrate the month of January ... more.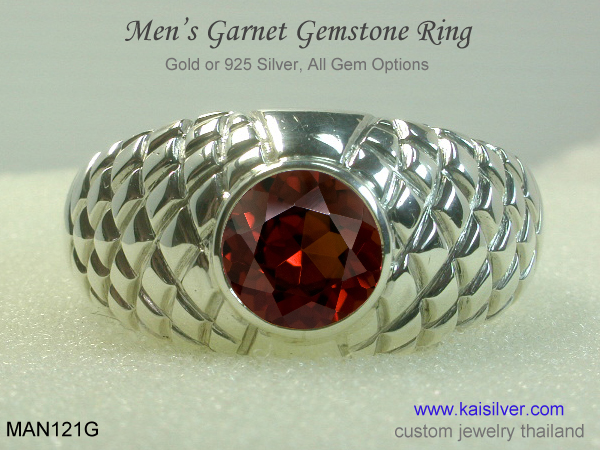 A heavy men's ring with a classic texture. An awesome men's birthstone ring with red garnet, a geometric criss-cross design adds a sense of vigor to the jewel. An 8mm round red garnet sits firmly in the center of the sterling silver or gold January birthstone ring ... more.
Science with its thorough understanding of the chemical and atomic structure of minerals and crystals today confirms that, there are yellow, yellowish brown, orange and green garnets too. So you now know that garnets need not always be red in color. Hessonite garnet which is found in a yellow to yellowish brown color, is priced similar to red garnet. You could pick this gem for your men's garnet birthstone ring instead of the red garnet. The green hues in garnet are adorable, they are also quite expensive and rare. The gorgeous tsavorite garnet, can be priced in the ruby and sapphire gem category, this garnet has a tremendous green color. You then have the brilliant demantoid garnet, a yellowish-green variety of garnet that has a dispersion rating that surpasses that of a diamond. This is again an expensive gem and generally seen in small sizes below 1.5 carats. In case you are not aware of the technical jargon 'dispersion', here is the explanation. If you look at a diamond, light from within the stone seems to be thrown back at you, with a fabulous rainbow color burst - this is due to the dispersion rate of the stone. Now, demantoid has a dispersion value that is higher than that of a diamond. The orange 'fanta' color garnet is spessartite, it is priced higher than red garnet and more in the range of aquamarine and tourmaline. Most of the spessartite being mined these days shows inclusions, this is something that you will need to accept as being a natural characteristic of the stone. A garnet ring with spessartite should ideally limit the gem size to around 8mm round or 10x8mm oval. This gem will not be cheap but, the price will be quite modest - however if you insist on an eye clean spessartite in these sizes, expect to pay a hefty premium for the stone. Discuss your requirements with our support team if you need a spessartite garnet men's ring.
Despite the beauty, hardness and untreated condition of red garnet the gemstone is priced quite moderately - this remains true even for red garnets in the 3-5 carat size category. Don't forget that red was also the only known color for garnet since the time, that the birthstone charts gradually evolved. It is therefore no surprise that, most men's January birthstone rings are ordered and crafted with red garnet. Men generally prefer dark colors for their gems, they also like the stones to have a substantial size and carat weight. Red garnet is a dark red gem and remains affordable even in large sizes - this is what makes them very suitable for men's rings.
We spoke a lot about the physical properties of garnets, let us move to the metaphysical properties attributed to the gemstone. Folklore, traditions and historic beliefs add romance and interest to various gems today. And garnet has its share of exciting history too, here are some interesting notes. Garnet is one of the gems that is supposed to help a person have a safe journey, in the old days people carried a piece of red garnet when they were travelling by land or sea. Noah was supposed to have guided the ark at night with a lantern that was made from garnet. Like the other red gem, ruby, garnet is supposed to symbolize faith, devotion and truth. The Hindus in India have believed for thousands of years that, garnet encourages and motivates a person to be creative. With this attitude, one is geared to work hard with confidence and this increases the chances of success.
Kaisilver garnet rings can be made with your design or ours. Fine craftsmanship and advanced features that, enhance the long term durability of the ring are provided for both gold and silver men's January birthstone rings. We will discuss a few of our handsome men's garnet gemstone rings here, you can review the entire Garnet Men's Ring Collection and get a better idea of what we can do for you. Our support team at sales@kaisilver.com will be glad to provide any assistance that you might need related to gems and jewelry. You can also send us your own design ideas in the form of images or sketches, the team will work on the details and get back to you with a price quote for the same.
A simple design concept suited for a casual wear men's garnet birthstone ring. We provide fine craftsmanship and handpicked gemstones for gold and silver rings, so you can decide based on your budget and liking. The texture on the band of this men's garnet gem stone ring can be selected by you ... more.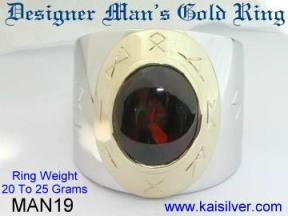 A designer ring with a smooth cut cabochon red garnet gemstone. This men's January birthstone ring is shown in two tone gold but can also, be ordered in sterling silver. The portion around the gem can have some symbols or text etched as per your preference ... more.