Black Onyx Cufflinks, Making The Right Choice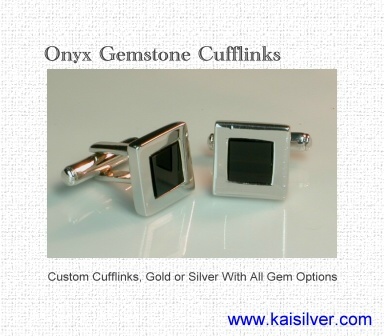 In this brief report we will discuss various issues related to black onyx cuff links. If you wondered why we decided to devote an entire page to black onyx gem stone cufflinks we would like to say that, black onyx is a very popular gemstone among men. Both mens jewelry and cufflinks are often ordered with black onyx gems. Another reason why we decided to publish this report, is even more interesting. Despite the popularity of black onyx gems in men's jewelry, many jewelry buyers do not end up getting onyx gems in their cufflinks - this even after asking for black stone cufflinks.

Given that this gemstone is quite popular with men, many cufflink buyers seem to take things for granted. When you request for black cufflinks, it is not necessary that the term 'black' implies black onyx. The custom cuff links shown on the left, have natural onyx gems set in them. These cufflinks are made to order and you can choose, gold or 925 sterling silver as metal options. Some of you might be quick to say that, such cufflinks are common in stainless steel too. The fact however is that, similar cufflinks can be made without using any gemstone at all. Black glass, paint, enamel or even black plastic are often used to make cufflinks that 'look' similar. There is nothing wrong in wearing such cuff links but, the discussion in our report refers to black onyx gemstone cufflinks. If you are aware of birthstones, you would know that onyx gems are not listed as the birth stone for any month. And yet, the demand for black onyx cuff links and jewelry remains impressively high. Men prefer gems that are dark and 'quiet', black onyx fits the description. It is sturdy, and calmly confident! Many gem lovers believe in various traditions and beliefs attached to gems, this is a personal belief and we do not claim any special powers for the gemstones that we offer.
In the next few paragraphs we will talk about, various issues related to black onyx cufflinks. We will also give sufficient attention to explain the various properties of onyx gems. Make sure that you read and understand the contents, it will go a long way in helping you evaluate various options and make the right buying decision.

Onyx Is Sturdy: This gemstone is strong and sturdy, you will also not need to fuss over it when wearing or cleaning your black onyx cuff links. We would however like to add that, some basic precautions are always good for gemstone jewelry. Hitting against hard surfaces, strong chemical solvents and even extreme heat is something that you should keep away from your black onyx gemstone cufflinks. On the same topic, it is a good idea to ensure that the onyx gems in your cuff links do not rise too high above the surface of the cufflinks. This is to reduce the chances of the gemstone striking against hard surfaces like tables, walls etc.
Onyx Gem Size: The general dimensions of cufflinks are normally in the 1.5cm to 2cm range. With these dimensions, the gems in your black onyx gem stone cufflinks, would need to be around 8mm to and upto 12mm. Many other gems would be either tough to find in such sizes or, be very highly priced. Fortunately, good quality black onyx gems in these sizes will fit a wide range of budgets. As mentioned in the above paragraph, do not get carried away and choose an onyx stone that has a very high cut. Such gems are more likely to hit against hard surfaces and get damaged or scratched. If you take a look at the black onyx cuff links shown above, the gemstone is flat and infact a little lower than the surface of the cufflinks too.

Onyx Is Affordable: The amazing thing about black onyx gems is that they are affordable. You therefore need not look for cheap man made imitations or even consider the cheaper option of enameling. For buyers who wish to have cufflinks with natural gems, black onyx is an attractive option. You can get flawless cut black onyx in sizes upto 10mm or even 15mm, so do not get fooled by any smooth sales talk.

Onyx Gem Cut: The pair of onyx gemstone cufflinks shown on this page has the gems cut flat. It is also possible to have faceted onyx gemstones set in a pair of gold or 925 silver cufflinks.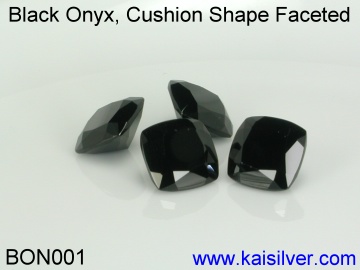 The above image shows some fine cushion shaped faceted black onyx gemstones. Custom onyx cufflinks can be made with onyx gems that have the shape and cut of your choice. When you have faceted gems in your cufflinks keep in mind that, the edges where the facets meet can show wear and tear markes. We would therefore recommend that flat or a slight curved cut be used on the gems for your cufflinks. The multi faceted checkerboard cut, looks awesome but, the more the facets and planes, the more carefully you will need to be when wearing or storing your black onyx cufflinks.
What we have done in this report on black onyx cufflinks is to educate and inform you. There is no sales talk as the objective is not to sell but, to guide you to make well informed buying decision.You can see completed details for the above gemstone cufflinks at http://www.gemstonejewelry.kaijewels.com/onyx-cuff-link-kj-01.htm You will also be introduced to other equally interesting cufflink options. Do contact us at sales@kaisilver.com if you have any requirements or queries.
At Kaisilver we custom make all jewelry in gold or 925 silver with gemstones of your choice. You can choose from our wide range of designs or, send in your own designs to be custom made. We offer the same quality of craftsmanship and gems for gold and 925 silver jewelry.