Bangles In Gold and Sterling Silver


Bangles have been around for a long time, though the demand for gold and silver bangles has trailed the demand for other jewelry types like rings, pendants and earrings. There are some specific features of a bangle that make it different from other jewels. While it is easy to see that bangles are larger than most jewels, the price point for a bangle would also be much higher than for a ring or pendant. An observation of gold bangles will give you some interesting and almost amusing insight, into the way in which jewelers have reacted to the steep increase in gold prices. There was a time when a gold ring weighed around 10 to 15 grams, today the same jeweler boasts of bangles that weigh less than that! This might seem harmless and even sound great since less gold weight means lower price tags. However, trying to make a large jewel like a bangle with a sacrifice in metal weight, does a lot of damage to the longerm durability of the jewel.

In this report we will analyze the features of a good and sturdy bangle that will be long lasting. A light weight junk jewel would bend and dent requiring expensive and frequent repair charges. It is therefore better to go for a sturdy gold or 925 silver bangle, rather than run after cheap prices and keep paying repair and replacement expenses for a cheap jewel. An interesting thing about all Kai silver jewelry is that you get good quality design, craftsmanship and healthy metal weight. This has not changed even with the rising prices of the precious metals. So while our bangles are surely not cheap, they set the standard for quality bangles that last and keep pace with your lifestyle. Customization allows you to choose the design, dimensions, metal, gemstones and size for your bangle. The best part is that we provide the same degree of care and attention to gold and 925 sterling silver jewelry. Let us now move on to discuss bangles with some specific examples.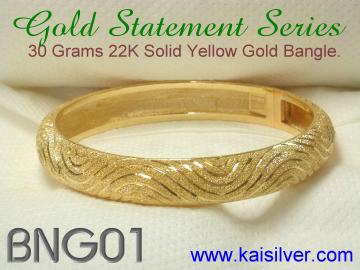 The BNG01 gold or sterling silver bangle from Kaisilver was one of the first highend bangles to arrive on the jewelry scene. It still remains one of the high demand gold bangles for jewelry buyers looking for quality. This custom made bangle is available in gold or sterling silver, it was first made in the year 2001 when the gold prices were about 70% cheaper than what they were in 2011. The interesting thing about this heavy gold bangle is that, the initial weight of 30 grams which was provided way back in 2001, has been retained until today.
It would have been easy for the Kaisilver team to redo the jewel with a highly reduced weight. Externally such a bangle would appear quite similar to the 30 gram piece but, durability would be severely compromised. A lower bangle with a lower price point would have brought us larger market share, but this would come at the expense of buyer interest. We have therefore retained the weight of the bangle for the gold and sterling silver versions. This proves our commitment to quality and also shows our determination to work in the interest of the buyer.

If you thought that the weight of 30 grams made the BNG01 a heavy bangle, here is some more interesting information for you. It is necessary for the metal weight of a jewel to be proportinate to the dimensions and size of the jewel. The 30 gram weight for this gold or 925 silver bangle was determined based on certain dimensions. The bangle shown above has a band width of around 0.9cm to 1cm and a diameter of around 6cm. This bangle size is suitable for most feminine wrists. Since every Kaisilver bangle is fully custom made, the size and dimensions of your bangle will be tailormade to your requirements. What this means is that, a larger bangle size like 8mm to 9mm diameter or an increase in band width to around 1.2cm to 2cm would call for an additional metal weight. Our support experts will inform you if your bangle size requires additional metal weight. Unlike other jewelers, we do not work with readymade blocks and moulds that are hurriedly resized to fulfill orders. We custom make every jewel, each piece is handled by some of the finest craftsmen and incorporates all your preferences.
All the features for your custom bangle can be customized.
- Custom made in 14k, 18k white or yellow gold. 22k yellow gold and even sterling silver are options available.

- The design for your gold or 925 silver bangle can be yours or ours. All design modifications are possible.
- Healthy gold or silver weight of around 30 grams is provided. You will be informed if your size calls for an additional weight.
- The design and texture on the exterior of the bangle can be decided by you.

- The bangle size and band width can also be as per your requirement.

- Options for adding diamonds or gems of your choice exist.
- Good quality craftsmanship for gold and silver bangles.

If you read the above features of all Kaisilver bangles you will see that, there is nothing that the bangle is fully customizable and you are not bound by any standard options. This is true of all Kaisilver jewelry and not just the silver or gold bangles that we make. We are the only highend custom jewelry provider to utilize the same team of skilled craftsmen and designers to craft gold and silver jewelry. We give the same care and attention for a gold or 925 silver bangle, this is what has made us the preferred source for custom jewelry across the globe.

A close look at the BNG01 and BNG02 custom gold or 925 silver bangles on this page, shows that the inside of the bangle has some scooping done. If you wish to avoid this, we would advise you to request for a mesh to close up the scooped portion inside the bangle. While we can technically make the bangle in solid gold or silver with no scooping at all, this would sharply increase the metal weight required. This might not bring much of a price difference in a silver bangle but, a gold bangle would see a stiff increment in cost. Before you take this decision we would like to say that, the 30 to 45 gram weight for these bangles make them strong and tough, even with the scooping done inside.

If you are confused about how to measure your wrist size to order the right bangle, email our support team at sales@kaisilver.com and they will be glad to guide you through the process. We do not expect you to make any purchase from us to get the benefit of our expertise. You are therefore encouraged to interact with our team of experts and then choose the jeweler that you are comfortable with.

The issue of metal weight for a bangle will be better demonstrated if we analyse the features of the BNG02, another highend gold or sterling silver bangle from Kai Silver. This is a tremendous bangle, crafted by some of the finest craftsmen, the jewel boasts of a gold weight of 45 grams. The BNG02 heavy gold or silver bangle, is a sturdy jewel with a wider band width as compared to the BNG01. The weight of the jewel will once again be customized based on your preference for bangle size and dimensions.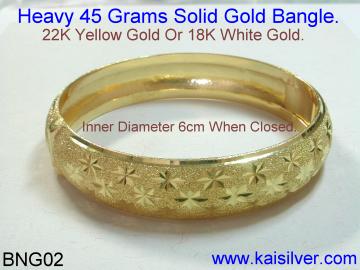 The BNG02 heavy gold bangle from Kaisilver is also custom made as a 925 sterling silver heavy bangle. You can see that the 45 grams metal weight of this custom bangle makes it around 50% heavier than the impressive BNG01. This is a broad bangle with a band width of 1.2cm and the size shown is a 6cm diameter. You could ofcourse request for design modifications that include band width and bangle size when ordering your Kai Silver bangle.

The texture and exterior design for your heavy gold or 925 silver bangle can be selected by you. The image shows an interesting combination of finishes on the bangle. The bangle itself has a slightly coarse finish, the flower shaped etchings have a high polish finish. It is ofcourse possible to get a high polish finish all across the bangle too, remember that the bangle can be customized for every single feature and you will not be limited by any standards set by us. All that you need to take care is your imagination and your budget.

Suggestions for type of finish and design on your bangle.

- Your designs and finish options can be provided for all Kaisilver bangles.

- A high polish or dull finish is the most common choice for bangle buyers.
- A slight hammered finish, can also give a nice and sturdy look.
- Patterns like horses, leaves, flowers and other symbols can also be provided.
- Ancient designs like the egyptian ankh or cartouches, the claddagh celtic concept, the christian cross etc are all possible.
When deciding on the design and texture to be provided on the external part of your bangle, do not overlook ways to increase the meaning and significance of the bangle through the selection of symbols and text. This is the reason why we suggest crosses, ankh symbols, the yin yang symbol, the egyptian cartouche etc for gold or 925 silver bangles.
We would like to clarify an often asked query regarding, the size of the bangle and the way in which it is to be slid on the wrist. When reading about a 6mm diameter for the Kaisilver (can be customized to your size) buyers worry that, it would be a very tight and painful squeeze for the fingers and knuckles to pass through the 6cm opening. It is true that most bangles are made as a continous circle (loop) and need to be worn by passing the bangle, down the fingers and knuckles till they reach the wrist. Fortunately this is not how Kaisilver custom made bangles are designed and crafted. The image below will better explain what we mean.
The above feature is common to all Kai Silver bangles and not just the BNG02. The bangle has a hinge at one extreme and a sturdy clasp at the other. You open the bangle apart, slide your wrist in and close the clasp. Slide your wrist side ways and you will realize that the 5cm gap that opens up is large enough for most wrists. We can ofcourse customize these dimensions as per your specific requirements. This advanced feature designed and crafted by the Kaisilver team, makes the bangle very easy to wear and take off.
How To Order Kaisilver Jewelry.
You will need to access our main websites and make a selection. The BNG01 and BNG02 bangles can be seen and ordered at http://www.kaisilver.com/bng02_h.htm You can also request our support team at sales@kaisilver.com to help you with any doubts or queries that you might have. We custom make all types of jewelry in gold or 925 sterling silver with gems of your choice. The design for your jewelry can be yours or ours.