The Claddagh Ring, A 375 Year Old Tradition That Touched Millions Of Hearts
The Claddagh ring is one of history's most meaningful jewels. It is hard to believe that a ring with a humble beginning would one day become one of the world's most respected jewels. An intense research into the history and tradition of the Claddagh ring was conducted by a team of Kaisilver experts. The findings from this research provided vital inputs for the design and and concept of the now famous, Kaisilver claddagh ring. We dedicate this section of the website to this historic jewel and salute the courage and dedication of the Irish slave named Robert Joyce.
History The claddagh ring takes us back in time by around 375 years. The time was when slavery was rampant in the Western nations. If you wondered what a jewel has to do with slavery, the story of the claddagh ring will provide you with the answers. The location for this fascinating and touching story begins in a small fishing village in Ireland, the village was called Claddagh.
An Irish fisherman by the name of Robert Joyce lived in the Claddagh village. Robert was one day sailing the seas in a boat, with a group of fishermen. The boat was attacked by pirates, all the fishermen aboard the boat were captured and sold as slaves. Young Robert was sold to a wealthy goldsmith and forced to work hard for his master.
Robert started learning the trade from his master, his newly acquired skills as a gold craftsmen improved with each passing day. But there was one thing that could never change, this was his unwaivering love for his beloved. Even the harsh life of a slave could not make him forget her. It was then that Robert decided to make something special for her, he started working on a special ring. He dreamt of being free one day, he planned to go back to his village and present the ring to his beloved who lived in the same village.
A few years later his dream did come true, Robert Joyce was freed from slavery. He went back to his village and was overjoyed to see his beloved waiting for him. He eagerly gave her the ring that he had made for her, the couple were soon married and lived happily ever after. This ring came to be known as the claddagh ring.
As the story behind the claddagh ring came to be widely known, people from across the globe came to respect and appreciate the true worth of this historic ring. The claddagh ring is today talked about and worn by people from countries that are very far off from Ireland too. The claddagh ring is often referred to as the friendship ring or the faith ring. Referring to it's features, many people call the ring the heart and hands ring.
This page gives you interesting and valuable information regarding the history and meaning of the claddagh ring. You would have also learnt what the main features of every claddagh ring should be. Should you need any more information on the claddagh ring or any other jewel or gemstone, please email us at sales@kaisilver.com with details of your requirements or doubts. All emails are answered by a professional team of gemstone and jewelry experts. We do not believe in wasting your precious time with sweet sales talk, we therefore ensure that your queries are answered in simple language by jewelry experts.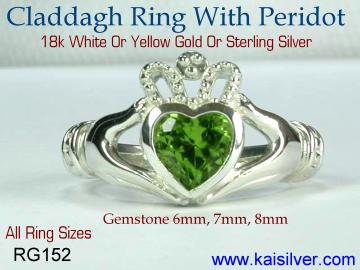 Let us take the RG152 Kaisilver claddagh peridot ring as an example and try to understand the features of the claddagh ring. At the center of this gorgeous ring is a heart shape, this could be set with a gem stone or have a complete metal portion. On top of this heart is the crown, a very important aspect of this historical ring. And you can ofcourse see the hands holding the heart. Now these are the three important features of a claddagh ring and a ring which does not have these 3 features cannot be referred to as a claddagh ring.
About half a century after the first claddagh ring was made, some variations in the ring were noticed. One of these was the ring with heart and hands but no crown. There was also an attempt to introduce two hearts in the ring. Jewelry designers thrive on creativity and it sometimes means doing the unusual. There really is no problem with this but, what will remain a fact is that you cannot miss the three important features of a claddagh ring namely, the heart, hands and crown.
Many jewelry lovers know this ring by a few other names. Some of them call the claddagh ring as a friendship ring. Others refer to it by the features and call it the, hands clasping the heart ring. We have also come across several jewelry buyers who call the ring by a simple interpretation of these main features. It is called the hands, heart and crown ring!
Kaisilver claddagh rings are custom made in gold or sterling silver. You can choose 14k or 18k claddagh rings and select the option for a yellow or white gold claddagh ring too. The RG152 is shown in sterling silver with a peridot gemstone. Get full details on this amazing jewel at http://www.claddagh-rings.com/claddagh-rings-peridot.htm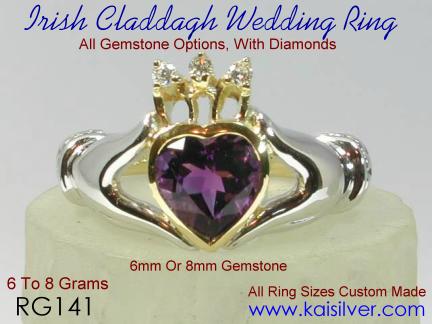 We take one more good example of the claddagh ring and explain this with reference to the RG141 claddagh wedding ring, from the Kaisilver collection. You will notice that this two tone gold ring retains the three essential features of the original claddagh ring. The heart, hands and crown are all present in the design but, a few enhancements can be seen in the ring.
The crown is set with genuine diamonds, the gold mounting on the ring is a two tone gold color. You will notice that there is both yellow and white gold in the ring. It is not mandatory for a claddagh wedding ring to have two tone gold finish and diamonds, the choice is always yours. Get more information on this awesome jewel at http://www.claddagh-rings.com/irish-wedding-rings.htm
The Meaning Of The Claddagh Ring.
The claddagh ring story is as fascinating as it is touching. It takes us back in time to around 375 years. The meaning of the ring is derived from it's main features. The heart in the ring denotes love we will discuss more about this in the rest of this column. The hands show friendship, like true friends are always together in good times and bad. The crown shows loyalty, from the claddagh story it would mean loyalty to a spouse or lover.
The meaning of love in the context of the claddagh ring needs to be fully understood. This love need not be between husband and wife, it need not be related to matrimonial love at all. You can therefore say that the love depicted by the claddagh ring could be between a husband and wife or a mother and child or even a brother and sister. You could even buy a claddagh ring for yourself.
When talking about gold or silver claddagh rings, you should know that both rings have the same meaning and significance. Do not be under the impression that a gold ring which would be more expensive has stronger meaning as compared to a sterling silver claddagh ring. We would like to repeat that, the meaning of a claddagh ring is in it's features and not in the metal, gemstone or price tag.
Another interesting question that is often asked about claddagh rings is whether, men can wear a claddagh ring. The answer is surely in the affirmative. Kaisilver produces mens claddagh rings in gold and sterling silver. You can ofcourse choose a gem stone mens claddagh ring or a claddagh ring for men with a gem stone.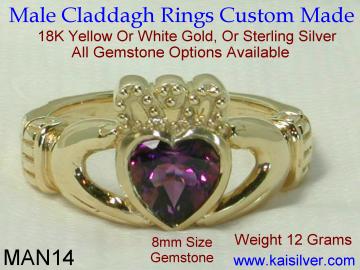 The MAN14 is a high end custom mens claddagh ring. You can order your mens claddagh ring in gold or sterling silver. If you need a claddagh gold ring, we would suggest a 14k claddagh ring for men. This could be a 14k yellow or white gold claddagh mens ring. The reason for this suggestion is that, 18k gold is a bit softer as compared to 14k gold. The additional hardness of gold provided by 14k gold will surely aide in the longterm durability of your plain or gem stone mens claddagh ring. Check out this impressive mens claddagh ring at http://www.claddagh-rings.com/male-claddagh-rings.htm
Coming back to the meaning of the claddagh ring we would like to say that, gemstones can be used to enhance the beauty and meaning of a claddagh gem stone ring. For example, setting a birth stone in your ring would give you a claddagh birth stone something that adds meaning to the jewel. There is also a growing trend for exchanging birthstones in claddagh rings. So if you decide to get a pair of claddagh wedding rings, you could exchange the birthstone in your ring with that of your spouse.
Resources: Jade Cladagh Rings.