Sterling Silver And Gold Sapphire Gemstone Rings
Sapphire rings if designed and crafted well are gorgeous, they are often worn as a symbol of status and prosperity. Known for thousands of years, sapphires were in ancient times identified merely by colors. Experts today agree that, the reference of sapphire in the bible is most likely to imply blue lapis lazuli. Today both ladies and men wear silver and gold sapphire rings for a variety of reasons. Wedding and engagement rings are often crafted with sapphire, the reasons for this are many. Sapphires are rare they have always symbolized true love, truth and loyalty - this obviously makes them a favorite to mark or celebrate matrimonial related events. Men love to gift a sapphire engagement ring to their beloved, the rarity and beauty of the gem relates to the 'one and only lady in my life' theme.
Prince Charles solemnized his engagement with Lady Diana by giving here a stunning sapphire diamond ring. Decades later the same gem was gifted (in a a ring) by their son, Prince William to his beloved Kate Middleton. Natural sapphire is hard and sturdy, this is one of the reasons why sapphire rings can retain their shape and form for years and even decades. It is however important to know that, it is not just gem hardness that makes a jewel long lasting
Initial contact that humans had with sapphire was limited to blue sapphires, it was never known that sapphires could be found in colors other than blue. Centuries later science developed to a point where, a whole range of testing tools and techniques were developed to help identify minerals and gems. We today know that sapphires can be white, blue, green, pink, orange, purple, yellow and a few color hues in between these colors. Since all Kaisilver sapphire rings are made to order, you can specify any of these sapphire gem colors for your silver or gold ring.
The flower motif design for this ring gives it a refreshing and organic appeal. Add more color and life to this diamond and sapphire ring by combining various sapphire colors in the same ring. Two interesting developments in the bridal ring trend have allowed for a more liberal look for this important jewel. Engagement and wedding rings today lean towards color and brightness, white diamonds, white dresses and white shoes are no longer the norm. You can comfortably, buy this ring to be worn as a sapphire engagement ring. And if you choose gold, consider the gold color selection too - we offer 14k and 18k white, yellow and pink gold as a standard option for all our custom made jewelry.
We did mention that sapphire rings are popular among men and ladies, so let us now talk about a few men's sapphire rings. Men have begun to become conscious about style and value when choosing their accessories but, they still continue to be a bit careless when wearing them! Kaisilver experts recommend that men's sapphire gemstone rings, be designed and crafted with features to make them as sturdy and durable as possible. This does not mean that rings for ladies can be flimsy and fragile, it is just that the carelessness of men needs to be factored into men's jewelry. Men love rings with large chunky gems, this can pose a challenge when the jewels are sapphire rings in silver or gold. The rarity of gem quality sapphires combined with a market demand that never seems to drop or slow down, allow this historic gem to command a handsome price. As the sapphire size moves up, so does the per carat price of the gemstone. Just to give you an idea, a medium to good grade natural blue sapphire gem in a 5 to 6 carat size range can cost around, 1,300 U.S$ to 2,000 U.S$ per carat. After working on dozens of combinations relating to sapphire size, price and quality our experts are of the opinion that, a 2-3 carat blue sapphire gem optimizes a good gem size, quality and price tag. We do not mean to say that, Kaisilver cannot deliver sapphires that are larger or of a higher quality than this. We are invested with gem sourcing expertise that extends to every gem mining center on the globe and besides this, most gem manufacturers allow us preferential access to all their cut and polished gems.
Men's sapphire gems can be as varied and contemporary as you wish, we place absolutely no limitations on your choice of design and gemstones. We strongly recommend bezel set gems for men's rings, in this type of setting the entire gem is bordered with metal. If the concept for your sapphire gemstone men's ring must use prongs to set the gemstone, make sure that the prongs are sturdy and rounded on the ends. Pointed prongs can get stuck in pockets and other fabric, they can also scratch delicate skin. When prongs get caught and pulled, they tend to open up and loosen the gemstone.
Kaisilver Sapphire Rings, Highlights:
We custom make gold and silver sapphire gemstone rings with no limitation on design or gemstones.

The quality of workmanship and gems is kept the same for 925 sterling silver and gold sapphire rings.
All sapphire gems are natural, gem authentication certification can be provided on request.
Sapphire gemstone color options include white, blue, green, yellow, pink and orange sapphires.
You can make a specific request if you prefer lab created or synthetic sapphires instead of natural gems.
14k and 18k white, yellow and rose gold are options for all sapphire gold gemstone rings.
Price quote for 10k sapphire rings in all three gold colors can be provided on request.
Plating on silver rings is temporary, we recommend that saphire silver rings be left un-plated.
Kaisilver rings generally weigh around 40-60% more than what other jewelers would provide.
The good metal weight for our sapphire gold and silver rings, enhances the durability of the jewels.
You can pick our designs and request for modifications or, send us your own design ideas and images.
Buying From Kaisilver: Despite all the hype about instant buying and selling online, we still feel that the best way to buy fine custom jewelry is to discuss your requirements with an expert. Every Kaisilver product is imprinted with an item code, most of our online content provides a clear link to the detailed product information page - you will notice the links on this very web page too. Once you have worked on the design which could be, from our websites or your own, email our support team at sales@kaisilver.com and let them know what you require. If you wish to discuss on the phone, mention your phone number, location and favorable time in the email. In any case, we would suggest that you provide as much detail as possible regarding your requirements in the email, this will help us assign the right support expert for your query. Our team is composed on experts in every aspect of gems and jewelry, we evaluate their performance based on quality of advice and suggestions provided and not, on sales revenue generated. Once you are confident and completely informed, let them guide you through the process of payment and order confirmation. You could even get all the information and advice you need and then, place your order with any other jeweler of your choice. We will always respect your decision and will constantly strive to improve the quality of our service and products.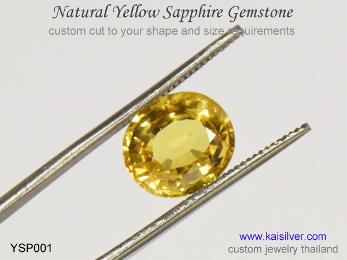 If you are considering to buy a sapphire gemstone ring, think of sapphire colors beyond blue too. At Kai Silver we can provide, white, blue, green, orange, yellow and pink sapphire gems.
Kaisilver Reviews: Everyone at Kaisilver, Thank you so very much for the ring you made for my wife. We received it on Friday, and she absolutely loves it. She wore it all weekend and showed it off to all of our family and friends. The ring is beautiful. I'll be sure to look you up again the next time I need a beautiful piece of hand-made jewelry. Thank you again. Take care, and God Bless. Sincerely ... Aaron McWilliams.
Thank you for the magnificant ring you made for me. When I opened it and put it on, I felt like an Emperor putting on one of his crown jewels. The deep purple amethyst stone is exceptional and perfect and is really complimented by the massive gold band ... Robert J.